ALBUM REVIEW: Kaleo's American influences run deep on 'Surface Sounds'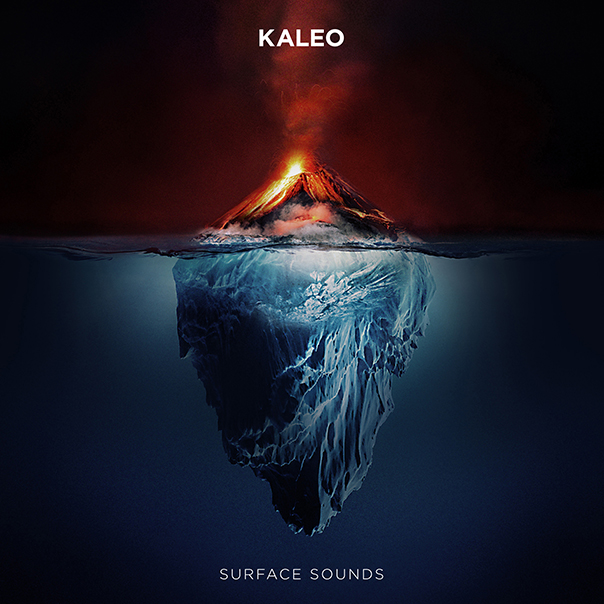 Iceland is a long way from Mississippi… or not. Kaleo was still in its native land when it started turning heads half a decade ago, as the band least likely not only to try playing American roots music—but also to excel at it. It's almost like they've been doing it their whole lives—maybe a lifetime or two before that.
Surface Sounds
Kaleo
Elektra, April 23
8/10
Now Kaleo is fittingly based in Austin has released their third LP, Surface Sounds. And as Iceland's coolest—sorry, had to—export, the record is another testament to a band bordering on being remarkable for its grasp of American soul and roots music, song structure and the concept of letting the music coalesce around the band's strengths.
And wow—take a minute to see the videos; from erupting volcanoes, North Atlantic lighthouses, ice flows. No wonder the band is inspired to pack such bare bones, raw, emotion into its music. It seems to spend a lot of time making what looks like National Geographic documentaries, only with musical gear, playing like it's the most natural thing in the world.
Just a song or two into Surface Sounds, you'll be making a list of friends to alert to Kaleo's existence, because you want to look good. And as tiresome as it is giving good-looking singers with truckloads of talent their due, but singer Jökull Júlíusson is an unbelievable talent (he took pity on the U.S. and also goes by JJ Julius Son).
Julius Son's voice is mesmerizing—a strange combination of Eddie Vedder and Jeff Buckley with hints of Darryl Hall. The mood—and you can pick one—is set from album opener "Brother Run Fast," which is a solid mover, demonstrating the old you-can't-teach-this-stuff idea that what a band doesn't play is as important as what it does. The drumming is sparse but piercing, and Julius Son's voice can cut through granite. The song doesn't have many parts because it simply doesn't need them.
Same for "Break My Baby," which just trudges along, asking you to soak it up. "Alter Ego" is very inspired by U.S. soul music, with Julius Son's voice weaving in and out of some up and down dynamics. After "Free the Slave" preaches some more, things really start rolling with single "Skinny." It's one powerful piece of music, especially once Julius Son's bandmates join him to elevate the drama.
That is a perfect setup for "Hey Gringo," a pumped-up ringer for "Some Girls"-era Rolling Stones, complete with guitarist Rubin Pollock riffing like Keith while Julius Son goes Jagger falsetto. The bright horns and screaming harmonica are perfectly adrenalized and–like so much of what Kaleo does—awesomely well-placed.
Julius Son goes back to singing the blues on "My Fair Lady." "I Want More" breathes deeply and builds slowly, with fresh strings and mandolin forming over breezy Americana territory. "Backbone" sends Kaleo back to picking instrumental spots, constructing and removing parts while Julius Son turns on the vocal warmth, peaking with the entire band building the record's most powerful passage.
By the time "Walk on Water" and "Into My Mother's Arms" end Surface Sounds, it's difficult to remember this isn't a band that cut its teeth opening for some strange combination of John Mellencamp in the '80s and Buckley in the '90s. Hop on the bandwagon while spots are still open. Kaleo is going to be on a bunch of best-of-2021 lists come December.
Follow music critic Tony Hicks at Twitter.com/TonyBaloney1967.