Album review: Karen Elson travels to 'Distant Shore' on Double Roses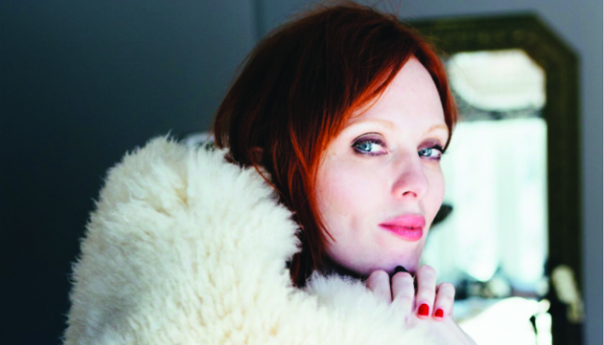 It's been seven years since Karen Elson released her debut album, The Ghost Who Walks, which was produced by her now-ex-husband Jack White. A lot has happened in those seven years, including her divorce and a very public custody battle over the couple's two children. So it's no surprise that Elson's follow-up, Double Roses, is loaded with melancholy and heartbreak. What it surprising is her shift from alt-country to a more folk approach on the new album.
Double Roses
Karen Elson
April 7
Since Ghost, Elson has worked on a number of projects, including covering "Ashes to Ashes" with Michael Stipe at the Carnegie Hall's "The Music of David Bowie" tribute. However, her day job as a supermodel prevented her from writing and recording consistently. She recently spent three weeks in Los Angeles, working with producer Jonathan Wilson and drawing inspiration from 'Laurel Canyon'-era folk. The result is the haunting and ballad-filled Roses, named after a Sam Shepard poem. Double Roses vacillates between folk, retro country and pop.
Album opener "Wonderblind," for example, showcases Elson's soft and charming voice against a harp-filled, folksy melody. A heartfelt and soul-searching ode to the final moments of a relationship, Elson croons, "Is it worth the cost to lose yourself when you're already lost?"
By contrast, Roses' second single, "Call Your Name," gives breakups the dream-pop-meets-alt-country treatment. Though Elson's vocals aren't forceful, they're still strong when she sings about trying to let someone go. "Now you take my heart from out of me/ You'll be the death of me," she belts before an interlude loaded with strings.
The very next song, "Hell and Highwater," is reminiscent of early Dolly Parton, hearkening back to 1970s country. "Raven" leans on the organ that played a huge role on Ghosts before twangy guitar takes over "Million Stars." And so the album goes, meandering from one genre to another, its lyrics describing in colorful and emotional detail what a breakup looks and feels like.
No song on the Double Roses is more devastating than "Distant Shore," which closes out the album. "I watched you slip through my fingers," Elson begins, explaining the metamorphosis from love to loss. Her sometimes frail voice takes on a warmth and tenderness, demonstrating pain and acceptance as one learns to be alone.
Overall, Double Roses is a beautifully alluring and emotive album with plenty of variety to entice a new audience to sample Elson's offerings. A warning, though: Any listener having gone through a recent breakup should prepare for a rush of emotions as Elson shares hers.
Follow journalist Brandi Smith on Twitter, Facebook and BrandiSmith.me.