ALBUM REVIEW: Katie Melua is beguiling on jazzy 'Album No. 8'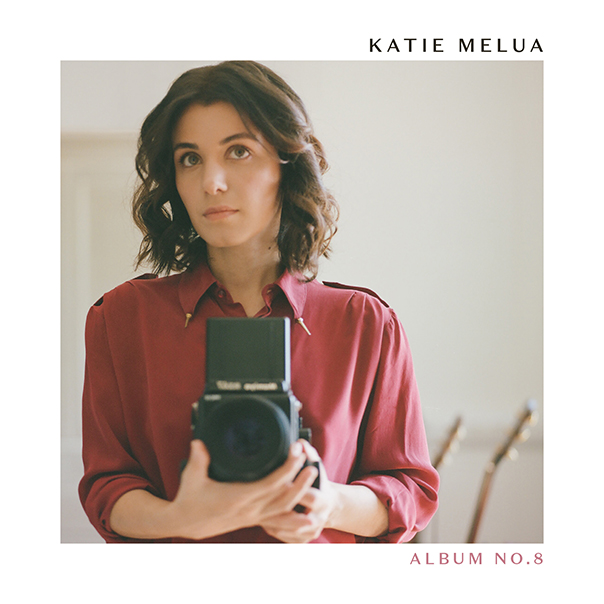 Only two British female artists have reached the top 10 in U.K. album charts seven consecutive times. There's Kate Bush, and then there's Katie Melua, whose catalog has been certified 56-times-platinum around the world but remains a relative unknown in the United States. The singer-songwriter—who was born in the nation of Georgia before immigrating to Belfast, Northern Ireland with her family—broke through with her 2003 debut, Call Off the Search, and never really slowed down. And on Album No. 8, Melua continues her streak of intricately told stories set atop sophisticated and nuanced compositions by producer and collaborator Leo Abrahams.
Album No. 8
Katie Melua
BMG, Oct. 16
7/10
As on albums past, Melua's songs are neither pop nor folk. There are orchestral flourishes—courtesy of the Georgian Philharmonic Orchestra—but that doesn't push the arrangement into "orchestral pop" territory. There are many jazzy touches—Melua has said she was entranced by the music of Brad Mehldau as she was writing, and her delivery recalls Norah Jones here—yet the songs never lose their leisurely pace or strong narrative.
Then there's lyrical component of Album No. 8, which Katie Melua took so seriously that even though she was already a graduate of London's acclaimed BRIT School (think Amy Winehouse and Adele), she enrolled to a short fiction course at a writing academy in London. She was determined to compose a compelling narrative that didn't stick to the standard tropes of love (or the dismantling of love) all on her own. Around the same time, her seven-year marriage to motorcycle racer James Toseland was coming to an end. But Melua, who's said the two still have a strong friendship, had no interest in writing about past mistakes or looking for Mr. Right.
"I think we've given love too much airtime," she sings on penultimate track "Airtime," a slow, jazzy lounge tune that you could imagine Melua singing with a martini in hand. "Turn it down/ Too much love is all around." The strings swell toward the end of the song, yet they don't mask the acoustic guitar that keeps the song out of any one box.
A lack of hate should not be confused with a lack of hurt or hope. Melua addresses disappointment and her attempts to move on at various points from opener "A Love Like That" ("It's a burning fire/ It'll be a wreck/ A bitter dream/ That makes you beg/ It falls like rain/ It turns to dust/ How'd you make a love like that last?") to closer "Remind Me To Forget" ("The leaves remind me to forget… And now the birds go from two to one.")
The former song poses a question as old as time: How do you keep the fire alive? It begins with fluttering strings that could easily go in the direction of "Flight of the Valkyries" before quickly swelling into a Laurel Canyon number that will perk up '70s AM gold listeners. The latter is a meditative number anchored by deep bass plucking, violins, alongside acoustic and slide guitar.
There's a beguiling nature to Melua's voice on "English Manner," a song that is supposedly about a love triangle yet leaves plenty open to interpretation. The mid-tempo arrangement—none of these songs are faster than mid-tempo but that doesn't meant they're not adventurous—has several mood shifts, from happy-go-lucky to menacing. There's a beautiful, foreboding symphonic bridge that locks everything into place and sets the bar for the rest of the album.
Melua reminisces about life in Georgia and the city of Tbilisi, where she grew up, on "Voices In The Night" and "Heading Home." Leaving the Mountain," meanwhile, was inspired by a trip that Melua and her father took to the Caucasus mountains by the Black Sea.
"Voices in the Night" begins as a full-on jazz number with some wind instruments (clarinet and possibly a saxophone) weaving in and out. An electric guitar and an organ add an R&B element, and the strings are never far away. "Maybe I Dreamt It" slices a fine line between orchestral jazz and Americana—think Bill Frisell producing Carrie Rodriguez. She wrote the song, about influential German choreographer Pina Bausch, with her brother, Zurab.
The contributions of Leo Abrahams (who's worked with Brian Eno, Jarvis Cocker and Paul Simon) should not be overstated. He was both a collaborator, completing the majority of the musical arrangements after Katie Melua finished writing lyrics, and producer—calling her back into the studio after everything was already done to record one last take of each song. It was these last takes that made it onto Album No. 8. He's said his goal was to write the music as if it was a Greek chorus to Melua's vocals.
Much of Melua's songwriting process on this album had a cerebral tact. She began by reading Bob Dylan's "Chronicles Volume 1" and looking up every song he mentioned in the book. From there she explored the work of Chicago jazz and soul guitarist Terry Callier, jazz composer Ramsey Lewis, French singer-songwriter Francoise Hardy, soul songwriter Charles Stepney, composer John Barry, Cole Porter and the previously mentioned Brad Mehldau.
How much of that deep dive made it into the record isn't immediately clear, but the variance of these 10 tracks will seep into your psyche if you're open to it. Melua avoids the percussive punch of artists like Florence and the Machine, who've crossed over in the U.S. But what it misses in lung-strength it makes up in its nuance.
Follow editor Roman Gokhman at Twitter.com/RomiTheWriter.