ALBUM REVIEW: Katy Perry finds hope in hard times on the reflective 'Smile'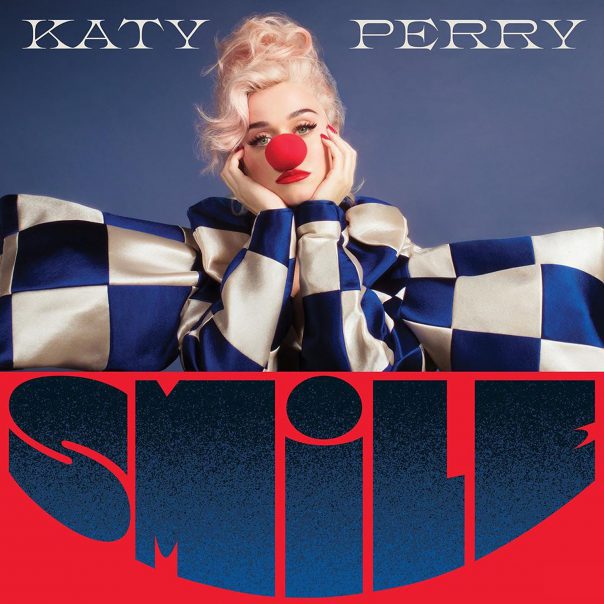 Katy Perry has penned the songbook of summer. On multiple occasions her songs have dominated radio, playlists and pop culture just as the mercury has risen. Big, bombastic pop songs like "Firework" and "Dark Horse" defined her keen sense of writing larger-than-life anthems. Even on Perry's darker electro-pop album, Witness, "Chained to the Rhythm" was still danceable and fun, even if it came from a more serious place.
Katy Perry
Smile
Capitol, Aug. 28
9/10
Katy Perry's fifth studio album, Smile, strikes a different note than its predecessors. Released in a very different world, not just externally but personally for the artist. There's no shortage of compounding world crises plastering the newsfeed every day, but for Perry it was also a time of deep depression and self-discovery. Now on the other side, expecting her first child with fiancé Orlando Bloom, she looks back that time with a newfound clarity.
Smile still spotlights her ability to craft bold, infectious pop songs—but this time presented with an added subtlety and recognition of the moment. Perry is at the top of her lyrical game, penning tracks about insecurity, self-reflection and redemption. The album trades in big, boisterous beats for refined and ethereal synth instrumentation.
Opener "Never Really Over" documents her self-doubt after ending a long-term relationship and the constant cycle of urges to reconnect and rekindle a past love. "I gotta rewire this brain/ 'Cause I can't even go on the internet without even checking your name" Perry sings over the drum snare and slick synths before kicking into the wordy rhythms of the chorus. The song effectively sets the stage for what's to come.
"Cry About It Later" takes Katy Perry from the pain and self-doubt of "Never" to her journey to suppress the feelings of pain. The track soars with an '80s-influenced pulsing synth track building up to a dramatic guitar solo in its final moments. The song manages to be both subtle and subdued while also keeping her flare for the dramatic, serving up one of the standout tracks.
She offers advice on "Teary Eyes," a dancehall track about overcoming and pushing through with the hope of a better day on the horizon. "Heart can't break/ It's already broken/ If the sun comes up/ Don't ever care at all" she sings on the build-up to the bouncy chorus. "Daisies" brings a mix of electric and acoustic sounds to build a complex soundscape for her to sing about overcoming self-doubt and finding triumph in being a longshoremen. Perry's vocal performance is impressive, pushing her formidable voice to its upper reaches on the chorus.
The quiet, subtly of "Resilient" lets Perry's vocals carry the weight over an intricate orchestral synth arrangement. "Look at me now/ Light up the room," she sings with clarity about the journey back to finding herself. "Not The End Of The World" is a throwback to the more musical high-drama that falls somewhere between Prism and Witness. The track packs a major punch in just under three minutes, with Perry offering advice on how to push through the most desperate times. "What a time to be be alive" Perry sings. It's something just about everyone can relate to these days.
"Smile" turns up the tempo for the album's first big danceable moment. The fun track has Perry singing about how she got her groove back, recognizing her past struggles while also feeling grateful for what brought her to where she is now. The second half of the album reintroduces a more upbeat Perry; lyrically and musically. The driving "Champagne Problems" is a mix of orchestral, funky and dance sounds. The instrumentation fuses '80s influences on a modern palette for a track that's both reflective and fun.
"Tucked" keeps the party going with a clean guitar-driven dance beat. The song again harkens closer to the breezy summer jams of Perry's past. It's bouncy and fun, without being over the top, and is a maturely pop sounds for Perry. The tempo slows for the mid-tempo ballad "Harleys in Hawaii," on which Perry drives the melody through her rhythmic vocal.
"Only Love" ties it all together, looking back on her sometimes frayed relationship with her parents and finding a path to reconciliation. Perry sings of putting too much emotional weight in the bad times, leaving them behind and focusing on the good times. The album concludes with "What Makes a Woman," an uplifting and upbeat ballad that also relies on a relaxed subtlety that lets Perry's earnest vocal shine.
Smile is the album that meets the moment of the age we live in. A fitting celebration of strength, pain and individuality under dire circumstances. The album hits all the right notes in mixing joy and pain without ever getting too down on itself.
Follow writer Mike DeWald at Twitter.com/mike_dewald.