REVIEW: Kid Cudi comes back down to earth 'Man on the Moon III: The Chosen'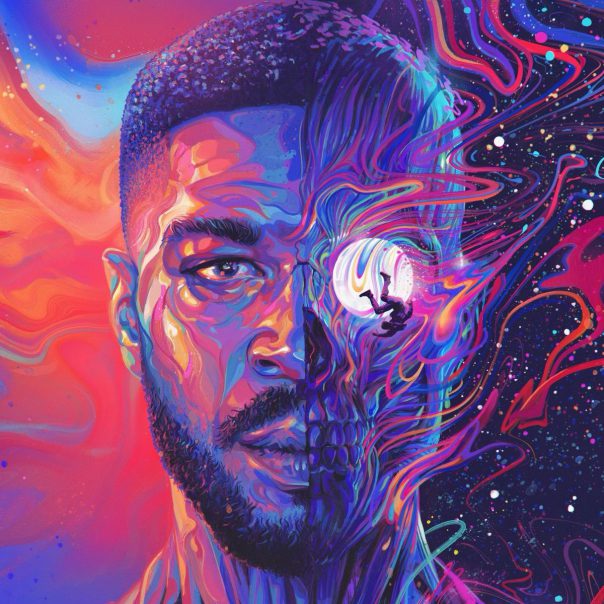 On his last Man on the Moon album, released 10 years ago, Kid Cudi explored the darker recesses of his mind, primarily, his substance abuse and depression around the time. Originally envisioned semi-autobiographical trilogy, it popularized discussions of mental health awareness in mainstream hip-hop through his poignant lyrics and atmospheric arrangements. The first in the series (2009) explored the highs and lows of superstardom, with the second detailing his Jungian shadow and how it informed his impulsive tendencies. Man on the Moon III: The Chosen sees Kid Cudi returning from despair through sobering reflections of coming to terms with himself and his circumstances.
Man on the Moon III: The Chosen
Kid Cudi
Republic, Dec. 11
8/10
Bookending a trilogy of self examinations of character, Kid Cudi offers a light at the end of the tunnel for those who identify with his journey. It's a terrific album and one that would have surely made our list of the best hip-hop of the year had we been given an advance listen.
The album's production feels somewhat safe, maintaining Cudi's signature use of ambient and synth-laden arrangements that capture a futuristic vibe. It's understandable considering the much-maligned Speedin' Bullet 2 Heaven, which saw him attempting to branch out into an alt-rock sound. However, there's still a variety of instrumentation that incorporates light touches of alternative rock on occasion through some electric guitar riffs and the occasional embrace of echo-y drums.
Act I of the album, titled "Return 2 Madness," sees Cudi continue to struggle with his inner demons, particularly in the form of his alter-ego Mr. Rager, who was introduced on the second part of the trilogy. We follow Mr. Rager's debaucherous and ultimately detrimental impact on Kid Cudi as he engages in vices of drugs, drinking and sex on tracks like "Tequila Shots," "Another Day" and "She Knows This." Eventually, this desire for instant gratification becomes insufficient, resulting in Cudi lashing out at anyone and everyone on "Dive" and "Damaged." And on "Heaven on Earth," Cudi seemingly uses his celebrity status as a way to justify his desire to close people out from his life.
Transitioning into Act II, "The Rager, The Menace," we begin to see Cudi unravel into a deeper depressive episode. On "Mr. Solo Dolo III" he returns to the bottle—be it pills or alcohol—while continuing to feel trapped by isolation and detachment from people and the world around him.
"Sad People"—the transition to Act III "Heart of Rose Gold"—brings listeners back into the world of Kid Cudi's dreams. Specifically referencing a recurring nightmare of himself of dying in a car crash. His sung vocal performance recalls the late Juice WRLD, who himself likely was inspired by Cudi.
"Elsie's Baby Boy (Flashback)," recounts Cudi's troubled past. He recalls the funeral of his father, who died from cancer when Cudi was 11. The rapper and his siblings were left in the care of their hardworking mom. "By the time he was 11/ His father had left him/ White church sitting in the front row/ White casket closed, he won't see him no more," Cudi raps.
"The Void" is the major turning point of the album. Kid Cudi acknowledges his desperation to escape depression and willingness to change. On "Lovin' Me," we see Cudi's growth into self-acceptance as the record moves on to Act IV, "Powers."
It's in the final act Cudi revisits some of the motifs of his first two entries in the Man on the Moon trilogy. He embraces a more lighthearted, braggadocios and optimistic perspective. Once you've hit rock bottom, there's nowhere to go but up, the album seems to say. There's a beauty in finding that we are the only ones who can truly determine whether we've hit rock bottom in a given crisis, and through a willingness to find a silver lining in our darkest times, there will always be some semblance of hope to find.
The last words on the album are "To Be Continued…" It appears that Kid Cudi has chosen to lead a life he finds worth living rather than be bound by the demons that have troubled him for years. It's a positive message from which many would benefit.
Follow editor Tim Hoffman at Twitter.com/hipsterp0tamus.