Kid Koala & Trixie Whitley make pacifying soundscapes on 'Music To Draw To: Io'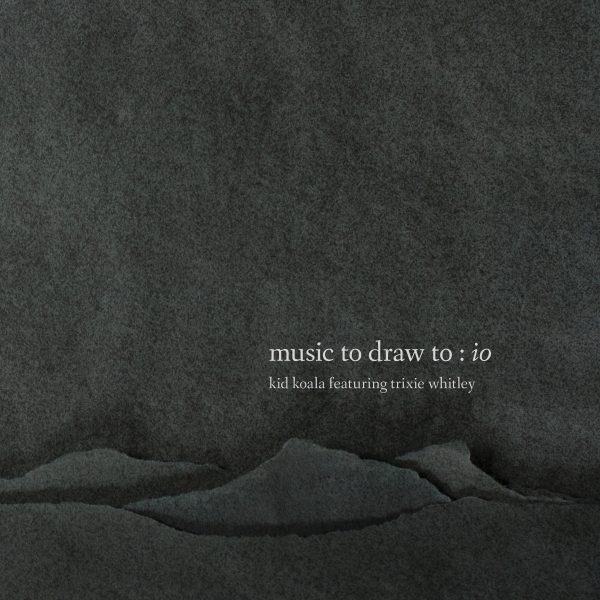 We can all agree that life these days is stressful. Sometimes we just need to unplug from the troubles in the world and take a minute to connect with ourselves. The new Kid Koala album, made with vocalist Trixie Whitley, is the perfect soundtrack for doing just that. Music To Draw To: Io features the kind of ambient sounds we expect to hear in a massage parlor or on a meditation retreat.
Music to Draw to
Kid Koala and Trixie Whitley
Kid Koala Music, Jan. 25
Kid Koala, 46-year-old Canadian DJ and multi-instrumentalist Eric San, returns with a new album featuring Trixie Whitley, the 31-year-old singer-songwriter and daughter of blues musician Chris Whitley. Together, the duo casts a somnambulistic, haunting and melancholic spell over listeners.
The first song, "Circle of Clouds," begins with a rudimentary melody made from slabs of bass synth sliding against each other. The sound is vaguely sinister, yet introspective and gloomy. The dense sub-tones are eventually augmented by electronic bleeps as the song's dynamics grows at the seven-minute mark.
The following "All For You" features Whitley's syrupy vocals poured over atmospheric keyboard washes, adding some musical dynamism. Sounding a bit like Fiona Apple, her smokey timbre and brooding lyrics intensify the song's introspective aura as Whitley sings, "I used to toil on what to choose/ You've taught me more than I could you." Devoid of percussion, the music moves like thick liquid.
The next two instrumental tracks, "Torus" and "Transmission," are slow and atmospheric. Their glacial progression makes for rainy day music for a world where computers have taken over and humanity can really get serious about moping.
Songs featuring Whitley's vocals are scattered throughout the album and provide some much-needed variety for these soundscapes. "Lost at Sea" sets Whitley's cosmopolitan vocals against what sounds like a synthesized steel drum. The simplicity of the instrumentation downplays the wisdom of Whitley's lyrics when she sings, "Forget your power, forget your wealth, forget the lies you tell yourself."
The next three instrumental tracks blend into one another, and as such seem particularly well-suited as background music. "Shielded" and "Liminality" each clock in at around a minute and a half. Their chiming synths and wobbly guitar sounds become the perfect sleep aid. "Transmission 5" breaks the mold a bit with soft, minimal percussion, gentle digital plonks and staticky radio voices.
When Whitley returns on "Hera's Song" the album takes a lyrical turn as the tender affection in the early songs seems to become bitter and vengeful. Amid a soundscape of futuristic woodwind synthesizer settings, Whitley sings, "I felt the rage through and through/ Won't sleep until you're ruined too." The thick bass notes eventually dissolve into mechanistic noise, like the sonic interludes on Pink Floyd's "Welcome to the Machine."
The album alternates between Kid Koala's instrumental tracks and songs centered around Whitley's vocals. The former cuts are more laid back and ambient than much of the rest of his catalog, while the latter recalls Music To Draw To: Satellite, his 2017 collaboration with vocalist Emilíana Torrini.
The last two tracks featuring Whitley, "Escape to Io" and "Looking Back Time," come off like spoken word poetry over an ambient sound collage. Whitley's lines are short and her imagery compelling. No one can criticize her for being overly wordy. On "Escape to Io" she says, "Drowned beneath the undertow/ I took the hurt and let it go"—and on "Looking Back Time," "It took me to the end to see that time was not my enemy."
Kid Koala's moody instrumentals recall overcast days spent by the window watching the rain. The album's trance-inducing psychedelia serves as welcome respite, a safe harbor from the storms of modernity and life in 2019. But you might want to keep Music To Draw To: Io off your workout playlist.
Follow writer David Gill at Twitter.com/songotaku and Instagram/songotaku.