ALBUM REVIEW: Kings of Leon stretch out on latest album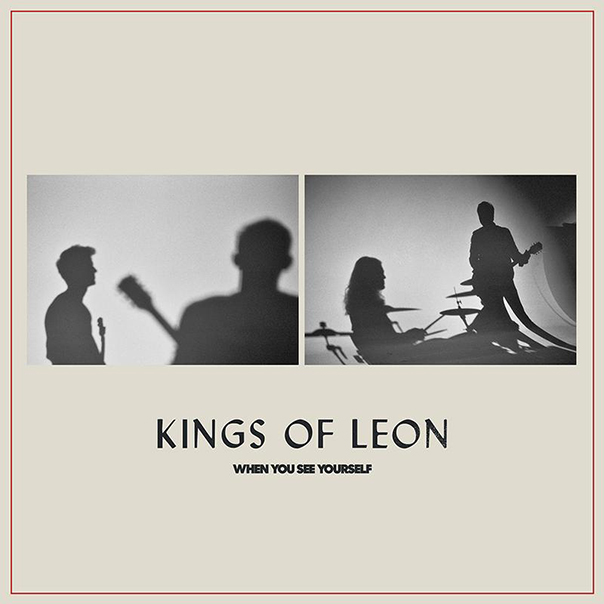 Kings of Leon achieved total radio saturation in 2008 with hits like "Sex on Fire," "Use Somebody" and "Notion," all of which reached No. 1.  The band founded by three brothers and a cousin in 1999 enjoyed tremendous success, blending The Edge's layered guitar sound with southern college rock vibes, eventually selling out arenas and stadiums all over the world. When You See Yourself, the band's eighth studio album, captures the band's classic sound but also strikes out in some new musical directions.
When You See Yourself
Kings of Leon
Sony Music
7/10
The album's opener offers perhaps the band's most dramatic departure from their classic sound. "When You See Yourself, Are You Far Away?" features almost African-sounding percussion and popping guitar harmonics. The resulting groove evokes comparisons to Paul Simon's Graceland album, Nigerian percussionist Fela Kuti's complex rhythms, and the articulate white funk of prog rock legends King Crimson. The song recasts the band's signature contemplative yearning with a more cosmopolitan vibe.
In other places, When You See Yourself harkens back to the classic sound of Kings of Leon. The album's first single, "Bandit," chugs with dueling guitars and shuffling drums, building to an anthemic chorus. The song tones down the "Sex on Fire" intensity but increases its emotional range, adding a sense of brooding ennui for those who may doubt the transcendent power of carnal combustion. "A Wave" moves from sparse, echoey piano, building with drums to another powerful chorus. On "Stormy Weather" Kings of Leon sound a little more like Americana blues duo The Black Keys, and Caleb Followill's husky vocals almost sound a bit like Kings of Leon's former opening act, Nathaniel Rateliff.
Many of the songs transition from lush intros pulsing with synthesizer, reverberant piano and haunting vocals into more conventional rock songs with the full band. "Time in Disguise" begins with a wall of gauzy sound against which Caleb Followill sings, "Blind attraction, chain reaction/ What you have is mine/ Persian ivy running wildly/ Ashes left behind/ Come a little closer, come a little…/ Closer now to the edge/ Winds are blowing, fires glowing/ Dancing in your head." The singer's vocal melody is reminiscent of songwriting legend John Prine. The song builds with serpentine vocal harmonies amid stabs of overdriven guitar and maracas in addition to the drums.
"Supermarket" is built around a slinky bass line and acoustic guitars, and actually sounds like a deep cut from The Cure's Kiss Me, Kiss Me, Kiss Me. The song's solemnity is enhanced by rumbling guitar sounds that punctuate the second half. It's dreamy and contemplative with Caleb Followill confronting his own inner demons, singing, "I took to driving, to see what I would find/ A place in history, a little peace of mind/ I know what you're thinking/ I know just what you mean I'll never be whole again until I get clean."
Kings of Leon are clearly getting better at earnest self-reflection, and obviously use music as a way to exorcise their personal demons. "Claire and Eddy" feels plaintive and sparse. The mid-tempo song cuts a swath equidistance between the nasal twang of Tom Petty and the simmering sensuality of Chris Isaak.
When You See Yourself is the work of a mature band, and a group of people who have ridden the ultimate lifestyle rollercoaster from home-schooled Bible kids growing up in the South to one of the biggest acts in rock music. While some of the band's unbridled enthusiasm has waned, it's been replaced by a larger emotional range and more complex messages in its music.
Follow writer David Gill at Twitter.com/songotaku and Instagram/songotaku.