REVIEW: Lana Del Rey is sleepily soulful on 'Chemtrails Over the Country Club'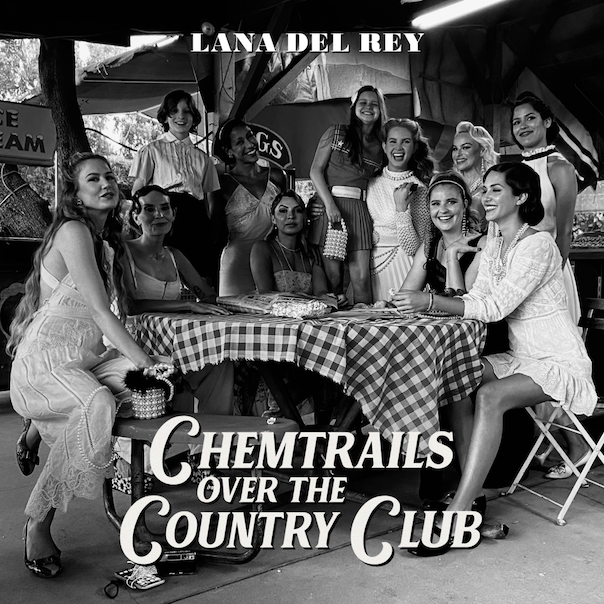 Lana Del Rey's sixth studio album, Chemtrails Over the Country Club, was rumored to be a country album. After nearly 15 years, it came as a shocker to fans, many who've fawned over her dreamy, sleepy Americana since her early days releasing of EPs like 2008's Kill Kill under her birthname, Lizzy Grant.
Chemtrails Over the Country Club
Lana Del Rey
Interscope, March 19
6/10
In 2012, after Born to Die swept the GAFFAS and Brit Awards, her psychedelic "Hollywood sad-core" genre broke through to the mainstream, and she's maintained that buzz since. After touring with Courtney Love and collaborating with artists like The Weeknd, Lana Del Rey finds herself joining forces once again with super-producer and Bleachers' frontman Jack Antonoff, who produced 2019's Norman Fucking Rockwell.
Their collective sound shows through on Chemtrails Over the Country Club. As with the previous album, minimalistic, heavy lyrics sometimes feel more like spoken-word poetry than music.
The "Summertime Sadness" songstress' title track paints a gloomy portrait of a glamorous life, for which she's known. Her sultry, doll-like voice floats over minimal instrumentation, but the melody is a bit boring and seems to only serve as a vehicle for the fascinatingly specific lyrics. "You're in the wind, I'm in the water/ Nobody's son, nobody's daughter/ Watching the chemtrails over the country club," she sings. In stark contrast to the highly orchestrated songs of her past, the single seems to excel in lyrical storytelling but falls flat in musical complexity. Luckily, the rest of the album isn't so disappointing.
Her other single, "Let Me Love You Like a Woman," has a similar tone, but with slightly more vocal variance, hitting a few mournful high notes and soulful harmonies. In a way familiar to long-time fans, Lana Del Rey revisits old motifs about moving out of L.A., craving her lover and leaving her life, primarily over a lonesome, solitary keyboard. "White Dress," the album's opener, is similar but shows off her breathy falsetto. "Yosemite" is a similarly lackluster redux of her lovelorn persona, and "Dance Til We Die," where she name-drops Joni Mitchell, Courtney Love and Stevie Nicks, seems like a cover of "Body Electric" done on Ambien.
Some tracks, such as "Tulsa Jesus Freak," are mellow, but fall somewhere in a more neutral zone. A large bulk of the album is painted with muted pianos, electronic drums, and acoustic guitars, harkening back to the more dulcet tones of 2017's Lust for Life. "Not All Who Wander Are Lost" is reminiscent of her early acoustic work and includes samples of voices, which sound partially like chatter in a recording studio and partially like ghosts. She does deliver on her promise of country music influence, and twangy guitar riffs can be found in various watered-down forms across the album, such as on "Breaking Up Slowly," featuring country musician Nikki Lane.
There are a couple of standout pieces where her new acoustic sound is elevated from a vapid, dissonant lullaby to a highly polished new sound. Namely, this experimentation comes to fruition on the mournfully catchy, country-inspired "Wild at Heart," or "For Free," an instrumentally boring but vocally powerful Joni Mitchell cover featuring Weyes Blood and Zella Day. Songs like the mellow, folky-electronic "Dark But Just a Game" encompass the album's intent, with pops of haunting instrumentation trickling throughout. Unfortunately, gems like this get a bit lost in the sleepiness of the rest of the album.
Follow writer Sara London at Facebook.com/slondogbusiness and Twitter.com/sjessielondon.