ALBUM REVIEW: Lee "Scratch" Perry gets personal and universal on 'Rainford'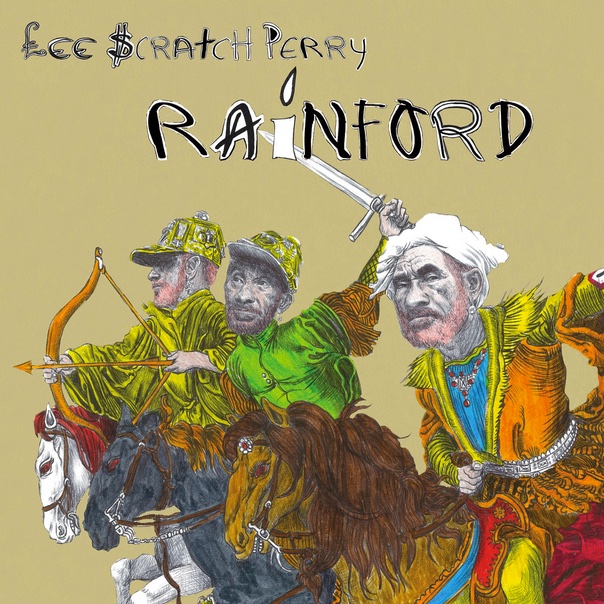 More than 40 years before he won a Grammy for 2003's Jamaican E.T., Jamaican-Swiss legend Lee "Scratch" Perry invented dub music. His unmistakable sound has taken him on an illustrious artistic, political and spiritual journey over the course of 68 albums by himself and with The Upsetters. Besides mentoring Bob Marley, his seminal position in Jamaican resistance music lead him to collaborate with everyone from The Clash to David Lynch. Some of Perry's best work owes its existence to producer Adrian Sherwood, whose legendary production led him from U.K. dub to the likes of Nine Inch Nails and Skinny Puppy. It's an occasion when these old friends join forces, and Rainford is no different.
Rainford
Lee "Scratch" Perry
On-U Sound Records, May 10
With so much gentrified pop-reggae topping the charts, it's high time the cornerstone artists remind everyone how it's really done. The Rastafarian mysticism takes hold as Perry calls for repentance over a nocturnal field recording, but "Cricket on the Moon" soon drops into what will surely be one of the  most satisfying grooves of the year. From isolated symbol hits and wah-pedal-heavy guitar lines find their footing over rickety drums and warm bass tones. Gravelly and commanding, yet inviting and jovial, Perry is in rare form at 83. His passion is evident, as is Sherwood's meticulous, authentic engineering.
The lackadaisical revolutionism of dub music is on full display during "Run Evil Spirit" and "House of Angels." The former finds jubilant sax soloing and gospel-esque backing vocals over a galloping half-time beat as Perry welcomes the judgement of evil and the final victory of good. The celebratory vibe emphasizes the joy for the righteous when the interlopers are sent on their heels. By contrast, the more recognizable dub feel of the latter cut takes aim at God's people—telling them to let go of their greed and "stop complaining." It's a rather pointed theme, but the skank-style guitars, soft-spoken brass arrangements and a detailed rhythm section remain as hypnotic and euphoric as one would expect from the legend.
The uptempo Reggaeton structure of "Let it Rain" incorporates bouncy rhythms and elegiac melody. It's unorthodox for the genre, but Perry and Sherwood didn't get where they are today from staying in one lane. The muted, alluring trumpet melodies and sci-fi laser sound effects of "African Starship" accomplishes a similar effect, building on Perry's musical toolbox rather than changing it. The amount of calculated chances taken in each song is impressive considering Rainford's base of rock-solid drum and bass grooves.
The amount of textures represented on Rainford seeps from the surface into the core of the music. You could find the glossy guitar stabs of "Makumba Rock" in plenty of reggae music, but the simple foundation become immersed in layers of percussion, vocals and ambient noise. The same can be said of anti-materialist anthem "Kill Them Dreams Money Worshippers," which acquires well-placed synth blasts and startling screams. What could have been a solid track without all the bells and whistles is infinitely more compelling in ways no one could expect. Still, Perry's message, as is customary with his type of music, is rather simple and clear—unite under God or be destroyed by ignorance.
"Children Of The Light" is Perry's call for unity in a time of high racism. Intuitive guitar and and melodica lines embellish the verses and the chorus acquires a harmonious gospel choir vamp. The song reaches its peak of inspiration when Perry names different ethnicities and the singers repeat "children of the light." He then turns the narrative into his own life on closing track "Autobiography Of The Upsetter." He gives a straightforward account of his rise to renowned artist and cultural leader following the injustice he endured in '30s colonial Jamaica.
"I am the upsetter/ I come to wipe out evilness/ I come to wipe out racism," he says over an ecstatic collage of melodic vocals and rootsy rhythms. The struggle to put an end to such evil may continue, but the adversity is what leads to artists like Perry speaking out through a one-of-a-kind musical statement. Rainford reflects not only his foundational roll in Jamaican music, but his vital perspective on unity and resolution in this chaotic era.
Follow editor Max Heilman at Twitter.com/madmaxx1995 and Instagram.com/maxlikessound.