ALBUM REVIEW: Local Natives refine their evolution with 'Violet Street'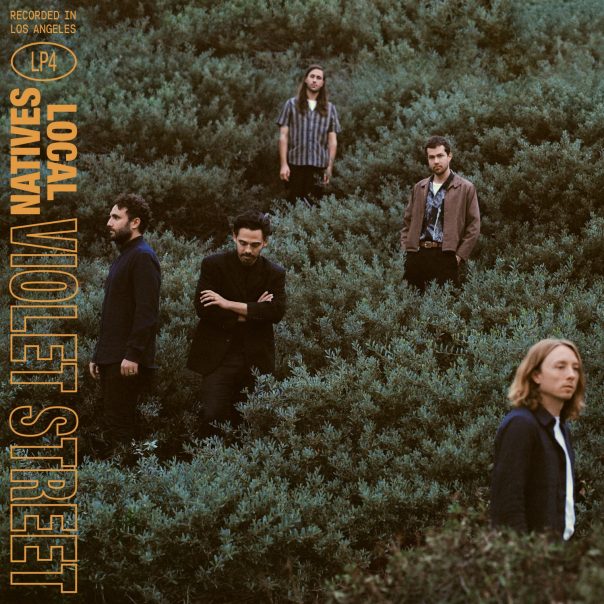 During the 2010s indie-rock explosion, Orange County's Local Natives set themselves apart in a sea of folksy schmaltz with detailed drumming and multifaceted vocal harmonies. Gorilla Manor (2010) and 2013's Humming Bird took a smarter approach to the pop-rock tropes of the time with a solid foundation in Afro-beat.
Violet Street
Local Natives
Loma Vista Recordings, April 26
Elements of neo-psychedelia entered the mix as well, which carried over into the band's turn to synth-pop on 2016's Sunlit Youth. That album worked for what it was, but the new keyboard emphasis become an albatross around the neck of Local Natives' signature combination of meticulous groove and soothing melody. Luckily, Violet Streets incorporates new influences more naturally into the band's sound.
The euphoric soundscapes and fluttering strings of opener "Vogue" bring the band's expanded sound palette to the forefront. Taylor Rice's, Kelcey Ayer's and Ryan Hahn's distinctive vocal harmonies gracefully glide over the sonics, making up for the lack of beat with a sizable, immersive arrangement.
The 47-second "Munich II" features ambient choral arrangements, solidifying a definite step forward for the band. Local Natives' experimentation allows lead single "When Am I Gonna Lose You" to transcend the trappings of Sunlit Youth. The song's simple beat and straightforward arrangement does lack the natural musicality of the first two albums, but dynamics and hooks make it a much more enjoyable deviation.
"Cafe Amarillo" provides a great combination of Local Natives' rhythmic backbone and adventurous sonics. Evolving rhythmic textures and a melodic bass line commingle with regal violins and piano. "I don't want to die before I learn to live," the band sings in unison, in a compelling amalgamation of catchy Brit-pop and suave soul music.
Things get more left-field with "Shy." Over clattering, lo-fi drums and percussion, triumphant singing and warm organ chords flesh out the chorus. The band's familiar catchiness remains intact as the song crescendos to bombastic brass hits and explosive drums. Local Natives actually incorporate what sounds like a separately recorded live drum solo before the final drop—a well-executed twist.
Local Natives' chemistry is on full display on "Megaton Mile" and "Someday Now." The former locks into Matt Frazier and Nik Ewing's fiery drum and bass groove, rife with infectious syncopation. The song's fuzzy guitar licks recall the school of indie rock with which they came up, but the transition to the latter is the real standout moment. The same beat decelerates to the new tempo in real time, inexplicably taking on an entirely new context as earthy bass chords drive walls of shoegaze-like distortion and falsetto harmonies. In both cases, danceable drums and infectious vocal refrains balance out within the thickened, more synthetic mix.
"Gulf Shores" starts like a standard piano ballad but diverts without warning into a pulsating electronic groove. The fact Ayer, Hahn and Ewing share synth responsibilities makes the brash synth leads during the chorus more natural against traditional rock instrumentation—certainly more than the likes of Imagine Dragons. Still, by no means are these new directions a crutch for the band.
A sparse, down-tempo beat and simpler bass line would have failed in previous efforts, but "Garden of Elysian" uses its sense of scope to give the slow-burn structure an engrossing effect. Rice, Ayer and Hahn's electric guitars combine immense distortion and melodious licks, reaching a convincing culmination without too much help from keyboard embellishments.
Closing track "Tap Dancer" leaves listeners with a unique example of how far the band's electro-acoustic explorations have come. Ending the record where it began without percussion, homey acoustic guitar and piano sways and swells alongside underlying synthscapes before blasting heavenward with an intense keyboard feature. Where Sunlit Youth left a longing for Local Natives' old material, Violet Streets transcends stylistic boundaries while maintaining the addictive grooves that made the band stand out in the first place.
Follow editor Max Heilman at Twitter.com/madmaxx1995 and Instagram.com/maxlikessound.