ALBUM REVIEW: Lucinda Williams plays rough on edgy "Good Souls Better Angels"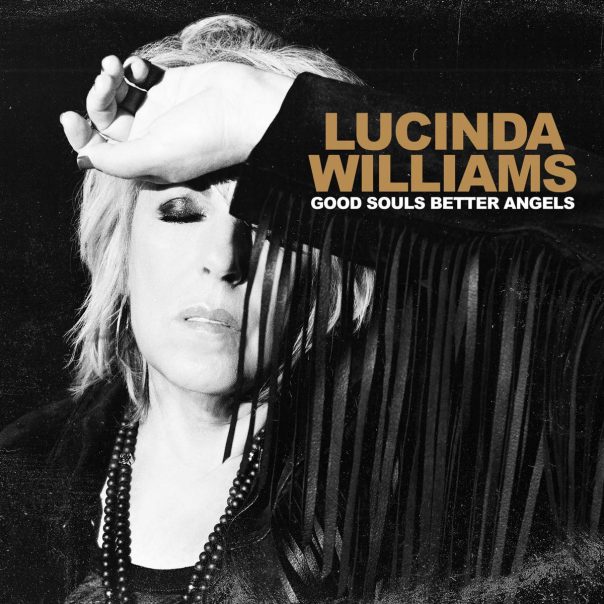 Perhaps stoicism is the price of singularity. The eminently hard-to-categorize Lucinda Williams is the rare mainstream artist who maintains street cred in both country and rock. But establishing herself entailed a grueling campaign. During the 1970s and '80s, the Louisiana native romped around Texas and Los Angeles, rubbing shoulders with luminescent low-lifes and immortalizing them in song. Over time she accumulated a strong following and three Grammy Awards. Through it all, she's become as reliable and comfortable as a scratchy old sweater that's somehow better than the others in the drawer.
Good Souls Better Angels
Lucinda Williams
Highway 20/Thirty Tigers, April 24
Less comfortable is the subject of Williams' latest album, Good Souls Better Angels, which tackles dark subject matter with unusually aggressive lyrics and sounds. Good Souls Better Angels is her 14th studio album, and her first album of new material since 2016's haunting The Ghosts of Highway 20.
Devils, bad luck and failure emerge as motifs. A theme of doing battle with demonic forces drives the plot. Williams' gritty realism reminds us that even when the fighting lets up, peace is often a far-fetched goal. Long fascinated with the possibilities afforded by poetry, she taps into a particularly grouchy and defiant vein on Good Souls Better Angels.
The most striking example, "Wakin' Up," sounds like nothing else in her catalog.  She unleashes a litany of resistance and dysfunction: "He threw a punch/ Somehow I missed it…/ He pulled my hair/ And then he piss on me/ Next thing I swear he wants to kiss on me." Disorganized guitar screeches soundtrack the chaos and Williams reaches deep to justify non-cooperation. In the harrowing chorus, she shakes herself loose, fast-talking to herself "I'm wakin' up/ From a bad dream/ It shook me up/ It was a bad scene/ It fucked me up." Standout guitarist Stuart Mathis channels Sleeps With Angels-era Neil Young over a menacing rhythmic rumble.
On Good Souls Better Angels, Williams is backed by throttling blues rock outfit Buick 6. Mathis riffs on scuzzy Hendrix-inspired guitar throughout, littering the bare-bones production with adversarial guitar leads. His brash blues chords and expressive free playing push back against the staid rhythms of drummer Butch Norton and David Sutton's out-front bass patterns. This arrangement yields an energizing live feel. Sizzling guitar solos muscle up against bruising rhythms and Williams' hard-edged vocals.
"Pray The Devil Back To Hell" treads similar thematic ground as "Wakin' Up," though from a more defeated perspective. Mathis tweaks his setup and explores spacier territory. Scratchy electric violin provides a rare variation on the basic sound palette supplied by the band. Williams confronts demons left and right, and not just internal ones. Implicit Donald Trump-shaming lead single "Man Without A Soul" prophesies a fall from grace for the controversial figurehead. "You hide behind your wall of lies/ But it's coming down," Williams spits, grinding him under her metaphorical boot like a discarded cigarette butt. Reassuring chord changes temporarily conceal Williams' vitriol.
Good Souls Better Angels delivers rough, raw-edged rock, and it's refreshing to hear. It would be fallacious to call the album a return to form, though, because Williams has never sounded quite this gnarled on record. Trashed guitars and garage rock production value provide a guttural backdrop for her lyrics, howled and slurred in surprisingly punk fashion.
On the agitated Texas blues shuffle "Bad News Blues," Williams turns a bad time good with straightforward rhymes and clever parallel construction. "Bad news on the street/ Bad news in my car/ Bad news under my feet/ Bad news at the bar," she moans, sounding beleaguered but sober. Her grizzled rasp lands awesomely between Iggy Pop and Kim Gordon, while the lyrics and music draw strength from a taproot of down-and-out blues. On the tough "Big Rotator," rhyming once again serves as the vehicle for Williams' ideas. She spins out a string of verbal tangents that coalesce like a ball of yarn around themes of good and evil.
Nevertheless, as with many classic artists who bring back the fire after a few albums of relatively conventional songwriting, Williams occasionally tempers the inferno. Two or three soothing, tuneful numbers find her changing gears.  Though almost bland in its understatement, closer "Good Souls" serves as a comforting epilogue for those trusting listeners who aren't scared off by the rough stuff.
"Shadows and Doubts" combines this more mellow strain with the album's through-line of righteous struggle. Williams begins the song unaccompanied. Buick 6 gradually overtakes her with subtle embellishments, and the song swells to a still-gentle but full-blooded pledge of solidarity. Dreamily, Williams croons: "Hell, these are the dark blue days/ That much is true/ And there's so many ways to crush you." But here she's not on the attack. She continues with a note of tough optimism: "You've got your shadows/ And you've got your doubts/ And you've got your battles/ But you fight your way out." It's a bit like a mission statement for the album as a whole.
The record serves as a reminder of what makes Williams' name a recognized brand in quality songwriting. Her individuality and fighting spirit continue to shine deep into her career. Her poetic beacon wrestles with darkness; not always winning yet urging listeners to stand up for their better nature. Good Souls Better Angels is, in its better moments, a fascinating listen for fans of the edgier side of roots rock and Americana.
Follow writer Alexander Baechle at Instagram.com/writheinsmoke.