ALBUM REVIEW: M83 revamps his D&D campaign on 'Digital Shades Vol. II'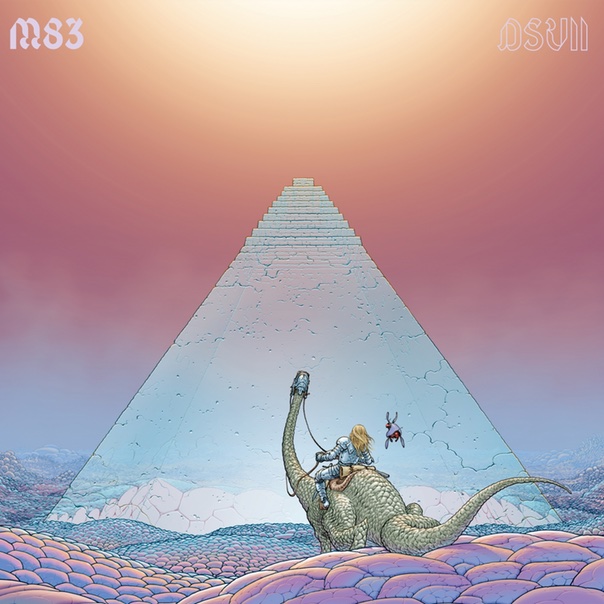 Few frustrations can compare to that of an artist who suspects his audience didn't fully resonate with his work. French '80s revivalist Anthony Gonzalez wrestled with that feeling with Junk in 2016. As M83, his combination of shoegaze and synth-pop earned praise from multiple camps. Even though Junk was received warmly by his fans, he couldn't shake the feeling that it wasn't registering the way he wanted.
Digital Shades Vol. II
M83
Mute, Sept. 20
Instead of trying to appease everyone, Gonzalez instead turns further inward to create a sequel to his 2007 album, Digital Shades Vol. 1. Worshipping at the altar of Brian Eno and Tangerine Dream, DSVII takes inspiration from Gonzalez's childhood fantasy movies, soundtracks—and of course, Dungeons & Dragons. The result is a powerful, emphatic ambient album that manages to transcend its drifting format.
Gonzalez has crafted the perfect ambient album for this stage in his career.
"Lune De Fiel" and closer "Temple of Sorrow" splendidly sum up what DSVII is all about. With massive soundscapes, nimble arpeggios and sweeping crescendos, the size of this album is impressive—especially because Gonzalez originally conceived it as a B-side compilation. Opener "Hell Riders," no doubt named after the 1984 action film directed by James Bryan, offers a similar sense of scope.
Gonzalez uses his arsenal of keyboards to essentially create the hi-fi version of "dungeon synth." His gleeful nerdiness is apparent but his passion for these soundscapes makes them all the more engrossing. From acoustic guitar to full choirs, Gonzalez adds layer upon layer until an explosive beat skyrockets the impact of its sprawling drones.
Other than these more fleshed-out pieces, the meat of DSVII centers on texture and atmosphere over traditional songwriting. Those who understand Gonzalez's past work know he can function admirably within those limitations. It makes sense that he supplemented this music with short films, but these can't stand up without an obvious narrative.
Beyond the fact Gonzalez peppered this album with ideas borrowed from video games like The Legend of Zelda and Final Fantasy, any of these tracks could fit perfectly into such a medium. The glossy electric piano chords of "A Bit of Sweetness" and the submarine patches of "Goodbye Captain Lee" sport a melodic structure akin to those impossibly catchy main menu screens.
There's some complex modulations at play on "A Word of Wisdom," "Jeux D'Enfants," "Oh Yes You're There, Everyday" and "Taifun Glory," which center mostly on traditional piano. Gonzalez separates himself from most ambient artists with his deep understanding of chord values, driving these cuts with thoughtful voicings rather than affected drones.
Clocking in at 57 minutes, the album has amorphous qualities cause deep cuts to drift. "Colonies" and "Mirage" stick out as nonlinear drone collages. Luckily, cuts like "Meet the Friends" follow a defined chord progression for a fanfare of brassy tones from which to build. Cuts like "Feelings" maintain a hypnotic feel amid constantly moving arpeggios, while "A Taste of the Dusk" achieves a similar effect with emotive legato. Gonzalez's keen sense of dynamics allows DSVII to transcend its predecessor. Even without help from percussion and vocals, "Lunar Son" is able to swell and sway with emphatic piano chords and utopian flute melodies.
M83 essentially becomes a synthetic orchestra on this album, thoroughly exploring the keyboard's potential for abstract textures and beautiful motifs. To be fair, sharing Gonzalez's passion for Dungeons & Dragons is key to appreciating this kind of music, but he continues to manipulate the heart and soul even within a more obscure context.
Follow editor Max Heilman at Twitter.com/madmaxx1995 and Instagram.com/maxlikessound.