ALBUM REVIEW: Margo Price turns the tables with All American Made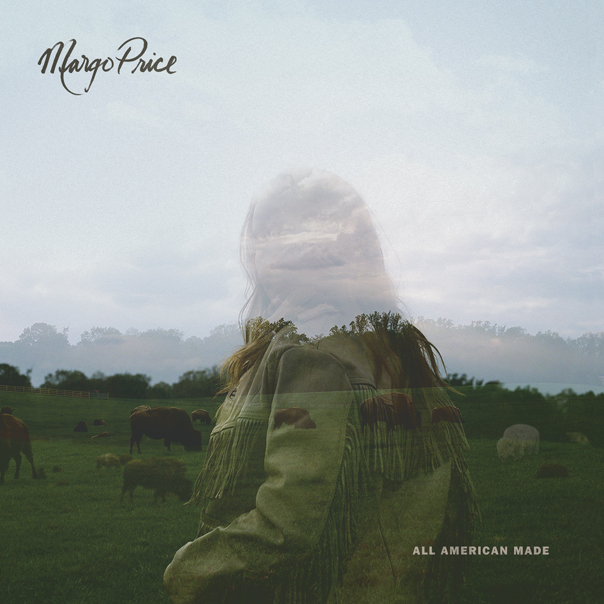 Singer-songwriter Margo Price seemingly burst onto the country music scene out of thin air two years ago, but of course that wasn't true. Listening to her songs about tribulations, loss, mistakes made and realizations unmet, it was clear she's had her hat in the ring for years.
All American Made
Margo Price
Oct. 20
Her debut, 2014's Midwest Farmer's Daughter, was rightly shortlisted for awards left and right. Her unfiltered inward gaze defied the norms of popular country radio. Margo Price was called a rebel by both those who fell in love with her story and music, and those whose styling she veered from. Some labeled Price a throwback to the years of renegade country, when storytelling was valued more than hits.
Margo Price is thankful for her success, but was eager to show that the throwback image was incorrect. All American Made, out this Friday, is neither an introspection on personal troubles (her life's been just fine thank you very much), nor traditional. Price blends country with blues, symphonic strings—violins, not fiddles—soul, psychedelia and rock balladry. Her lyrics look at the state of the world, from farmers and politicians to gender equality and equal pay. I'd compare this shift in sonic palette to the one Sturgill Simpson accomplished on his recent LP, but Price is making it clear that she's her own artist and not following in anyone else's footsteps.
Album opener "Don't Say It" has a rollicking piano and a tempo more rockabilly than country. Lyrically, it's darkly relevant for the weeks surrounding its release, with the allegations of sexual abuse by men in power like Harvey Weinstein: "I been wondering what the hell's going on/ Who gave you the right to treat me so wrong/ I don't care about your rules/ 'Cause I don't want to play."
Standout track (and early single) "Weakness" has Margo Price proclaiming two important statements about herself: That there's more to her than one side, and that she isn't perfect (nor does she try to be). "Sometimes I'm Virginia Woolf/ Sometimes I'm James Dean," begins the honky tonk tune. "Sometimes I've fallen off the wagon like a train runnin' off the track."
"A Little Pain" has Price showcasing how long she can hold a note (an impressively long time), while Willie Nelson makes an appearance on "Learning to Lose," a charmingly kaleidoscopic song with Latin guitar. Nelson and Price's vocals are neither sung in unison nor do they bounce back and forth. Instead, they weave in and out, rough around the edges in an endearing way. There are symphonic embellishments to bookend the melody. "I'm so far away from where I started but no closer to where I belong," Price sings.
The next song, "Pay Gap," is also a multi-headed beast. The simplicity of its lyrics, and the subject matter recalls union songs from the Great Depression. Look up "The Soup Song."
"Pay Gap/ Pay Gap/ Why don't you do the math/ Ripping my dollars in half," Price sings. "We're all the same in the eyes of God/ But in the eyes of rich white men/ The more we're made to be owned like a doll."
Both are protest songs.
Sonically, the song is a tropical waltz with shifting tempos. It's got an accordion, but the only thing it's missing from being a full-on island number is a marimba.
About two-thirds of the way into "Nowhere Fast," as the effect on her microphone increases the size of the room in which she's singing, an electric guitar settles in and turns the song into a '90s alt-rock ballad. It's more muscular than would be expected of a country artist.
On "Cocaine Cowboys," Price dabbles in psychedelia in a song about the type of men who like to raise their trucks to make up for other deficiencies. "Do Right by Me," featuring gospel quartet The McCrary Sisters, has Price successfully entering the Motown zone.
"Wild Women" is about the people who said in one way or another that she was wrong to be a travelling musician and leave her son at home with his father, husband Jeremy Ivey. It's a song she's been writing since she finished her last record, she told us more than a year ago.
"Heart of America" tackles the farming industry and the people whose elbow grease feeds the country. It's the bridge between her first and second album. Previously, Price told the story of how her family lost its farm. Now, she widens her focus on others in similar situations.
The album-closing title track is a stark look at the reality of America: Promise, with missteps. There is an undercurrent of nuclear war, missile deals with Iran, Americans on welfare, and how many of our current problems have been around for a long time, as shown by clips of presidential speeches weaved in and out of the melody.
Whether she's talking about herself or about others, the one thing we've come to expect from Margo Price is that she will tell it how she sees it.
Follow Roman Gokhman at Twitter.com/RomiTheWriter and RomiTheWriter.Tumblr.com.