ALBUM REVIEW: Mastodon shows what its capable of with 'Medium Rarities'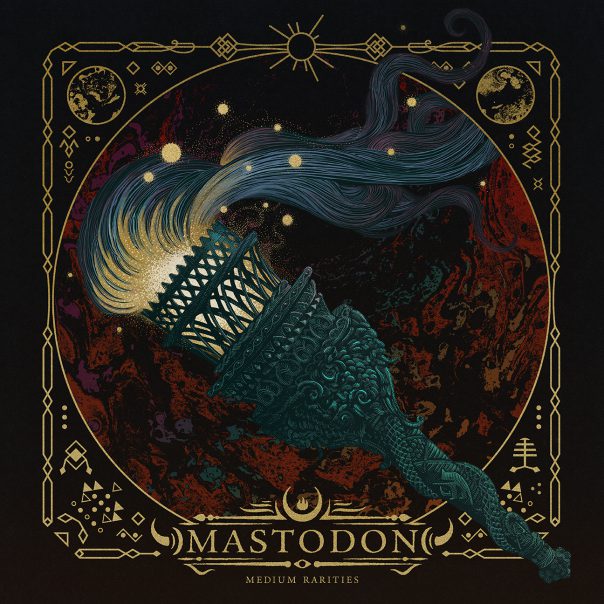 It's rare that an album's title pretty much tells you what it contains. It's refreshing that Mastodon called its new release Medium Rarities. Not only is it an excellent play on words referring to steak, but the album is also a collection of somewhat rare songs from the band's 20-year history that have never before been released.
Medium Rarities
Mastodon
Warner Records, Sept. 11
7/10
These songs here can be broken up into four categories, though they're not grouped as such: covers, movie and television soundtracks, instrumentals and live recordings. Outlier "Fallen Torches" is the first single—initially recorded to support a 2019 European tour that was shelved for another project. It's an extremely heavy and aggressive old-school throwback featuring Neurosis singer Scott Kelly.
Among the three covers, the highlight is Mastodon's take on Metallica instrumental track "Orion." It's a relatively faithful interpretation, clocking in at just 12 seconds shorter than the original, but replacing Metallica's proggy metal-influenced thrash with Mastodon's signature heaviness. It's distinctly the same song, not coloring too far outside the original's lines— which is to its credit. Why fix something that isn't broken?
On the opposite end of the spectrum is a cover of Feist's "A Commotion." While toned down from the face-melting aggression of a song like "Fallen Torches," it's still very heavy and distinctly metal; which is a pretty significant counterpoint to Feist's indie folk-pop original. It keeps the basics of the original but replaces everything else.
There's also a cover of the Flaming Lips' "A Spoonful Weighs a Ton," which, for the first half is as faithful as "Orion" despite the original being as far from Mastodon's wheelhouse as "A Commotion." It's remarkably well-done for being so far outside what the band does. The metal kicks in at the halfway point.
While the promotional materials and preorder pages list "Atlanta" as a Butthole Surfers cover, it's not quite that simple. The two bands originally collaborated to write and record it for Adult Swim's surprisingly good music venture. But the important thing here is that it's pretty good.
Concerning soundtrack songs, there are only two, but both are amazing.
First is "Cut You Up With a Linoleum Knife," from the 2007 "Aqua Teen Hunger Force" movie. It is, quite possibly, the best concept in cinematic history. Mastadon, as retro cartoon concessions, sing the theater rules and FBI warning and threaten you if you dare break them. It's OK as a song but amazing as a video; and it's a mystery why every subsequent movie didn't use the same tactic to keep theater patrons in line.
The other, "White Walker," is as one would suggest, a song from "Game of Thrones." The band captures the whole swords-and-magic aesthetic, though it barely feels like a Mastodon song. It's an impressive illustration of what Mastodon is capable of outside its genre.
Instrumental versions of 2014's "Asleep in the Deep" and "Halloween," and 2017's "Toe to Toes" and "Jaguar God" are all included. Because of Mastodon's prog rock influence, the instrumentals work a lot better than they do for most bands. In all four cases the music stands alone without lyrics—which isn't a knock against the vocals so much as a testament to the band's musicality.
Rounding out the album are live performances of "Capillarian Crest," "Circle of Cysquatch" and "Iron Tusk." The performances are technically proficient but not groundbreaking. It's not Nirvana's Unplugged or Cheap Trick at Budokan, but these four are a good sales pitch for going to a Mastodon show—once going to shows is a thing we can do again.
As a compilation of mid-grade rarities, Medium Rarities is a success. It stands as a sampler of what Mastodon has done in its first 20 years and a showcase of what it's capable of accomplishing.
Follow editor Daniel J. Willis at Twitter.com/BayAreaData.