REVIEW: Mike Campbell, The Dirty Knobs ride with a ghost on 'Wreckless Abandon'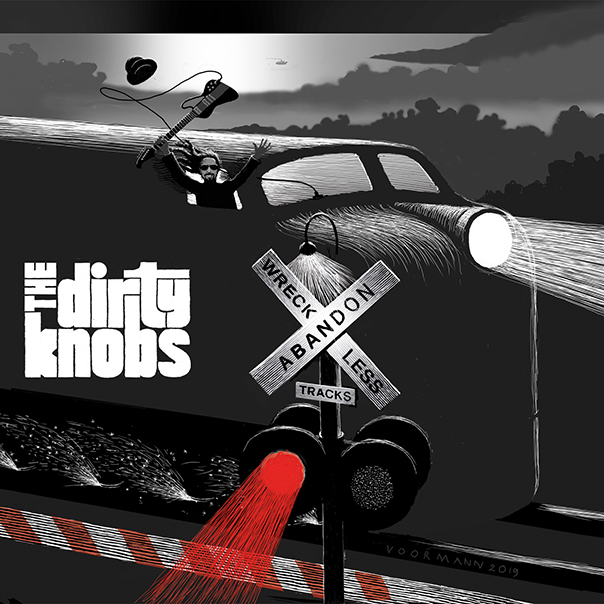 Novelist William Faulkner famously wrote, "The past isn't dead. It's not even past." The maxim is not simply applicable to the study of history. People are haunted by the things they have and haven't done, as well as those they've known. Artists are haunted by their influences, desperate simultaneously to celebrate and escape comparison to their antecedents. And we're haunted by the artists that we love, who—even after death—continue to speak to us, thrill us and pick us up when we fall down. Wreckless Abandon, the first album from The Dirty Knobs, the latest project from guitarist Mike Campbell, is haunted by the musical ghost of his longtime collaborator and friend, Tom Petty.
Wreckless Abandon
The Dirty Knobs
BMG, Nov. 20
8/10
It's not surprising that his new band sounds a bit like The Heartbreakers, Petty's backing band that Campbell joined almost 50 years ago. But it's almost uncanny how much Campbell's voice sounds like Petty's.
Just listen to the eponymous opening track. After some totally Heartbreaker chime-y electric guitar twang, his voice is almost like an apparition. He's got slightly more honk to tonk in his nose than Petty, but when he sings, "I found you in a roadside ditch/ 20 bottles gone/ Had your finger on the switch/ All circuits were blown," the sonic resemblance in the delivery of the last line is uncanny. The similarity is even more disconcerting as Mike Campbell delivers a Dylan-inspired, nasal sneer over the snarling bluesy guitars on "Sugar."
The Dirty Knobs add some additional grit to the classic Heartbreakers sound and Campbell and company seem to prefer a bluesy snarl to Petty's twang. "Southern Boy" has a ZZ-Top-esque wall of guitar fuzz, but Campbell seems to borrow his vocal cadence from blues legend John Lee Hooker during the song's chorus of "Get on that train." But the song also has a gorgeous breakdown section where the vibe gets real pretty. With the guitars turned up and growling, the crunchy blues licks of "Don't Knock the Boogie" and "Don't Wait" call to mind the raunchy riffs from "Honey Bee," on Petty's classic Wildflowers album.
Campbell is a master of dynamics, using clever song arrangements and volume changes to elicit additional drama. The quiet/loud of "I Still Love You" feels more than a little like The Beatles "I Want You (She's So Heavy)." The acoustic guitar and harmonica of "Irish Girl" and the delicate melody of "Anna Lee" serve as powerful counterpoint to the album's heavier side.
Wreckless Abandon makes obvious what an important role Mike Campbell played in The Heartbreakers and in shaping what most people consider the "Tom Petty sound."
Of course there's some family resemblance. He was Petty's songwriting partner for almost half a century and the trademark "Petty sound" is as much a product of Campbell's creativity and talent as it was Petty's. And maybe, just like anybody who's lost a loved one, we hear echoes of them everywhere.
Follow writer David Gill at Twitter.com/songotaku and Instagram/songotaku.