ALBUM REVIEW: Miles Davis snaps back to a creative precipice with 'Rubberband'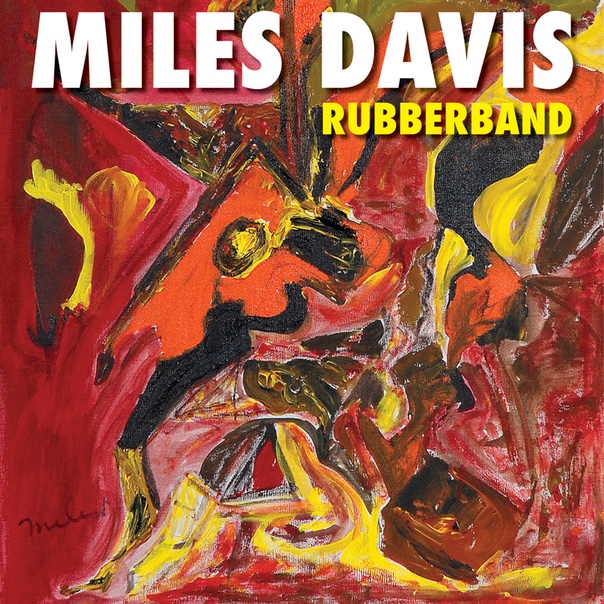 With the release of Miles Davis' 1986 Warner Bros. debut Tutu, the jazz icon divided his audience like he did during his '70s electric era. Younger fans appreciated his incorporation of drum machines and synth, but purists saw the departure as dumbed down. Either way, Tutu began a new era for the legendary trumpeter, but it was actually his second effort to that end. His first, Rubberband, became known as "the lost Miles Davis album."
Rubberband
Miles Davis
Warner Music Group, Sept. 6
A few tracks appeared in live performances and anthologies, but the LP remained hidden for 35 years. With the blessing of the Miles Davis estate, Davis' nephew Vince Wilburn joined forces with Randy Hall and Zane Giles—the drummer and coproducers during the original recording sessions—to finish the record. While a few passages don't escape the "unreleased recording" pitfalls, Davis' Midas touch is apparent more times than not.
Even if you don't account for the vocal addition of Ledisi, it's clear that "Rubberband of Life" is Hall's updated version of the original song. The beat leaves you waiting for Jarobi White or Kendrick Lamar to rap over it, and the emphasis on singing makes it more of a contemporary R&B tune based on a Miles Davis song.
The same can be said about the reggaeton rhythms and tropical steel drum melodies of "Paradise." You might be thinking it sounds incredibly modern, and that's because it was reconstructed and updated by the producers and vocalist Medina Johnson. It lives up to a utopian backdrop, with some romantic acoustic guitar plucking and gospel-ish background vocals, but Davis' stamp is unavoidably shrouded by retroactive additions.
Granted, it's not an attempt at trickery, but the contrast between those songs and concluding cut "Rubberband" is palpable. The latter has much more of the chemistry one would expect from a jazz master, and Davis himself does more than provide a few muted licks. The influence from '80s jazz-rock is prevalent, complete with staccato synth-bass lines and Mike Stern's shredding guitar solo, but it's clear that Davis was getting the hang of this style before creating Tutu with Marcus Miller. Still, several points on Rubberband could have benefited from Miller's big, spacious production.
Though both tracks feature Jaco-Pastorius-esque bass lines and electrifying brass arrangements, "Give It Up" and "Maze" sorely needed more low-end thud. Yes, Wilburn often programmed the drums rather than playing them, but more oomph could have skyrocketed the impact of these fusion tunes. Even so, soloing saxophones and tasteful auxiliary remain engaging and a lot of fun, especially when flutist Michael Paulo trades bars with Davis on the former cut.
The hard-hitting mid-tempo beat works much better against the addictive synth-bass line on "This Is It." It's here where Davis delivers more of his introspective soloing. Hall's electric guitar solo has all the flair one might expect from the rock bands of '85, as does the synth solo from Adam Holzman. Davis makes himself comfortable with keyboards, punctuating the groove with some explosive orchestra hits. More than simply soloing over a poppier context, his songwriting pays genuine respect to a more accessible format.
"So Emotional" could easily become a hit in current R&B circles, with a sparse, snappy beat, glossy chords and Lalah Hathaway's rapturous vocals. Davis displays his eye for less-is-more arrangements, letting his instrumental input take a back seat and letting synth string arpeggiations and harmonic bass drive the cut. Even though the vocal arrangements didn't come from him, Hathaway's voice fits swimmingly with the instrumentation.
Davis had already fleshed out vocal ideas for "I Love What We Make Together," on which Hall himself takes the lead vocal position. Its arrangement sounds like the producers didn't have to tie as many loose ends. Wilburn's funky swing grooves hard, locking in some rapid-fire band hits. Hall's vocals at times struggle to mesh with the instrumentation, and more robust dynamics couldn't have hurt, but it's a compelling foray into a new stylistic muse. 
Fans of Davis' pre-'80s music will take issue with Rubberband for the same reason as Tutu. He was never one to settle, continuously on the move and always at the vanguard. "Carnival Time" and "Echoes In Time The Wrinkle" see him using instrumentation contemporary for the time to a more idiosyncratic effect. Having long left behind the jazz standards of yesteryear, Davis embraced simpler chord values, self-admittedly incorporating influence from what he saw and heard on MTV. In contrast, atonality and free-form expression do appear at many points.
It's these inklings of Davis' '70s experimentation that gave deep cuts more to offer than just a first attempt at Tutu. Where that album had a much more airtight execution, "See I See" functions more as a collage. This isn't to say the song comes off underdeveloped; just that it allows the musicians to operate outside the box and focus on free-form expression instead of hooks.
Considering the lengths taken by the producers to finish Rubberband, it's fair to say Davis' end result would have differed considerably from what's presented here. The vocal-driven tracks are compelling but sound more like interpretations of his original ideas. It's the deeper cuts that unearth Davis' early experiments in '80s pop, before Miller organized and focused him. At the end of the day, it's a remarkable look back at a trailblazing musician gearing up for a new age.
Follow editor Max Heilman at Twitter.com/madmaxx1995 and Instagram.com/maxlikessound.