ALBUM REVIEW: Miranda Lambert and friends' 'The Marfa Tapes' is prime country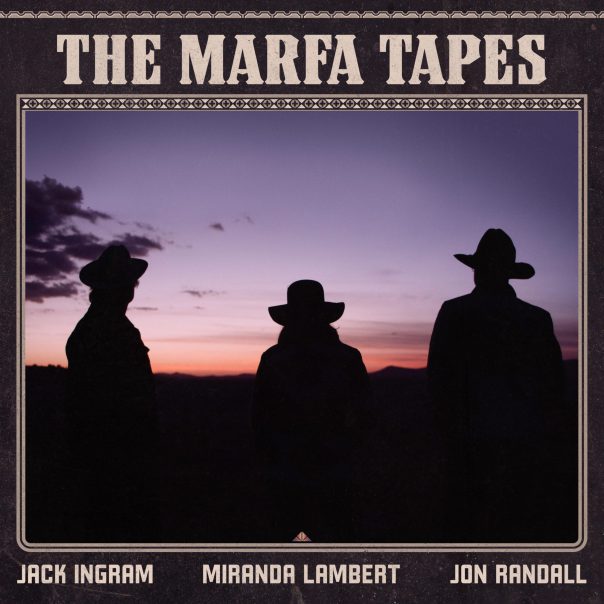 In 2015, friends Miranda Lambert, Jack Ingram and Jon Randall found their way to Marfa, Texas to see if the quiet, star-splattered night skies could inspire them to write. And boy did it ever work. Their first collaboration, "Tin Man," came on Lambert's stellar 2016 double-album, The Weight of These Wings, and was nominated for two Grammys. Since then, the trio returned to Marfa several times to find continued success. In the fall of 2020, they added producer Brandon Bell to the mix. Bell was the lone entity other than Lambert and friends that led to the creation of The Marfa Tapes.
The Marfa Tapes
Miranda Lambert, Jack Ingram and Jon Randall
Vanner Records, May 7
8/10
Directing him to keep things ragged and intimate, the group chose 15 barren and raw tracks to make up the album. Two have been heard previously: "Tin Man" and "Tequila Does"—the latter of which was featured on Lambert's Grammy-winning Wildcard—and 13 others. They were written and recorded around campfires with just acoustic guitars and each other's company. Nighttime sounds like airplanes overhead, crunching dirt and animals in the distance fill in the backgrounds of these songs.
From the quiet "Breaking a Heart" to the comedic "Homegrown Tomatoes," the group reaches for both the most intimate moments country music can be to more upbeat, bumpkin jams about drinking and country life. On "Homegrown Tomatoes," a "do-do-do" country beat accompanies Miranda Lambert and co. as they harmonize throughout the chorus about "being fucked up and falling in love." They're often captured giggling, messing up lyrics or throwing praises at each other's one-off takes on the songs written in the population: 1,800 town.
There's "In His Arms," led by Lambert, as about half the tracks are, with backing harmonies from the other two. You can hear gravel crunching as their feet shift underneath them, their guitars screeching and raw. Lambert ponders where in the expansive Texas desert her lover could be. On "Am I Right or Amarillo" the group harmonizes through the choruses, debating if taking a married woman to your hotel puts you in the wrong, or if it's a given in the aforementioned Route 66 city  and a clear road to the golden coast. "Come lay down on my pillow/ 'Til the dawn comes breaking through/ Am I crazy, I don't know/ You just might be, too/ Am I right or Amarillo/ Am I wrong for loving you," they sing. This is the highlight of the album. It's pure country singing and songwriting that's undeniably soothing.
Hearing studio versions of these tracks would be interesting for the sole reason of being able to see their journey from rawest to most produced and refined. However, on The Marfa Tapes, it doesn't matter. The songs work beautifully the way they are. On "Waxahachie," Lambert leads the group in a story of searching for lost relationships. "Got enough gasoline, memories and nicotine," she sings, relaxed and breathy. Later, on "Anchor," the group sings a slower, more poetic depiction of a romance so deep and full it submerges and swallows you whole.
"Geraldene," a classic Lambert track, not too dissimilar from 2016's "Priscilla," is snappier, with choppy delivery during the chorus that Lambert trips over a few times. Ingram and Randall just giggle at her as she makes her way through the song about a woman attempting to steal her thunder.
"I'm the only bitch in the band," Lambert reminds this woman. "That was fun, so fun," she laughs when finished.
The album concludes with "Amazing Grace (West Texas)," where the trio is able to herald the success it's found one last time. Lambert, Ingram and Randall prove any take, rendition or interpretation of the nearly 250-year-old hymn works an emotional punch into the final moments of an album. "Be my angel/ Come and save me/ Come and take me/ To the other side," they sing.
Lambert follows up with a toast and chuckles from the men are swept up in a gust of Texas wind.
Follow Domenic Strazzabosco at Twitter.com/domenicstrazz and Instagram.com/domenicstrazz.