ALBUM REVIEW: Miranda Lambert churns out hits on 'Wildcard'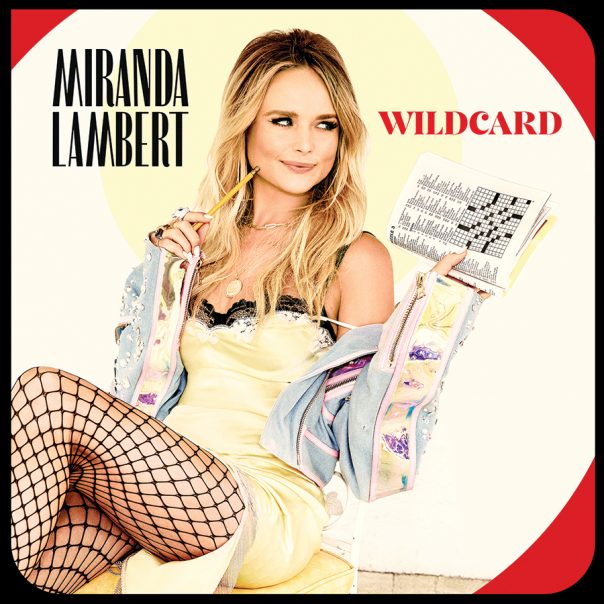 Miranda Lambert has never experienced a slump. The award-winning country singer started strong with a No. 1 album on the country charts and has established her sound and supplied herself with a healthy following through a string of hits. Her new album's title, Wildcard, suggests Lambert has a new trick up her sleeve. In fact, Wildcard is quite consistent with her body of work, other than a few variations.
Wildcard
Miranda Lambert
RCA Records, Nov. 1
Following 2016's ambitious and introspective The Weight Of These Wings, Wildcard delivers a lean set of in-your-face tunes geared toward radio play. Where the earlier album saw Lambert at her most soul-searching, Wildcard is extroverted and energetic—but not monotonic. The songs cover a range of styles and feels. However, it's heavily front-loaded with short, jaunty pop tunes that de-emphasize Lambert's country roots in favor of a dance-pop-oriented sound. This thread is picked up by the slick production value, making Wildcard more suited to a bustling nightclub than a smoky saloon.
This is not to imply that Lambert is limited to her past appeal. By code-switching between traditional Nashville motifs and a bouncy swagger, she has translated to a wider audience. This dual appeal remains intact on Wildcard, in large part due to Lambert's clever appropriation of folky sayings to make subtle, relatable points about independence, self-incrimination and having a plain old good time.
Wildcard isn't so much a country record as a country-infused pop album. Fans who enjoy Lambert's catchiness and smart, sassy phrasing will find much to like. Coming after the expansive The Weight Of These Wings, though, Wildcard feels a bit narrow in scope and vision. The album sounds slick and highly produced. Instruments like slide and electric guitar suddenly embellish passages with flashy solos, then disappear. This gives the album a pieced-together, compacted quality—as few of the songs stretch out and develop fully. Throughout most of the album, the mix remains saturated and upfront, emphasizing a thick drum sound. This approach is exuberant at some times and jarring at others.
For the most part, the songs remain short and danceable. "Holy Water" works around a rootsy theme, but it's the exception here. "Mess With My Head," a unique, syncopated homage to passion, features abrupt stops and a full-size chorus. Lambert uses one of her favorite devices on this song, extending an analogy into a full verse, as she sings, "You treat my mind like a hotel room/ And I know why I gave the keys to you/ I let you mess with my head." Lambert follows a similar strategy on single "It All Comes Out In The Wash." She highlights her guiding artistic principle, using humble, everyday themes to draw a series of witty parallels. "Don't sweat it/ Tide stick'll get it," she smirks with a twist of self-aware humor.
But the lyrical parallelism of lightweight boast "Pretty Bitchin'" sounds underdeveloped. The song uses repetition of the word "pretty" as a vehicle to explore different aspects of living the good life. Unfortunately, the interpretive possibilities tire themselves out before the end of the song's three-and-a-half minutes. Similarly, her dependence on references to alcohol wears out its welcome after a half-dozen or so times, though that doesn't stop booze-drenched "Tequila Does" from becoming an album highlight.
The second half of the record goes into mellower territory. One of the prettiest songs on the album, "Bluebird," explores themes of resilience and resignation over a swaying, down-tempo beat. A slight flavor of trip-hop atmosphere evokes lonely afternoons spent with painful memories. The lyrics again find Lambert playing to her strengths. "If love keeps giving me lemons/ I'll just mix them in my drink," she sings, subverting an old motto with a hip interpretation. "Bluebird" rings of sincerity and provides a refreshing break from the uptempo tracks that form the backbone of the album.
Despite these brief moments of respite, some listeners will miss the reflective self-explorations of The Weight Of These Wings. Where the previous album strived for poetic dignity and indicated growth, Wildcard belies its title and brash production. It inevitably regresses to a somewhat inorganic array of glib lyrical tactics and choppy arrangements.
Nevertheless, Lambert's persona is as strong as ever. Signature songs like "It All Comes Out In The Wash" and bad-girl riot "Too Pretty For Prison" affirm Lambert's status as a charismatic Nashville firecracker with a knack for crafty wordplay. Wildcard is the product of a music career still going strong.
Follow writer Alexander Baechle at Instagram.com/writheinsmoke.