ALBUM REVIEW: Misery Signals pull off a powerful reunion with 'Ultraviolet'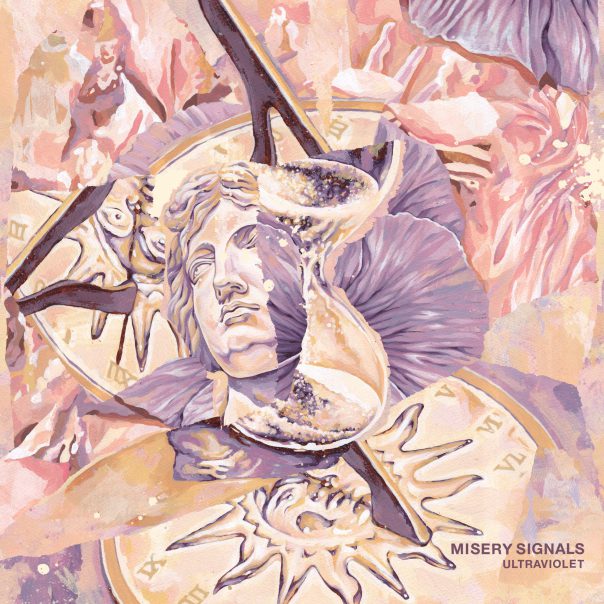 Among the melodic metalcore troops that defined heavy metal music during the mid-to-late-2000s, Wisconsin's Misery Signals stood apart for their balance of technicality, emotion and dynamics. Its progressive, post-rock vibes have served the band well through a series of lineup changes, but the prospect of the original lineup reuniting would have made any metalcore fan excited. After four years of rumors and hints, the announcement of Misery Signals' fifth album, Ultraviolet, set the scene ablaze. While the results of this meeting of minds are, necessarily, less innovative than they were circa 2004, these 34 minutes provide an elating full-circle experience from the band's first incarnation.
Ultraviolet
Misery Signals
Basick Records, Aug. 7
7/10
Kicked off by gritty bottom-end riffage, "The Tempest" finds Misery Signals inspired and exuberant. The chemistry between the members is apparent. The song spotlights thrashing riffs by Ryan Morgan and Stu Ross, accompanied by addictive grooves by bassist Kyle Johnson and drummer Branden Morgan. It all culminates with vocalist Jesse Zaraska's emblematic line: "When the world becomes so black we must sculpt the night and remake the skies."
Zaraska's dreamy singing also makes a reintroduction, which plays the perfect foil for the gnarly breakdowns and passionate leads found on "Sunlifter." Misery Signals' unique balance of memorable hooks, chest-pumping riffs and progressive arrangements clearly holds up.
It's poetic that 2020 has also seen the release of the debut album from END, a brutal, dissonant band featuring an ex-Misery Signals member. END and Misery Signals are like two sides of the same coin. The former revels in suffocating misanthropy while the latter favors a radiant, lively approach. In this way, Ultraviolet contrasts with metalcore's current trend toward darker textures. The intro of "Through Vales of Blue Fire" does carry an air of suspense with foghorn synth blasts, but even when harsh vocals and distorted guitars enter, the effect is more empowering than hateful. In spite of its overly simple breakdown, the bulk of "Vales" excels in nuance instead of prog-metal pizazz.
Misery Signals' buoyant, soaring qualities provide compelling support for the band's signature emotional crescendos. The heavier portions of "The Fall" evoke the posi-metalcore defined by the likes of August Burns Red and Parkway Drive, but maintains the sweeping dynamism that separated Misery Signals from the pack at their inception. The following "Redemption Key" would actually appeal to fans bands like Explosions In The Sky, as most of it centers on oceanic sound baths and soothing singing. The band lets metalcore tropes take a back seat to make way for cinematic atmospheres.
In fact, the first clear-cut 2000s metalcore breakdown doesn't rear its head until the end of third track "River King." It's refreshing to go back to a time where this music didn't just kill time before sweaty chug riffs. The intro's trickling guitars and punchy bass might recall that of "Mariana's Trench" by August Burns Red, but Misery Signals take more time to marinate in the dreamscape before the head-banging riffs and growls kick in.
The band's patient instrumentals and reverent voices give the outward explosions a lot more payoff—certainly more than filler before the mosh part. Cuts like this and "Old Ghosts" build bridges between distinct extremes with cohesive, airtight songwriting. Crowd-pleasing "chugga chugga" riffs become pleasant surprises, moments of clarity after many twists and turns of syncopated aggression and spirited melody.
It's easy to approach an album like Ultraviolet waiting for it to date itself. It definitely sounds like the wave Misery Signals rode in on, but a lot of it reinforces why people still look back on 2004's Of Malice and the Magnum Heart so fondly. In fact, "Cascade Locks" encapsulates a lot of what made that debut album indispensable. The emotional weight of Zaraska's vocals are most evident here, even incorporating a bit of the spoken-word soliloquies he used to do back in the day. Combined with massive build-ups, punk-inspired drumming and good-old-fashioned panic chords, the song demonstrates the lasting value of this style.
The vital precision of "Some Dreams" delivers, and that string-bending half-time riff absolutely slaps. Regardless, this album's effectiveness does depend on how nostalgic listeners are for this specific era of metalcore. For people who miss the 2000s and wish Warped Tour didn't jump on the Myspace scenecore bandwagon, this is a short-but-sweet throwback to a simpler time in heavy metal music. Ultraviolet makes up for its lack of boundary pushing by capturing a lot of what made Misery Signals a metalcore luminary 16 years ago.
Follow editor Max Heilman at Twitter.com/madmaxx1995 and Instagram.com/maxlikessound.