ALBUM REVIEW: MisterWives build a tragic kingdom on 'Superbloom'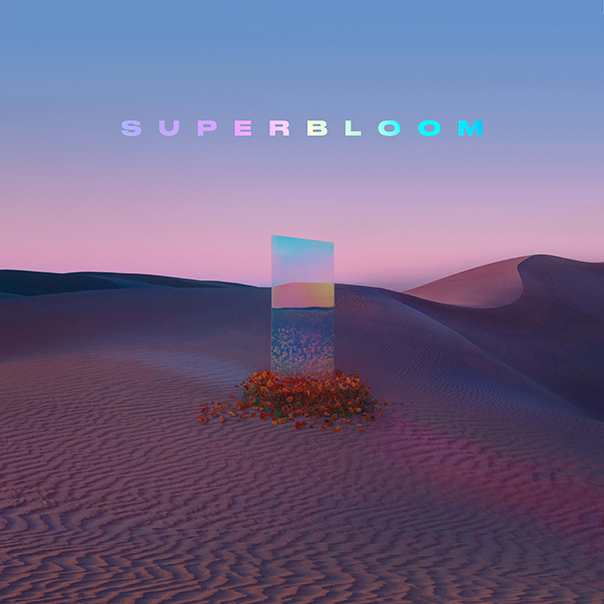 In the several times I've interviewed New York's MisterWives, it's become my habit to ask vocalist Mandy Lee, drummer Etienne Bowler and their bandmates whether they've had any internal fights—something they pointed out at our first meeting hadn't yet happened. Behind the scenes, Lee and Bowler were an item for nearly a decade and tied the knot in 2018. It was sometime after then that the bottom fell out. With the release of 2019 EP mini bloom, MisterWives hinted that all was not right in their Camelot. With new LP Superbloom, we now know that Lee and Bowler are no more as a couple.
Superbloom
MisterWives
Warner Music, July 24
7/10
The 19-track album, which includes all five of the songs previously released on EP,  is the band trying to find whether it can continue to exist while Lee and Bowler find their new place as friends and bandmates. The journey is not a suspenseful one. Had MisterWives crumbled apart we wouldn't have any new music. Instead, the question becomes whether the duo, alongside bassist Will Hehir, guitarist Marc Campbell, saxophonist Mike Murphy and multi-instrumentalist Jesse Blum could turn this major bummer into a freshly empowered force.
The lyrical content of Superbloom weighs the album down. But what else can the band do? Its first two albums, 2015's Our Own House and 2017's Connect The Dots, were full of joy and eager anticipation. Sonically, the record is as upbeat and danceable as anything MisterWives have released. For a band that's drawn comparisons to early No Doubt (and Lee to Gwen Stefani), Superbloom is its Tragic Kingdom, trying to find a way out of sadness and onto whatever is next.
The record opens the way the EP concluded, with "The End."
"All good things come to an end/ To make room for new beginnings," Lee sings over Bowler's thunderous kick-drumming, a pad of synths and upbeat guitar noodling. We start with the end of the relationship and work through the thoughts inside Lee's head, at least at first. A grungy guitar riff kicks off "Ghost," on which Lee laments seeing Bowler's ghost wherever she goes and begging him not to leave her. The power pop tune has no thematic conclusion, instead setting up the previously released EP single "Whywhywhy," which, now in full context, is more bittersweet than ever. Yet, it's so incredibly danceable. It's possible to throw yourself into a party and sit alone with the curtains drawn, unsuccessfully drinking away your pain.
"Is it wrong/ If I want to see you cry?" Lee sings on the bluesy intro to "Alone," traveling the stages of grief before the song picks up pace. "Can't believe how far we fell." We're left to wonder what it must have been like for Bowler, whose mid-tempo beat is the key to the song, about his emotional departure from the relationship. Following EP track "Stories" ("The mind is a crazy thing/ It believes what it wants to"), the the tempo slows to a crawl on piano ballad "Valentine's Day." This is the album's "Don't Speak." Lee not only explains how the relationship ended, but that she was the one who had to pull the plug: "You couldn't do it, so I had to break my own heart," she sings. "Nobody walks away the way you do."
The song is purposefully simple, three or four piano chords. Some mood synths. Slow heartbeat drumming. Lots of people break up. It's normal. It can be healthy. Now think of the people you always hoped would stick together. Imagine that relationship ending. It's like that. It hurts even if it's not your relationship.
The aggressive "Over The Rainbow" incorporates some rockabilly drumming and lounge vocals. Lee chronicles hitting rock bottom, which includes drinking, crying to her mother, and feeling she wanted to leave her despair. Also noteworthy here is there intro, which has the effect of being played backwards, as some sort of bizarro world, and there conclusion, which builds to modern rock territory. The crashing guitar riffs possibly speak to the anger boiling inside Lee. It's not quite Smashing Pumpkins, but it's not pop, anymore, either. This is the first MisterWives song meant for earnest head-banging.
There's some breezy vocal effects on "It's My Turn" that makes Lee sound like the Haim sisters, as well as some nearly rapped storyline about how Lee had pent up her feelings, which may have included keeping from others that the relationship was crumbling. "Its' my turn to be the crazy one/ To finally come undone/ To go ahead and let the house just burn," she sings. After "Find My Way Home," a funky mini bloom cut that's highlighted by Blum's brass playing, and "7-2," Lee vows to get back up again on the disco-like "Rock Bottom" (another of Blum's brassy standouts) and doubles her effort to find herself again on EP cut "Coming Up For Air." Finally, there's some joy in the tone of Lee's delivery. The upswing continues on the following "Oxygen," despite Lee singing about seeing Bowler with someone else. Still, "I'm right where I want to be," she sings.
Percussion is noticeably absent on "Running in Place," though there doesn't appear to be any other instrument accompanying Lee's powerful voice other than a reverb-laden piano. The song also serves as a sort of new mission statement: "I don't want to be anything to anybody … I don't want to need anything from anybody." That leads right into the jazzy, soulful "Decide To Be Happy," which has a theme of growth that brings us back to the album's name. "Flowers don't grow without the rain, and goodness don't grow without the pain," Lee sings.
Had MisterWives wanted to conclude the album there, it would have made for a complete story. But this is a Superbloom, after all. With the remaining four songs, the group expands its sound into R&B and doo-wop territory on "Love Me True" and the title track, and Lee seems to regain her balance, and potentially love again on "3 Small Words" and "Muse."
There's a lot to take in on Superbloom. For a superficial good time, you can pick and choose and dance to almost anything here. But listening to the entire album will break your heart and rebuild it, all within an hour.
Follow editor Roman Gokhman at Twitter.com/RomiTheWriter.