ALBUM REVIEW: Morgan Wallen does it all on sophomore LP 'Dangerous'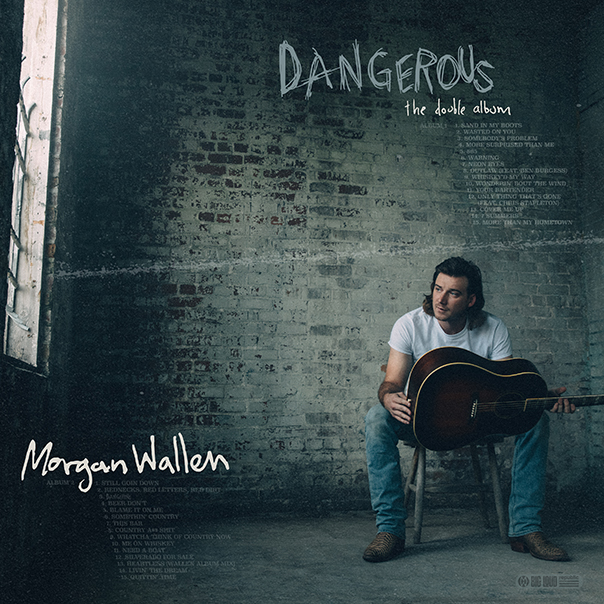 A 30-song album is ambitious, no matter who you are. Morgan Wallen was up to the challenge with Dangerous: The Double Album. Heralded by a handful of singles that fans have already grown to love, Dangerous arrives with heaps of material that the young country crooner has penned recently but which speaks to a dedication seemingly beyond Wallen's years.
Dangerous: The Double Album
Morgan Wallen
Big Loud Records, Jan. 8
9/10
Wallen walks the line between the country and pop while showcasing his talent for storytelling. He wears his Tennessee roots with pride and his authentic persona finds a way into his music.
"Rednecks, Red Letters, Red Dirt" is a conclusive example of all the influences from his past coming together in one song. Steel guitars and banjos lead listeners through a story about the small town in which Morgan Wallen grew up, with the title signifying the three things he needs to signal he's back home.
Then there's that vocal twang that Wallen's voice gives the songs about small-town Tennessee a certain authenticity. "Whatcha Think Of Country Now" is another example of his roots finding their way to the spotlight as Wallen sings about introducing a girl to country music and the lifestyle that's musically reminiscent of Jason Aldean circa 2010's My Kinda Party. For more examples of songs in which Wallen lets his country roots shine bright, check out "Somethin' Country," "Whiskey'd My Way" and "Beer Don't."  As a country artist, Wallen is obviously going to use his life as a mine for inspiration, but what sets him aside from the same old songs about dogs and beer are his other two talents: storytelling and pop songwriting.
With influences like Florida Georgia Line, the group he's toured with on multiple occasions, it's no surprise that Morgan Wallen has a strong grip on how to switch lane between old-school country and country-pop. "Wasted On You" is an example early in the album that has country overtones thanks to a steel guitar but an almost hip-hop rhythm. The elements that make it either pop or country aren't strong enough to sway it one way or the other, so Wallen happily exists in the space between as he shares the story of wasting time on a love he thought was real.
"Warning" has more prominent percussion, leaving just Wallen's Southern drawl to identify it as belonging in the country realm. Single "Heartless," with Diplo, found its place among the DJ's fans. Even though the rendition on Dangerous is more fixed in the country realm, with less Auto-Tune and digital additions, it still seems to hold the echoes of its more upbeat predecessor. With plenty of room to experiment in his future, it's fair to assume that Morgan Wallen will continue to weave his songs with the influence of multiple genres. He seems to have no fear of the notion.
One of the most impressive things that Wallen showcases on Dangerous: The Double Album is his narrative storytelling. Not only does he do an incredible job of creating a picture, but his attention to small details brings an elevated realness to the worlds he creates with his lyrics. "Sand In My Boots" is one of the best examples of his lyrical strength. From the potholes on familiar roads to his favorite staple bar and the way he arranges flip flops on the waterfront, he uses detail to take listeners on the same drive through town that puts them square in the middle of his "little town outside of Knoxville."
The storytelling also shines on single "7 Summers," which takes listeners down memory lane as Wallen reminisces about the girl he loved seven years prior and wonders where she may be now. Not only does he sing about the Southern Comfort they shared on the riverbank and family disapproval, but he sings about the white-picket-fence life that he imagines her living now and wonders if she misses their past. While the song is fairly straightforward with light guitar strumming and a beachy vibe, it carries a profound sadness that bleeds into the instrumentation and results in a melancholy tune. For other songs that highlight Wallen's storytelling, listen to "Me On Whiskey," "Quittin' Time" and "Somebody's Problem."
Dangerous: The Double Album is a wonderful way to start the new year and leave the old behind, full of good ol' country songs, country-pop hybrids and love stories. Country listeners will eat this up, but the album may also connect with others, which speaks as much to the lyricm here as the arrangements and production.
Follow writer Piper Westrom at Twitter.com/plwestrom.