ALBUM REVIEW: Interpol's Paul Banks and friends class up the joint as Muzz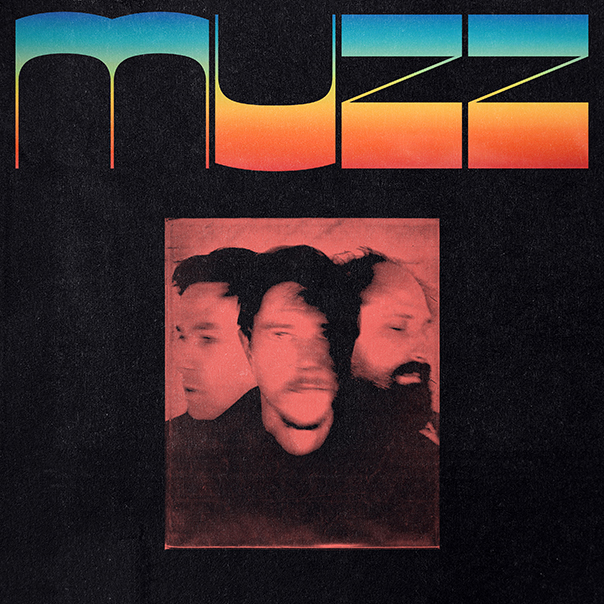 Many of us know a "record nerd," a subset of aficionados with encyclopedic knowledge of and acerbic opinions about some musical niche or other. Record nerds wax poetically on the merits of the recording console at Sunset Sound, or the natural reverb in Abbey Road's studio two. But many of these folks have never set foot in a recording studio. Muzz, the collaborative, self-titled debut from Interpol frontman Paul Banks and two friends, lets the kids loose in the candy store. The album captures the sound of three record nerds using the studio as the ultimate musical instrument.
Muzz
Muzz
Matador Records, June 5th
Muzz is the latest collaboration from Banks, who's collaborated with Wu Tang Clan's RZA in the past. This time the Interpol vocalist enlisted the talents of long-time friend Josh Kaufman, a member of folk group Bonny Light Horsemen and producer whose credits include The National, Bob Weir and The War on Drugs. Rounding out the trio is drummer Matt Barrick, who's played with Jonathan Fire*Eater and The Walkman, and is currently the touring drummer for Fleet Foxes.
Immediately, all that talent makes itself known on the album's opener, "Bad Feeling." The song begins with sparse electric guitar, warmed by vintage-sounding organ and adorned with Banks' solemn and pensive lyrics. During the song's brief second verse, Banks sings, "We're pretty ancient, that's what all the silence means/ Speed runs the whole generation, torment of ease," before the song's lilting chorus, when Banks bids adieu to his ennui, singing, "So long, so long bad feeling." Later horns embellish a jazzy and elegant interlude.
"Evergreen" manages to sound like both Beck and Pink Floyd with more organ and a bumping bass groove. Some strange vocal effects render Banks' voice slightly mechanical, as accompanied by a strange slide-guitar-producing haunting vowel sounds reminiscent of Pete Drake and his Talking Steel Guitar. The song's anthemic chorus elicits comparisons to Pink Floyd, while sounding a little like another psychedelic collaboration, Buffalo, New York's Mercury Rev. Perhaps it's no surprise that Banks has worked with Mercury Rev producer Dave Fridmann on the last Interpol record, Maurader.
Muzz is at its best when venturing into hazy psychedelia. "Patchouli" sounds like The Flaming Lips with tremolo-laden guitar, spacey synth sounds, and plaintive vocals. But this isn't your dad's acid trip spent spacing out to Wavy Gravy; it's more like David Lynch's brand of tripped-out weirdness, sumptuous, opaque and haunting. "Everything Like It Used To Be" starts off with a driving intro and Banks sounds a bit like The Church vocalist Steve Kilbey. The song's string section adds to its cinematic feel.
The studio wizardry on "Broken Tamborine" involves sparse piano and bird sounds that, taken together, suggest it was a pretty good tambourine and the band is mourning its loss.
"Broken tambourine/ As heaven marches over, hushing mind machine/ I know which way to leave," Banks sings. The strings and horns on "Red Western Sky" add to the album's pristine production.
Muzz sounds both nostalgic and science-fictional. "Chubby Checker" maintains an ethereal quality, like much of the music on British indie label 4AD. "Summer of Love" pairs a retro organ with a canned samba beat and acoustic guitar. "How Many Days" trades in a dense and jazzy series of verses for a ripping fuzzed-out guitar solo that will melt your face, and is reminiscent of Wilco's Nels Cline's six-string sorcery.
The tracks at the start of the album are so good that it almost feels like the record loses some steam in the second half. But this is more a result pertaining to the quality of the first songs, rather than a lack of it on the later ones.
Banks coined the term "Muzz" to describe a sound he liked on vintage recordings, and that sound is all over this album. Muzz comes off a bit more boutique than Interpol. The vintage gear and studio wizardry feel artisanal, produced by musicians pursuing their own sonic passions rather than producing an album for mass consumption. In today's musical marketplace that's a welcome change.
Follow writer David Gill at Twitter.com/songotaku and Instagram/songotaku.