ALBUM REVIEW: Nada Surf pulls at the heart strings on 'Never Not Together'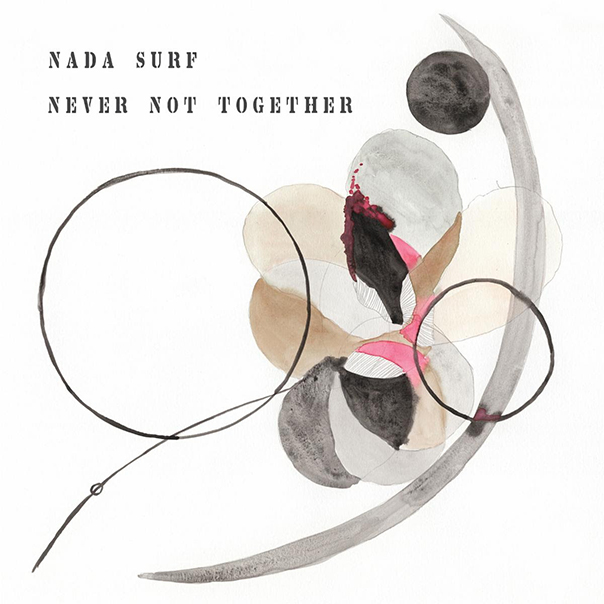 New York City's Nada Surf burst onto the scene in 1996 with "Popular," a deeply ironic and subversive hit critiquing the trivialities of high school popularity. The song became an unlikely summer anthem, attacking the very aspects of Americana normally celebrated by our culture. The song snidely dismissed elevated notions of quarterbacks and cheerleaders, and called into question everything we learned watching "Revenge of the Nerds."
Never Not Together
Nada Surf
Barsuk Records, Feb. 7
Nada Surf's latest album, Never Not Together, takes a wholly different approach from its most popular single. The band's cynicism has been supplanted by sincerity, its ennui traded for a jangly and upbeat sound that bubbles with genuine emotion. The new album makes it sound like love is a wonderful thing.
Some of the album's songs are relatively simple musically, but speak to the kinds of life changes that absolutely wreck us in the second act of the movie we're watching. On "Come and Get Me" the band constructs a dense and poppy wall of sound out of just a couple chords, but vocalist Matthew Caw's unflinching self-reflection captures something larger and more significant than all but the best pop songs. Caws describes a lonely childhood, singing, "There was no love in our home/ And it went on too long/ I'm getting tired/ Of holding this stance/ Of forgetting how to love/ Forgetting how to dance." Then graceful synthesized beeps foretell a sudden reverse. Caws continues: "I don't feel grown up/ Maybe nobody did/ I was always on my guard since I was a kid/ But I'm so, so ready/ Come get me/ Come get me/ Come get me, please."
I'm not crying, you're crying!
The album returns again and again to this idea of recovery from pain in the past and discovery of the courage to search for love anew. It's right there in the title and chorus of the album's third track, "Live, Learn, Forget." Many of the songs deal with the difficulties of childhood. The album feels cathartic and the songs are animated by an almost palpable sense of liberation. Listeners can't help but imagine that it's been an interesting last couple of years for the band. Like Fleetwood Mac's Rumors, or The Beatles' Abbey Road, Never Not Together wears the wounds of its creation.
Nada Surf's sound on the album evokes comparisons to Weezer and The Pale Saints. The guitars are jangly, slightly distorted, and in your face. Caws sounds a little like Pinback's Rob Crow.
The album's most ambitious track, production-wise, is "Looking For You." The song begins with a haunting choral arrangement, before segueing to Caws and a delicate electric guitar. Eventually the band joins in to create a massively beautiful wall of sound. Caws' delicate vocal melody weaves gracefully through the sonic maelstrom.
"Mathilda," another standout, begins with just an acoustic guitar and Caws singing about the teasing he received as a kid.
"They used to call me Mathilda/ I was never sure why/ I felt bad about it/ But I didn't get mad/ I got sad about it/ But I was all that I had," he sings. Dark electric guitar punctures the mood. The song builds in intensity, rising to match Caws' emotional pitch. The band's masterful use of dynamics leave listeners feeling as if they've been on a journey.
Never Not Together serves as an important reminder of exactly what great art does, the way it cuts into us, as well as the way it reveals the cuts, stabs and heartbreaks that led to its creation. Out past the shallow secluded bays of pop music, Nada Surf's latest album gets totally pitted in the big swells of the deep water.
Follow writer David Gill at Twitter.com/songotaku and Instagram/songotaku.