ALBUM REVIEW: Neil Young polishes a gem with 'Return To Greendale' set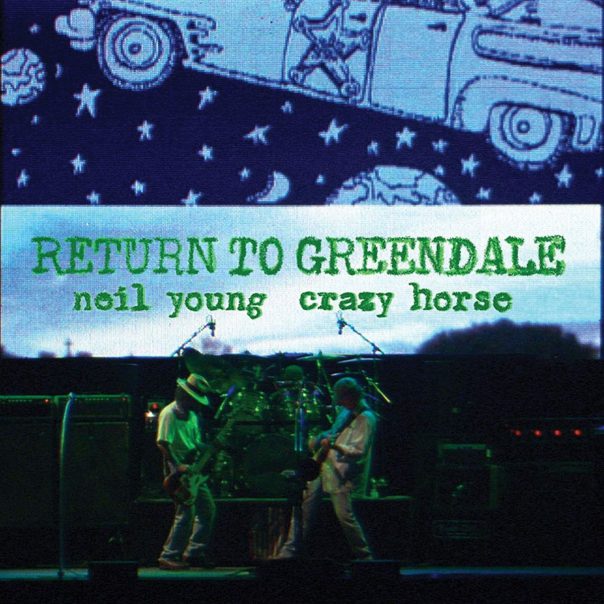 Fans of classic rock and folk music can't accuse Neil Young of taking it easy in the latter half of his prolific career. In addition to continuing to release new music at a regular pace, Young collects live and rare tracks under the ever-expanding "Neil Young Archives" series. The latest entry, Return To Greendale, mines one of his most realized and successful concepts. Where many of his numerous releases since 2000 have an intentionally spontaneous feel, such as 2019's Colorado, 2003's Greendale still feels whole and complete.
Return To Greendale
Neil Young & Crazy Horse
Reprise, Nov. 6
Return To Greendale comprises a live album and a concert film culled from The Greendale Tour. The audio discs feature all the original songs in energized concert renditions. As usual, the stripped-down sound of Crazy Horse benefits in the high-gain live setting. Return To Greendale finds the band churning along in an inspired groove, with Young's rambling song-poems—several clocking in at 10 minutes or longer—are borne along by simple, timeless riffs. The hypnotic warmth of his guitar provides a vehicle for sheaves of folksy lyrics.
The 2003 studio album Greendale tells several interlocking stories. Set in a fictional town, Young's lyrics explore Greendale's inhabitants and how they roll along with larger societal currents. Several of Young's pet themes show up, namely environmentalism, ordinary folks and the corruption that accompanies powerful interests. But here—rather than create a bulletin of pointed messages—the album's conceptual scope allows Neil Young to combine these themes in service to a grander arc of storytelling.
The story is rather meandering. Characters drift in and out as events alter their lives and motivations. A staid perseverance underpins the album, as the town itself feels altogether unchanged throughout. Young captures something essential about small town life by portraying Greendale's residents as vital to the town's character, even as they undergo profound changes.
A strong set of riffs and melodies doesn't hurt, either. The live performances selected for Return To Greendale highlight Young's imprecise guitar passion and Crazy Horse's enduring drive. Wiry guitar leads pop on the mean "Devil's Sidewalk," with some choice backing vocals elevating the performance. The thoughtful "Carmichael" humanizes the police, providing depth and contrast within Young's fictional community. "Double E" takes a stab at day-to-day boogie, while the passionate "Be The Rain"—with a patent train-wreck ending—presages Greta Thunberg and the environmental urgency of the 21st century.
The accompanying concert film enhances the storytelling aspect. Live actors pantomime Young's lyrics and simple but effective set pieces—like the Green family porch and Cousin Jed's car—heighten the viewer's immersion into his fictional universe. Passages of the craggy band jamming on stage are interspersed with footage from the original 2003 film. The energy of the room buzzes with the rock fervor endemic to a Neil Young performance.
Part of Greendale's charm lies in Young's combining of the personable and the political. Rarely has he brought the two together so convincingly for an entire record. His political statements, such as 2006's Living With War, often don't dwell in metaphor or plot device. For this reason, Greendale stands out in Young's catalog as he channels his statements through a cast of relatable characters. Return To Greendale commemorates the album and tour that kicked off Young's overtly eco-political direction, and reveals a career high point.