REVIEW: NOFX holds it together with rubber bands and duct tape on 'Single Album'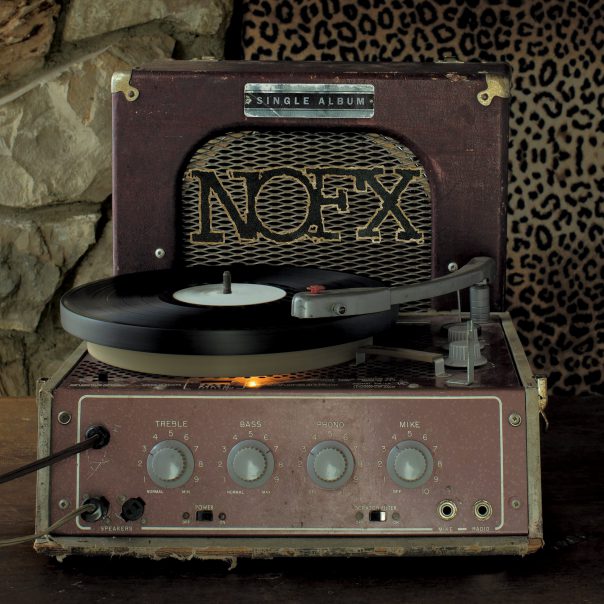 It seems that things have taken a toll on frontman Fat Mike of NOFX, because Single Album oozes with the sense of decay and instability that comes with uncertainty, insecurity, controversy and tragedy. You can't say Michael Burkett hasn't taken these things head-on; however, addressing controversies, watching the passing of his punk icons, and his perception of decay within the punk scene.
Single Album
NOFX
Fat Wreck Records, Feb. 26
7/10
Considering the band has been performing since the mid-'80s, NOFX has stayed grounded with contemporary issues while reflecting on changes. The band has never been out of touch. Opening track "The Big Drag" starts things off rocky—with a loose and vague existential crisis carried by anxious, staccato guitar strikes, only to pick up the pace halfway through the song's six-minute runtime.
After that wobbly start, the album picks up with the emotional intensity of "I Love You More Than I Hate Me," where Burkett laments his breakup with his ex-wife, Soma Snakeoil. The following track, "Fuck Euphemism," details Fat Mike's experience as a member of the LGBTQ community—in particular, his frustration with labels. Rather than complaining about 20-something college kids with dyed hair like a hack Fox-news pundit fear-mongering about marginalized people—Fat Mike indicates that the fixation on labeling sexuality and gender seems to impose division among members of the community. It's a keen observation without coming across as condescending or dismissive.
Maintaining a focus on topical issues, the next song, "Fish In A Gun Barrel," examines gun violence, its relationship that mental illness, substance abuse, religious extremism and how U.S. gun lobbyists. Considering Fat Mike's controversial comments regarding the 2017 Las Vegas Shooting, it's interesting to see how he has chosen not to avoid the subject for fear of backlash, but is willing to have a thoughtful dialogue on the matter.
"Birmingham" follows Burkett as he struggles to cope with his inner demons, in particular his propensity for "Columbian nose candy." The rapid drumming and distorted guitars play on the sensation of desperation and isolation that many people struggling with substance abuse experience. "Linewleum," featuring Avenged Sevenfold, sees that band partner up with Fat Mike to cover the the classic 1994 NOFX tune as he lampoons the originals lyrics. It would seem he's ready to hang up "Linoleum" for good.
The standout track of the album is easily "Grieve Soto," a eulogy for Steve Soto of formative punk band Adolescents. Throughout, Fat Mike also expresses his feelings of frustration with what he perceives to be the softening of the punk scene, "And yes, we should all feel violated/ 'Cause our scene's castrated and annihilated/ GG used to be the most hated, then Ben, now it's me/ 'Cause I guess I say things insensitively," Mike screeches. He also goes on to pay homage to other formative musicians like Exene Cervenka and Patty Smith. The song is a great examination of the history of punk music and subculture, while also serving as a heartfelt bereavement of an icon within it.
If punk is supposedly dead, then it's only suitable that NOFX is the band propping up its corpse in a morbid homage to "Weekend At Bernie's." Single Album still hits the satisfying and cathartic release of hard-hitting, energetic songs while delivering substantial political and social critiques—without compromising any credibility as a certifiably subversive band.
Follow editor Tim Hoffman at Twitter.com/hipsterp0tamus.