ALBUM REVIEW: Of Montreal reimagines psychedelic legacy on new LP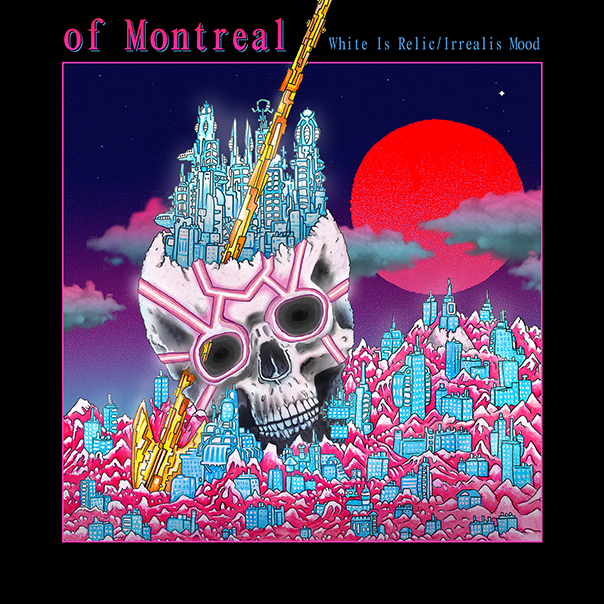 Much has been said about Of Montreal's gradual transformation from a sunny tongue-in-cheek pop band to a darker, funky and angst-ridden glam-pop group. While the transformation has been drastic when compared to Of Montreal's debut, the Kevin Barnes-led psych-pop act has been consistently resilient in stretching its explorative efforts.
White Is Relic/Irrealis Mood
Of Montreal
March 9
Now, even with Barnes having constantly wowed listeners with a kaleidoscope of colors and sounds for roughly 20 years, the band is a decade removed from its critical high, which has left loyal listeners in the dark, pondering the meaning and true sound of Of Montreal's records. For the answer, look no further than the group's latest offering, White Is Relic/Irrealis Mood—a strong return to form, but with a balanced blend of its earlier sound alongside previous album, Innocence Reaches.

With that album and 2015's Aureate Gloom straying far from the heights reached when Of Montreal was a glam and funk band, its zaniness and unhinged energy petered out, with only hints of a return to a more energetic and lively approach that would keep loyal fans invested in the outfit's future.

With White Is Relic/Irrealis Mood, the psych-pop excellence comes full circle to form a new, darkly fun project defined by just six, yet sweeping, melodramatic arrangements. What more could you possibly want from a band that made a living off this formula in the late '90s to early 2000s?

Riffing off the electronic beats from the last album, but leaning much darker, White Is Relic/Irrealis Mood assaults the ears with unfettered flamboyance. There's less guitar and more electronica, which results in more danceable cuts that all build, ebb, flow and soar toward brilliant levels of pure infectiousness.

The opener, "Soft Music/Juno Portraits Of The Jovian Sky," shakes the dust off its psych-infused beginnings with a groovy bassline and a melody that is simple yet exciting. The track has a forward-looking vibe with the addition of keyboards and electronic programming.

"Paranoiac Intervals/Body Dysmorphia," the lead single, is equally woozy, but less groovy and more glitchy, which is appropriate considering its title, the frenetic nature of the sonics and its paranoiac lyrics. Barnes has described the song as "an anthem for the post-Obama era, an age where spurious hope has been replaced with a hatewave of pharmaceutically diminished internet neorealism."
A subtle piano melody beneath the track's hectic nature further points to Barnes' uncanny ability in melding different moods. With a kinetic atmosphere, "Paranoiac Intervals/Body Dysmorphia" offers an accurate glimpse into what the rest of the album holds for listeners: Barnes' usual vocoder-laden vehement vocabulary, infectious hooks and plenty of '80s-infused neo-psychedelia.
While it's easy to dance the night away to the album's extended dance mixes, Barnes' lyrics are much denser, introspective and darker. Each track breathes a common theme of paranoia and anxiety: "If we put our ear to the ceiling, we can hear the government breathing, we can hear the dark matter breeding/ 'Making party'/ If we put our ear to the ceiling we can hear the multiverse seeding, we can hear the simulation wheezing."
Whether it's panic, fear, insecurity, misanthropy, self-loathing, vanity, lust, arrogance and loving compassion, Barnes is bearing it all. He's refreshed, rejuvenated and ready for what is in store. This increased level of vulnerability produced his best album in a long while.

Given that each of the past few Of Montreal albums focused on reinvention and quantity over quality, it was quite difficult to gauge what kind of band Of Montreal wanted to be before White Is Relic/Irrealis Mood. Thankfully, the band's latest realigns its trajectory. While I have never doubted Barnes' ability to write a fantastic song or an album of them (see Hissing Fauna, Are You the Destroyer?; Icons, Abstract Thee), he has finally ended his obsession with so many different styles and influences.

White Is Relic/Irrealis Mood is everything Innocence Reaches ever wanted to be and so much more. It's an evolution of EDM but with heavier radio-friendly pop stylings. It sounds a lot like the records Prince was making between the late '80s and early '90s, yet the track "Sophie Calle Private Game/Every Person Is a Pussy, Every Pussy Is a Star!" recalls the band's earlier material on The Sunlandic Twins. There are so many influences here, but it's the most focused the band has ever sounded (and yes, Barnes raps on one of the tracks using the triplet flow. Let that settle in).

The album may hit familiar notes and seem simplistic. But the production is next-level, and the nuances of Barnes' writing are revealed with close attention. The record is a refocused entry into one of the most intriguing discographies of the last two decades.
Follow writer Kyle Kohner at Twitter.com/kylejkohner.