ALBUM REVIEW: Osees rearrange with 'Panther Rotate,' their third LP of 2020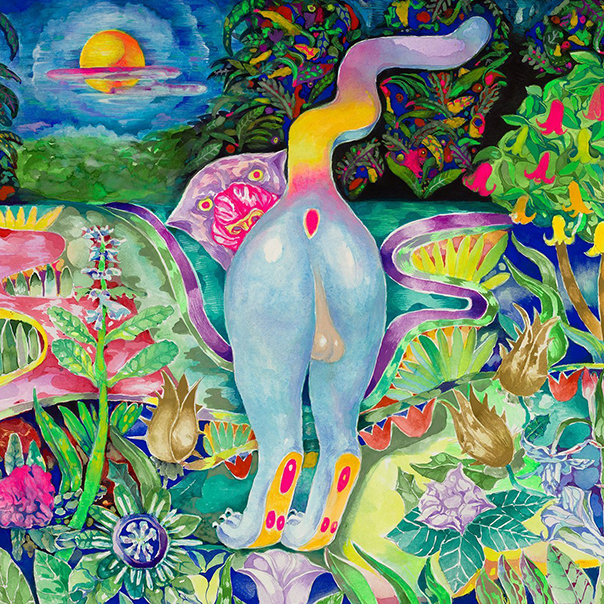 If only we could all have such a creative incubation as John Dwyer and company during the pandemic. Osees (or Thee Oh Sees, Oh Sees or OCS) have released three albums this year, with Panther Rotate being the third. The usual energy the band puts into touring and traveling seems to have instead been funneled into recording. And the results are fresh from an artist who never stops trying to do something new—and a little less recognizably "rock"—in a good way.
Panther Rotate
Osees
Castleface, Dec. 11
8/10
Osees have always had moments of prettiness, shimmering reverb and experimental tinges, flourishes of keyboards and electronics interlaced with the stripped-down rock sounds of driving drumming, bass and fuzz guitar. Even Dwyer's previous hard-noise minimalist rock outfits of the early aughts, like the Coachwhips and the Pink and Brown, had moments where a weird beauty would shine through the manic energy. But with Panther Rotate, we have a whole album giving space to those moments, with plenty of open, rich sonic textures not quite like anything we've heard from this group. There are different kinds of experiments, like the eerie and ethereal "Synthesis" and the found-sound scene sketching of "Poem 2."
It may not be exactly a radical departure. There's more than a little shared DNA between the art rock, psych and noise sounds Osees' sound navigates in their "usual" style and the spaced-out abstraction of Panther Rotate. Dwyer mentioned Black Dice in reference to this album, whose style has ranged from punk to far-out ambient noise jams. But in this album's more ghostly moods, there's an echo of Broadcast and The Focus Group's 2009 collaboration, Witch Cults of the Radio Age.
That album, like this one, took apart a basically rock sound piece by piece, stitched it back together with modern electronics and hard-to-place samples in the manner common to the U.K. sub-genre of "hauntology." If hauntology is a style that "evokes cultural memory and the aesthetics of the past," a style that troubles the difference between new sounds and old ones, Panther Rotate with its application of deep studio geekery to Osees' eclectic rock and roll canvas fits the bill as well as anything. It sounds a little like what Joe Meek might have created if he found a 2020 laptop in his studio in 1965 and went on a month-long bender.
Panther Rotate is, as the Castle Face Records website says, a remix album "barely conspicuous in its relation" to the source material, Protean Threat. The September album is a hard-driving and energetic collection that cuts through punk, garage rock and psychedelia, at times evoking soundtracks to '70s action flicks, at others lost singles of the '60s filtered through the pummeling force of early aughts underground rock.
The relation between the two albums is indeed enjoyably remote in comparison to a typical remix album. But it isn't erased entirely. The high-speed opener of Protean Threat, "Scramble Suit II" is in effect, chopped and screwed into a version as slow and delirious as a cough syrup buzz in "Scramble Experiment." The latter song turns "Toadstool" from a tightly funky rock jam into strange, tub-thumping underwater dance music. "Gong of Catastrophe" is transmogrified from a Khruangbin-esque stoner groove to an analog synth mood layered with loose riffs and spooky samples that abruptly turns into grimy disco on "Gong Experiment."
But much of the rest of Panther Rotate is harder to identify just where on Protean Threat it might originate, which is just fine. And while listening to the two albums together is every bit as fun as it's supposed to be, you don't have to. If it wasn't already clear: Panther Rotate stands on its own as an invention.
Follow reporter Justin Allen at Twitter.com/_justinallen_ and justinallen.us.