ALBUM REVIEW: Ozzy Osbourne makes a human statement with 'Ordinary Man'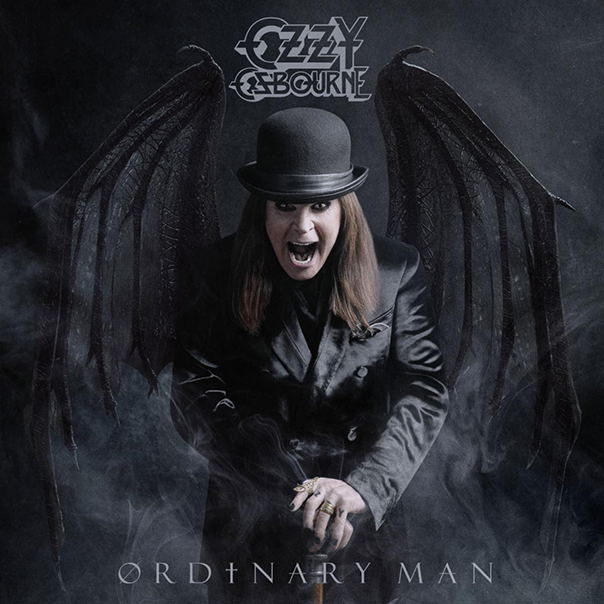 Cultural phenomenon Ozzy Osbourne is a hard man to pin down. Is he the originator of the look and feel of heavy metal? A guy who managed to be in the right place at the right time? A doddering madman, deteriorated by decades of drug excess?
Ordinary Man
Ozzy Osbourne
Epic Records, Feb. 21
The argument can be made that Osbourne is, in fact, all of these things. But on his new album, he fears he may be just a regular guy—not that he's entirely comfortable admitting it. Ordinary Man, Osbourne's first solo album in nearly 10 years, is a surprisingly vulnerable excursion. Where metallic riffs and wammy-abusing guitar solos once reigned supreme, fragile piano exposés and high-profile guest spots now temper the landscape. The result is a conflicted record, and poses questions that would have perhaps been answered on his North American "No More Tours 2" tour, which he canceled earlier this week "to allow him to continue to recover from various health issues he has faced over the past year," his publicist said.
Osbourne hasn't completely abdicated the mantle of his Prince Of Darkness days. Instead, he hints at other directions in the margins of an album that largely honors his classic sound. "Under The Graveyard" teases one of his most tender lyrics to set up a classically anthemic rock-metal chorus. Similarly, bayou harp introduces "Eat Me," recalling Osbourne's blues rock origins, before a heavy bass riff comes in to anchor a muscular guitar workout. Single "Straight To Hell," featuring rock god Slash on guitar, brings unapologetic riffs and guitar solos.
What's different on Ordinary Man is that Osbourne has never sounded so hopeless. "Woke up this morning and I hate myself/ Death doesn't answer when I call for help," he mumbles on "Under The Graveyard." The bleakness doesn't stop there. On song after song he expresses resignation to mortality, and occasionally a flippant impulse to just get it all over with.
Luckily, his friends are there for him in this dark hour. The album is laden with high-profile, genre-defying guest spots from contemporaries and subsequent generations of musicians indebted to Ozzy Osbourne. Perhaps most incongruous is Osbourne's recent alliance with rapper Post Malone, who scored a hit last year with the Ozzy collaboration "Take What You Want." That song is included as a bonus track on Ordinary Man.
Elsewhere, YouTube wunderkind Charlie Puth adds keyboards on "Straight To Hell," while guitar scientist Tom Morello contributes to the sci-fi fun of "Scary Little Green Men." Osbourne's studio backing band is a certifiable supergroup. Guns N' Roses' Duff McKagan handles bass duties, Chad Smith of Red Hot Chili Peppers plays drums and accomplished newcomer Andrew Watt does an admirable job as Osbourne's primary composer, arranger and guitarist.
The heart of Osbourne's newfound vulnerability is nowhere more evident than on the title track. "I've been a bad guy … don't know why I'm still alive," he wonders, "but the truth is, I don't want to die an ordinary man."
As he questions and begins to accept eternity, Osbourne also grasps that he is, in human terms, unexceptional. In defiance of this fate, he enlists mega-star Elton John, whose piano and vocals help make "Ordinary Man" Osbourne's most affecting ballad since 1991's "Mama I'm Coming Home." Slash adds a towering guitar solo, balancing the balladry with macho rock cred.
Ultimately, Osbourne's honesty on Ordinary Man is refreshing. For decades he deflected any serious notion of inner humanity with his ubiquitous persona. His mythos as a psychotic occultist devil worshipper was summarily discounted by his ramblings on reality show "The Osbournes." To now hear him address relatable doubts alongside his horror tales and misanthropic condemnations is inarguable evidence of personal growth.
On the other hand, it probably is too late for Osbourne's soul. Old habits die hard, and on most of Ordinary Man, Osbourne is his usual self: an absolute, unrepentant devotee of the heavy metal universe. However cheesy that may have gotten in its marketing extremes, Osbourne shall remain elemental to the genre as long as it is spoken of. Clearly, there's nothing ordinary about that.
Follow writer Alexander Baechle at Instagram.com/writheinsmoke.