ALBUM REVIEW: Poliça delivers a life-affirming sentiment on 'When We Stay Alive'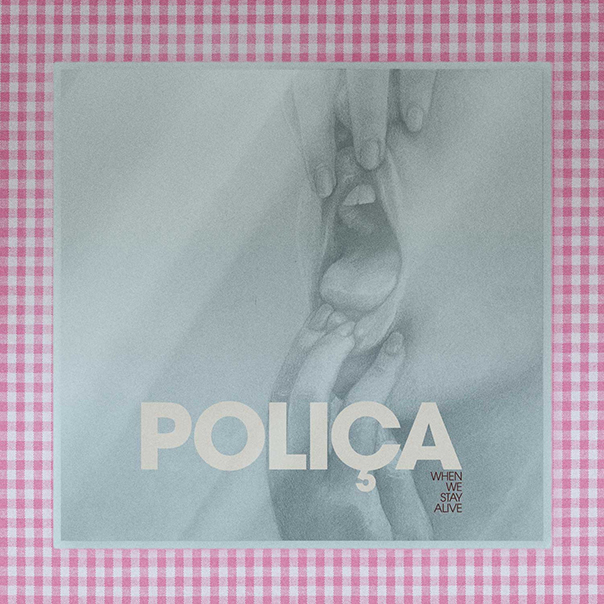 Minneapolis' Poliça garnered acclaim from influential critics at its outset with albums like 2012's Give You the Ghost and follow-up Shulamith. The group's disappearance from the limelight in recent years was not the result of banal follow-up projects or selling out into trite poptimism. For Poliça, what was initially a brief break from touring and making music turned into a long hiatus due to near tragedy. Awhile back, frontwoman and lead singer Channy Leaneagh fell off her roof, injuring her spine in a near-death accident that left in a brace for months.
When We Stay Alive
Polica
Memphis Industries, Jan. 31
This was a moment that would discourage most people from doing what they love most. But the voice of Poliça would not be held down for long. Leanaugh flipped the script of her accident, eventually weaving together a narrative of heartfelt tenacity through the guise of gorgeous and ascending art-pop—Poliça's fifth full-length album, When We Stay Alive.
Though hardly complex, opener "Driving" is a hypnotic trip-hop lull that gradually becomes glitchier as it progresses. With a masterful mingling of bass throbs and skittering drums, it wouldn't be farfetched to suggest that Poliça is pulling from Apex Twin's handbook of fantastical world-building—and how vivid of a world it is! Ironically, Leaneagh practically wrote "Driving" while tethered to her bed: "Laying in bed, as I healed, I would dream of running in green grass and tears would pour from my eyes," she said in a news release.
"TATA" sees Poliça pump the breaks on the zaniness, taking things down to an ethereal level with a sleek and very subtle dancehall experience. Piggybacking off of the yearning expressed in the opening track, it could be presumed that Leaneaugh wrote "TATA" as a letter of encouragement amid pain. "Don't you hold on to that hurt so long," she sings. Though her words may be referring to a pain much that's more deep-seated than her recovery, they suggest an eventual all-encompassing victory. Musically, it's clear Poliça has made a dramatic shift through the first two tracks from its complex sound of years prior. But less complex is not worse.
"Fold Up" is a quick and rather frightening detour that remembers Poliça's considerably more menacing roots. Soon after, the group shifts gears on "Feel Life." It's a beautiful life-affirming exhibition, not by sound alone but by the band's elegant waves of synth, which is stripped back just enough to allow Leaneagh's voice to soar as the star of the show. Recorded amid severe physical pain and mental strain, her vocal display is awe-inspiring.
At this point in the album, Poliça has made it clear that it's not shooting for one particular mood or style. However, Leaneagh, Chris Bierden, Ben Ivascu, Drew Christopherson and Ryan Olson made one linear sentiment obvious: resilience. "Steady" is an exemplary moment of resilience—one extracted from Leaneagh's tenacious recovery. Mixing flares of Julia-Holter-like baroque pop with hues of alt-country, this ornate number possesses a perfectly wistful and twangy heart, beset by Leaneagh's heartfelt ode to motherhood: "Back in the day, mama held me steady, steady…"
The crown jewel of When We Stay Alive is "Forget Me." On one level, this single is a towering ballad about gratefulness in the face of near-tragedy. On another, "Forget Me," according to the songstress, is "about recognizing a pattern of choosing people who can't love you how you wish to be loved," With context in mind, it's almost impossible to ignore the cathartic power of Leaneagh as she puts on a tour de force performance—singing through pain but soaring toward victorious heights nonetheless.
Without context, When We Stay Alive is a rather safe synth odyssey, interspersed with sonic variety. Needless to say, understanding the frontwoman's testimony lends a cathartic and life-giving listening experience. If it hasn't been expressed at this point, Poliça's latest offering is already one of the more inspiring stories of 2020, as the talented Leaneagh courageously seizes physical suffering, rendering it into a statement of what a second chance at life looks like. 
Follow writer Kyle J. Kohner at Twitter.com/kylejkohner and Instagram.com/kylejkohner.