ALBUM REVIEW: Polo G is grinning through the pain on 'Hall of Fame'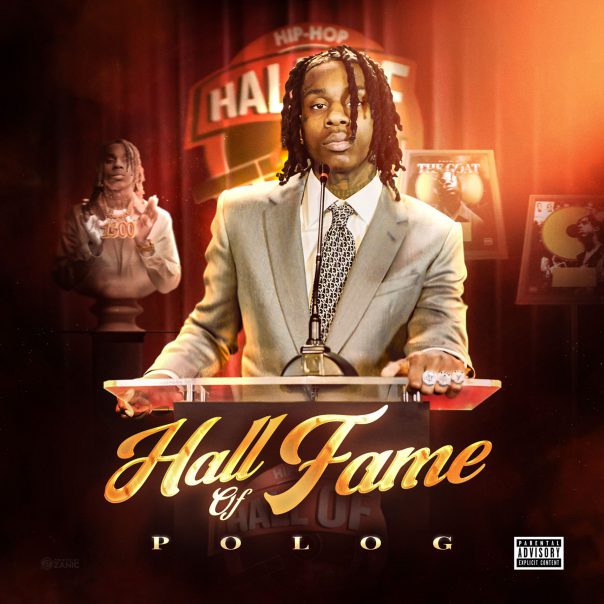 Hall of Fame, the third album from Chicago drill rapper Polo G, presents a veneer of glamour and success, from the artwork and title suggesting prestige to the robust number of notable features—DaBaby, Young Thug, Pop Smoke, Nicki Minaj, Roddy Ricch and more—all evoking the sense of an induction into a titular elite club. But beneath the surface is a harrowing exploration of the emptiness behind celebrity, particularly focusing on how isolating it is compounded with Polo G's traumatic experiences that have festered as a result.
Hall of Fame
Polo G
Columbia, June 11
9/10
The album's production maintains a more minimalist style, with a lot of acoustic-guitar- and piano-driven trap instrumentals that fit the overall themes and pair well with Polo's crooning rap-sung vocals.
The album opens with "Painting Pictures," where Polo G laments growing apart from friends due to differing goals and world-views. "Rapstar" follows suit with a firsthand account of how closed-off and defensive he's become due to the predatory nature of those trying to eat off his success, isolating him and causing his mental health to tank further. "No Return" offers up the first set of features with Australian MC Kid Laroi singing on the chorus and a killer closing verse from Lil Durk. The song explores how difficult and dangerous life is on the streets, and how it spares no one—not even children—from the brutalities of gang and drug violence. The artists express their desires to never return to such circumstances.
"Toxic" sees Polo G navigate his toxic interpersonal relationships, as well as his relationship to hip-hop and the streets. "Epidemic" stands out as a heart-wrenching track about gun violence as Polo expresses his frustration with constantly losing friends as a result: "I'm so sick of farewells and R.I.P.'s/ In the trenches yellin', "Gang Gang," mob ties what I bleed." Subsequent track "Gang Gang," featuring Lil Wayne, reinvokes the themes of "No Return" with what may be seen as a flex-track, but is actually an anxious expression of desire to hold onto the success of everything Polo G has worked so hard to get. And while most of the features on the album are from established stars, up-and-comer Scorey guests on "Broken Guitars."
He also brings back the themes of isolation and distrust from "Rapstar" on "Black Hearted," with more of a focus on the interpersonal relationships he has with loved ones. "GNF (OKOKOK)" takes a hard turn into the more iconic and aggressive drill style for which many know Polo G. On this track he proclaims that he's a force not to be messed with.
"Party Lyfe," featuring Da Baby, takes a page from Kid Cudi's Man On The Moon playbook as the two examine how frequent partying is often seen as the only viable escape from their problems. "So Real" is a serenade track, written for Polo's girlfriend and the mother of his child. It's a sweet and tender song, but a far cry from the rest of the album's incredibly somber tone. The album concludes with "Bloody Canvas," which sees Polo G take on storytelling rap as he narrates the tragedy of a revenge tale involving kids caught up in the crossfire of gang rivalry.
Hall of Fame is poignant, tragic, introspective and complex. It plays like the audiobook version of Polo G's personal journal, between his emotional outpour and anguish from his trauma, contrasted with an inability to enjoy the success he's attained while holding a great amount of appreciation for it all.
Follow editor Tim Hoffman at Twitter.com/hipsterp0tamus.