ALBUM REVIEW: Possessed does its legacy proud with 'Revelations of Oblivion'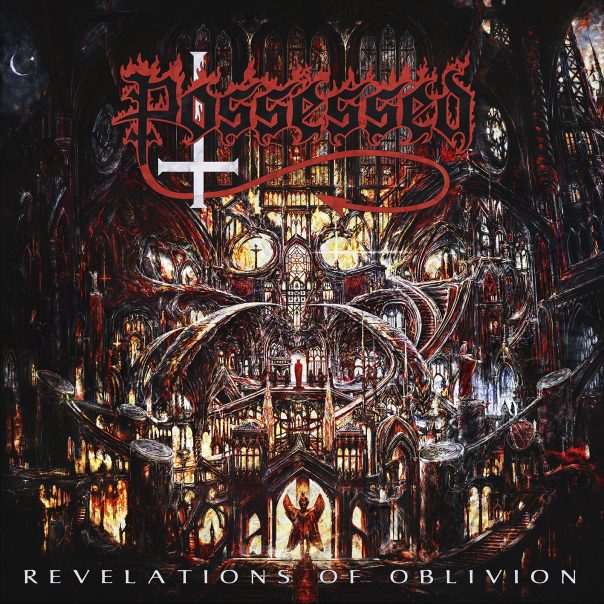 Like Venom to black metal, so is Possessed to death metal. Possessed defined this infamous region of extreme music, and even the late Chuck Schuldiner looked back on 1985's Seven Churches as the true godfather. Founding vocalist Jeff Becerra has undergone many trials since releasing that seminal album—including a paralyzing gunshot in 1989. Against all odds, he resurrected Possessed in 2007 with a revolving lineup. Finishing a follow-up to 1986's Beyond the Gate proved to be easier said than done but after several years of preparation, Possessed is finally ready to unleash Revelations of Oblivion.
Revelations of Oblivion
Possessed
Nuclear Blast Records, May 10
Revelations of Oblivion comes partly from Becerra settling on a worthy roster for his savage vision. Lead guitarist Daniel Gonzalez of throwback death thrash band Gruesome cowrote most of the album with the frontman, but the underground credibility of rhythm guitarist Claudeous Creamer, bassist Robert Cardenas and drummer Emilio Marquez speaks for itself. Of course, what really matters is whether this new incarnation can hold up Possessed's massive legacy. As the lead singles reveal, the band is up for the task.
After the pseudo-symphonic intro "Chant of Oblivion" sets a hellish mood, "No More Room In Hell" lays waste with fiery tremolo riffing, rushing roto-tom fills and Becerra's signature snarls. It's far cleaner and more proficient than '80s Possessed—arguably a double-edged sword for a band legendary for its raw abandon. It won't please the elitists, but it's undeniably well-executed.
The demonic vocalizations at the start of "Shadowcult"—and the angular riffs and pounding drums that follow soon after—drive home the point that Possessed isn't married to past glory. These guys aren't trying to fool anyone into thinking this is the same band that released Seven Churches, having no issue with adding harmonized licks and exact execution to its raw origins.
"Dominion" and "Demon" both feature a semi-melodic vocal style by Becerra, spotlighting Possessed's more thrash-inspired traditions. "Bow to your sin down below," he bellows on the former track. The unrelenting technicality from the new additions is impressive, elevating the album with impressive chops. The songs combine classic thrash and shredding melodeath with jackhammer speed, head-banging riffs and even groovy death-and-roll jams. When coupled with tasty rhythm changes and the musicians' evident chemistry, the results are devastating.
Swedish sound engineer Peter Tägtgren leaves a notable mark on the mix of Revelations of Oblivion, mostly appreciated on the album's clear, yet visceral sonics. The precise fretboard acrobatics of "Abandoned" are genuinely exciting, with distinct melodies and drumming that not only propel the music, but complement what the guitarists are doing. The blinding speed and diverse array of bells and whistles keep Revelations of Oblivion consistent in its unstoppable attack.
In fact, the only real issue on the album becomes how Becerra's reverbed, echoing vocals feel in this airtight environment. "The Word" spotlights this disparity as his relative lack of force clashes with the intense exactness of his bandmates. It would be nice to hear his topics of apocalypse, religious harm and human depravity with more clarity, even though it's nice to hear him upholding his classic approach.
Where most comebacks like this feel like a hackneyed cash grab, Revelations of Oblivion feels like a holistic statement. The melodramatic intro of "Damned" abounds with drawn-out drum fills and harrowing chords. The band's nuanced harmonies and breakneck speed still leave room for Slayer-style breakdowns and fire-and-brimstone lyrics. This sense of scope is also evident on "Omen," which embodies its namesake with a bombastic, almost symphonic intro. The following "Ritual" even has ghostly choir swells in the background. This cut culminates with a fleeting passage of blackened death metal, complete with the album's only full-fledged blast beat.
This album's extreme flare spans multiple decades of death metal. "Graven" manages the use of Swedish-influenced melodies and the Bay Area thrash feel in equal measure without canceling out one or the other. Becerra and company successfully update the sound of Possessed without sacrificing too much of the band's original spark.
Seven Churches was lightning in a bottle, so any attempt to repeat its success would have been disastrous. Becerra's vision is still to create the most intense music he can, and in that regard, Revelations of Oblivion passes with flying colors. There are times where the old creates friction with the new, but fans of death metal will be pleased to know the originator can still pack a punch.
Follow editor Max Heilman at Twitter.com/madmaxx1995 and Instagram.com/maxlikessound.