ALBUM REVIEW: Rico Nasty is rudderless on 'Nightmare Vacation'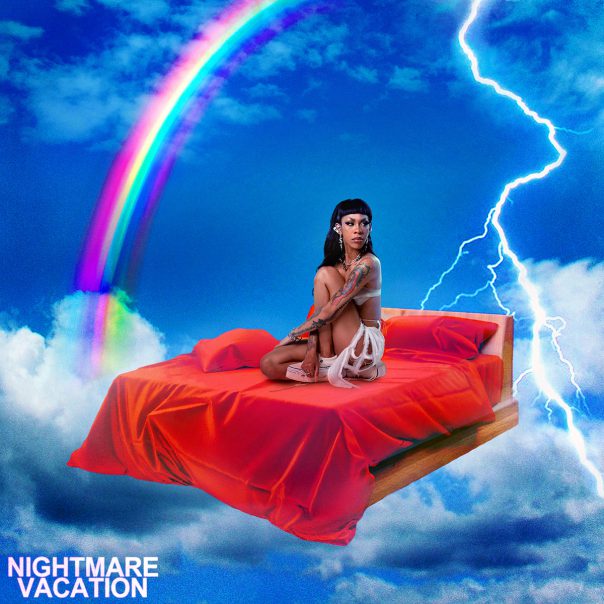 Despite a wide array of similarities and having come up around similar times, punk and hip-hop have seen crossovers here and there with only a select few musical acts ever managing maintain a level of longevity or relevancy. Obvious examples that come to mind include The Beastie Boys and Rage Against The Machine. But in the current era of hip-hop, many of these acts tend to be hit or miss. For every Denzel Curry or Death Grips there are a backlog of noisy rappers who try to push the envelope without hitting the mark. Rico Nasty's debut album, Nightmare Vacation, struggles to do just that.
Nightmare Vacation
Rico Nasty
Atlantic, Dec. 4
5/10
The rapper opts to draw on safe contemporary influences and sounds with lyrics that don't always connect. It's a shame too, considering Rico Nasty's abrasive and experimental style, which she coined as "sugar trap." Much of the instrumentation runs the course of played-out trap beats we've heard for years, with only a few shining moments taking on a more abrasive and subversive quality punk rap has come to embody.
Opener "Candy" has Rico Nasty sounding off about her musical journey, with a bass-heavy trap beat. It covers the traditional rags-to-riches narrative but with a heavier focus on flexing than necessarily discussing the actual come-up. "Check Me Out" begins with a menacing piano melody that quickly amps up into an aggressive banger, as the artist spits with a grungy and energetic delivery. "IPHONE" takes on more of a pop and R&B flavor, with strained Auto-Tuned vocals creating for a pleasant sonic contradiction of sorts.
"STFU" delivers a '80-synth-inspired sound that transitions into a more traditional trap arrangement. Rico flexes throughout with another aggressive if obnoxious delivery—though, granted the hook of the song (a refrain of the acronym) comes across as ironic with its irritating choppy delivery. The subsequent "Back & Forth," featuring Aminé, brings out one her best verses, as the two deliver some genuinely quotable lines over a more balanced arrangement. Unfortunately, Rico Nasty is upstaged by her features not only on this track, but later on "Smack A Bitch [Remix]," which has Rubi Rose, Sukihana and ppcocaine. Each deliver a more menacing verse than all of hers on the original version.
Rico successfully capture punk elements on tracks like "Let It Out," with its screaming ad libs and distorted electric guitar lines as she feeds into her more aggressive impulses. She similarly manages to capture the punk aesthetic of disregard for others' expectations with "Loser," featuring Tripe Redd and "Own It." Both songs find her expressing a desire to break away from what other people want from her. These moments on the album stand out as how to properly meld hip-hop with punk, embracing abrasive and experimental sounds while delivering rebellious and subversive lyrical content.
Overall, however, simply flying in the face of listeners with a loud and boisterous attitude doesn't make for a punk-anything. Rico Nasty comes across rudderless while she struggles to commit to any specific direction on Nightmare Vacation. It's almost as if she gets in listeners' faces not because she has something to say but because she's expected to.
Follow editor Tim Hoffman at Twitter.com/hipsterp0tamus.