ALBUM REVIEW: Sepultura soldiers on with four-pronged metal javelin 'Quadra'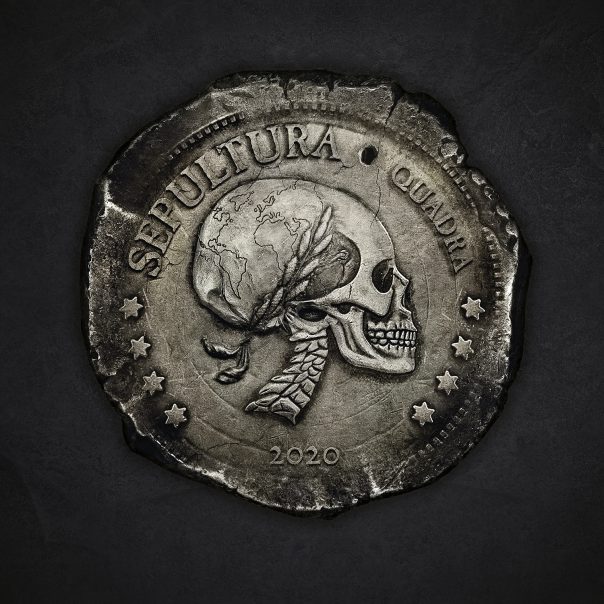 Once Sepultura lost brothers Max and Igor Cavalera, the band needed to justify its existence. The ambitious arrangements and energy of 2017's Machine Messiah accomplished just that. Even with the brothers gone, the more recent batch of Sepultura records does a lot more than capitalize on the most recognizable name in Brazilian metal.
Quadra
Sepultura
Nuclear Blast Records, Feb. 7
Quadra pushes the band's creative track record onward with a four-part concept around the quadrivium of liberal arts education. Don't worry though, Sepultura isn't taking you on an educational field trip. The concept translates as less of an overt theme and more as an excuse for Sepultura to emphasize four facets of its sound. The results are surprisingly cohesive and refreshingly expressive.
It's easy to hear Sweden's production signature (via Jens Brogren at Fascination Street Studios) once the blazing riff of "Isolation" kicks into gear. But before the dexterity and punchiness hit home, Sepultura builds a grandiose mood by way of primitive drumming, massive guitar chords and a full choir. This prevents the recognizable death-thrash elements from becoming reductive. Derrick Leon Green channels his inner James Hetfield as he calls out corrupt prison systems, and the classic thrash is evident in Eloy Casagrande's percussive assault, but that mid-tempo shift brings back the choral vocals to a tremendous effect.
Unlike Cavalera Conspiracy and Soulfly—projects that include the Cavalera brothers—Sepultura turns up the technicality. Guitarist Andreas Kisser and Casagrande lock into some heavily syncopated, dynamic grooves on "Means To An End." It almost sounds like Sepultura's landmark album Arise, with the addition of dual guitar harmonies, until the midsection delves into prog-metal.
A similar metamorphosis happens on "Last Time." The song's basis in hammer riffing rounds out the album's more thrash-oriented portion, but the midpoint takes a turn for the atmospheric. The choir provides ample bravado as the band engages in Opeth-style meditations and dramatic guitar solos.
While "Capital Enslavement," "Ali" and "Raging Void" recall Roots-era Sepultura, the gear shift is far from jarring. It would be weirder if you didn't feel like belly dancing and head-banging at the same time. While "Capital Enslavement" juxtaposes suspenseful strings and a shreddy solo with the fiery percussion drum circle, "Ali" and "Raging Void" comes to remind all the bands pinning for a slot at This Is Hardcore festival how it's really done. Evolving rhythmic layerings elevate the primitive chugging riffs. Those two tracks have a nearly polyrhythmic quality to them, with bassist Paulo Xisto Pinto Jr. taking a more prominent role in the sonic battery.
The meat of Quadra presents Sepultura's proggy side. The triplet acoustic guitar lines at the start of "Guardians Of Earth" are both dynamic and evocative. Between that and the short interlude title track that comes later, Kisser's classical training is apparent. "Guardians" incorporates choral arrangements into its punishing riffs so seamlessly that you'd think Sepultura used them since day one.
The odd time signature at the core of "The Pentagram" further emphasizes Sepulura's desire to push itself musically. This instrumental monster of a track blisters from start to finish. Harrowing guitar leads soar over unrelentingly technical tremolo riffing and double-bass drumming, only to drop into a breakdown straight out of Meshuggah's Destroy Erase Improve. "Autem" works this brutal technicality into a form that's more easy to head-bang to, complete with nifty flanger on the guitar.
In both cases, the musicianship is inspired and intense. From the alt-metal chorus to the new-age down section, it's awesome to see these guys do their band name proud.
Green's vocals have a unique balance of '80s thrash bark and '90s death bite, but his clean singing voice takes hold early on. That stylistic choice gives "Agony Of Defeat" a distinct alt-metal vibe, but the relative simplicity is elevated by symphonic strings in addition to the choir. This vein is taken further on "Fear; Pain; Chaos; Suffering," which features the powerful voice of Emmily Barreto (vocalist of Far From Alaska). It's some of the most traditional rock music Sepultura has put out, but the imaginative dynamics and solid riffs remain very much intact.
Quadra is a heavy and creative untethered journey tailor-made to show how versatile these musicians have become. If Sepultura needed another album to show everyone why it can and should stick around, this is it—and then some.
Follow Max Heilman at Twitter.com/madmaxx1995 and Instagram.com/maxlikessound.