ALBUM REVIEW: Shabazz Palaces create their own world with 'The Don of Diamond Dreams'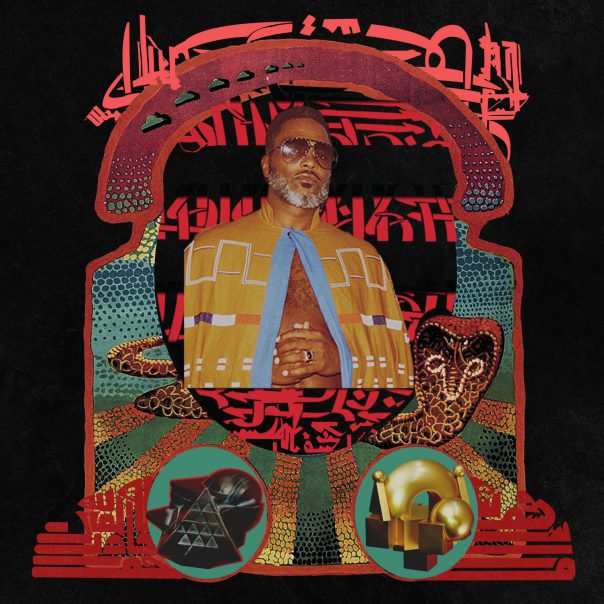 Since the release of 2011 debut Black Up, Seattle duo Shabazz Palaces has essentially become the Sun Ra of jazz rap. Psychedelic, abstract and impressionistic, the band's saga has had its ups and downs. The first outing remains the most universally impressive, maintaining cohesive production and thought-provoking lyrics within its unorthodox framework. While The Don of Diamond Dreams doesn't exactly top Black Up in that regard, it provides many more highlights than the albums in between. Rapper Ishmael Butler and multi-instrumentalist Tendai Maraire remain immersed in surrealism, but their atmospheric oddity ends up a splendid fit for today's hip-hop landscape.
The Don of Diamond Dreams
Shabazz Palaces
Sub Pop Records, April 17
An 18-second acid trip from "Portal North: Panthera," and "Ad Ventures" plunges straight into to to eighth dimension. Over Maraire's texturous bass line and evolving synthscapes, Butler weaves in and out the spacious beat with his lackadaisical flow. Few groups can evoke improvisation with hip-hop production, but Shabazz Palaces embody the imaginative arrangements of the free-jazz masters.
Part new-age ambient, part protracted R&B, the song simultaneously feels out of this world and firmly rooted in '90s alternative hip-hop. The balance continues to take them all over the map, but Shabazz Palaces aren't afraid to embrace contemporary sounds as well. 
Considering that Ishmael Butler's son Lil Tracy helped spearhead SoundCloud rap, it's actually fitting that "Fast Learner" keeps one foot in drugged-out AutoTune. Butler and singer Purple Tape Nate maintain a unique personality within processed vocalization, over synthetic fanfare and a strolling new wave beat.
The band's collaboration with fellow Seattle musician Darrius goes even further. The chant "I gotta get my portion/ I gotta get my money" on "Money Yoga" is straight out of mainstream trap rap, as is the triplet flow. The difference is that the production sounds like John Carpenter producing Memphis horrorcore. It's hard to think of a higher elevation for the cloud-rap genre.
Butler even shouts out Lil B and embraces a mumble-rap cadence on "Wet." He approaches the nonlinear, absurdist verbiage like an impressionistic soloist rather than using it as a crutch for lack of songwriting chops. When coupled with Maraire's minimalist, yet electro-acoustic production and idiosyncratic sense of groove, this music shows the new school how to break the rules without sacrificing artistry.
Shabazz Palaces retain their ability to combine dexterous musicality and hypnotic repetition. The simple melody that permeates "Chocolate Souffle" avoids stagnation due to Maraire's funky bass lines and some bombastic layerings you'd never expect until they wash over the nuanced beat. You don't realize how deep you're into the song until it releases its grip, necessitating multiple listens to fully register Butler's lethal bars.
"Portal South: Micah" even introduces oscillated banging drumming into its 21-second droning wormhole. Shabazz Palaces create sonic worlds to call entirely their own, caring for weird headspace more than getting audiences on their feet with bumping beats.
Out of Afro-futurist premonitions, "Bad Bitch Walking" becomes an avant-funk space odyssey. Maraire brings his best bass lines on the whole album as an electrifying uptempo beat and oceanic synth pads embellish an empowering narrative. Butler subverts the usual hip-hop pimp anthem with a depiction of an invincible black woman, made vivid by the bulletproof verse of Seattle rapper Stas THEE Boss.
Feminism takes over completely on "Thanking the Girls." Branching off from a hip-hop "Song of Solomon" for his wife, Butler comes off earnest and genuine as he exalts all of the women who have shaped his life. The sampled guitar, AutoTuned vocal melodies and clattering backbeats flow like a river, pushing along Butler's sung verses like an acid rap and jazz ballad. For all their mind-altering experimentation, Shabazz Palaces always circle back to a conscious foundation.
As the "nu jazz" crossover continues to run its course, a track like "Reg Walks By The Looking Glass" reinstates Shabazz Palaces in the movement's elite. From a foundation of cold-wave-like guitar playing and drum machine beats, tenor saxophonist Carlos Overall trades bars with Maraire's bass. The two musicians play off each other within this strange context like they're in a coffee shop jazz combo. The extended jam reaches grand proportions via processed vocal choirs and massive synth chords, but fluidly drops back into sensual saxophone and sterile drum machines. It's hard to think of a more unique way to pull off a jazz and hip-hop nexus.
Shabazz Palaces have never done anything other than what they want. Whether audiences like it doesn't seem to cross their minds. The Don of Diamond Dreams can win over experimental jazz fans, alt-rap aficionados or even SoundCloud hedonists, so long as they keep an open mind and let the sonic tides engulf them.
Follow editor Max Heilman at Twitter.com/madmaxx1995 and Instagram.com/maxlikessound.