ALBUM REVIEW: Sia fails to strike a chord with 'MUSIC'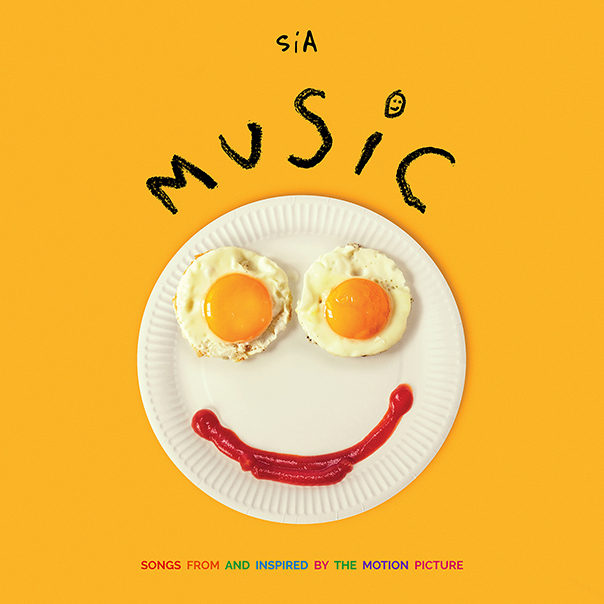 It took five albums and a hiatus from performing before Sia's jarringly profound voice and style took off with American fans. Her songwriting and features on David Guetta's "Titanium" and Flo Rida's "Wild Ones" elevated the songs to the level of success they enjoyed. However, it wasn't until 2014's "Chandelier," an epic ballad along, with an equally dramatic video featuring young dancer Maddie Ziegler that we were really introduced to the artistry and enigma of Sia.
MUSIC – Songs from and Inspired by the Motion Picture
Sia
Monkey Puzzle/Atlantic, Feb. 12
5/10
Since then, she has seemingly collaborated and produced half of mainstream pop music. Her ultra-pop style, distorted beats and powerful, ever-peaking vocals, continue to dominate how she crafts songs and is ever apparent on the newest album, MUSIC – Songs from and Inspired by the Motion Picture. The album accompanies the film, which she also wrote and directed.
But unfortunately, on her ninth release, Sia has compiled a rather monotonous collection of songs. Though a few tracks are fun and have the potential to top charts, the album is overall a product of how it was made: by several songwriters and producers, strung together by a film not conceived as a musical, and re-recorded with the familiarity of Sia's voice. The film itself has been plagued with controversy, mostly over the decision to cast Ziegler as a child with autism.
The album does kick off with its best tracks. "Together," cowritten with another pop songwriting giant Jack Antonoff, is a standard upbeat Sia track, inspiring and genuinely fun with Antonoff's sharp production that's full of snaps and Sia calling us to, "Come now, set the past on fire/ Stand up, raise your face to the sky, my love/ Together, we can take it higher." Released in time for Pride 2020 nearly eight months ago, the rainbow-filled video introduced us to Ziegler once again, this time in character, alongside Kate Hudson and "Hamilton" star "Leslie Odom, Jr."
She follows "Together" with the other highlights, including "Hey Boy," a flirty and euphoric piece, later reworked as the bonus track featuring reggaeton star Burna Boy, helping close the album on a high. Next comes "Save My Life," cowritten by Dua Lipa. This tune would have fit well on the latter artist's outstanding album Future Nostalgia. With its slow piano intro, the song opens into a powerful ballad of true love, "I know that in darkness I have found my light/ I know that in darkness I've been given sight/ In your loving arms I feel delight/ In your loving arms I'll be all right."
The real problem with MUSIC becomes evident in the songwriting formula Sia has developed and run with. It's almost frustrating as she seems to always be writing and singing the same song. Nearly every track features an opening verse, a long, repetitive chorus, a very short second verse and closes after a second long and sweeping chorus. Occasionally some other elements are sprinkled in like a feature, a beat change or lyrical reshuffle during the bridge. The ones that do find their power tend so on an individual basis while the rest taste like leftovers from songwriting sessions.
There's "Floating Through Space," which finds her collaborating once again with David Guetta, whose intense production and mixing make the song feel as though it was pulled from the 2011 archives. On "Oblivion" with Labrinth, a mix of distorted beats and strings create another underwhelming piece that would have fit better as an album filler on LSD, the duo's supergroup project with Diplo. And "Courage to Change," cowritten with P!nk, is earnest but the repetitive and simple hook—"Have I the courage to change?/ Have I the courage to change today?"—drags and feels as though it's been sung dozens of times before.
The final tracks continue falling flat as the cycles of each song's chorus spin into one another. "Beautiful Things Can Happen," overly produced by Labrinth, is dripping and aching for drama but lacks real passion or pizzaz. "Lie to Me" builds well and the chorus pays off but sounds a bit too similar to 2014's "Elastic Heart." By this point, it is honestly unclear if the album has restarted or about to conclude.
Despite most of MUSIC falling flat, as she sings in the title track, "Music is the soothing saint/ Use me to feel all your pain/ I'm all yours/ Music, I'm your dearest friend." It's pointless to stray far from Sia because she'll be back with a whole new slate of songs, hopefully worth indulging in. 
Follow Domenic Strazzabosco at Twitter.com/domenicstrazz and Instagram.com/domenicstrazz.