ALBUM REVIEW: Spotlights enhance their best aspects with 'Love & Decay'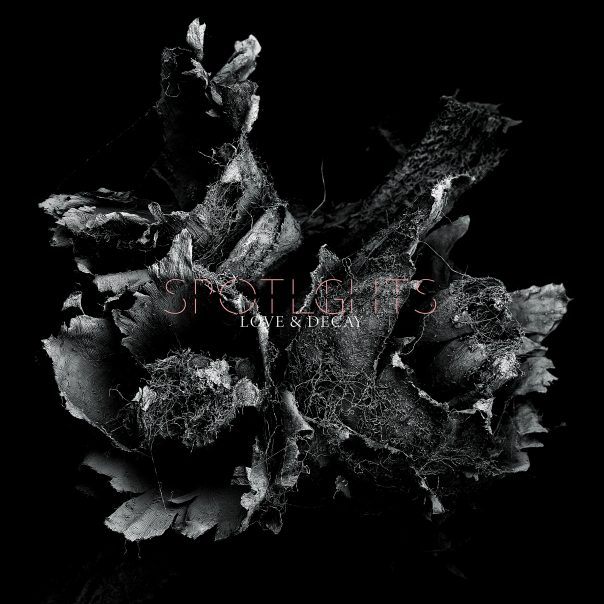 Brooklyn trio Spotlights has steadily developed their "atmospheric bludgeoning" from the 2009 single they spontaneously recorded. Married couple Sarah and Mario Quintero mix thick riffage with lofty synths and shoegazey ambience, while Chris Enriquez's dynamic drumming empowers and directs the immersive walls of sound. This third album looks to enhance the band's most compelling aspects. Love & Decay sports Spotlights' most catchy, emotive and heavy material to date.
Love & Decay
Spotlights
Ipecac Records, April 26
The band's songwriting is in full effect right off the bat. Glistening synth leads glide over a thumping yet hypnotic groove on "Continue the Capsize." Sarah and Mario Quintero's harmonious voices meld into the massive guitar and bass tone, subtly guiding the song's lumbering arrangement with delicate melody. The shoegaze element is still apparent, and becomes a more pronounced fixation on "The Particle Noise." Its glacial lead work and almost poppy vocal melodies hover and soar, taking the detailed beats and soundscapes far beyond pulverizing volume. The band's innate chemistry remains intact even as the midpoint riff becomes a sonic battering ram.
Spotlights' balance of accessible and the underground is hardly polarized. The huge chords of "The Age of Decay" seamlessly transition into more recognizable metal double-pick patterns without forcing a copy-paste genre mash up. The same can be said for how a forlorn melody emerges from pulsating drones in "Far From Falling," or how stomping sludge metal riffs contrast with assuaging vocals in "Until The Bleeding Stops."
The former cut introduces acoustic guitar heightened vocals to for an unexpected Smashing Pumpkins flavor, The band's sense of dynamics directs their songwriting, these three display incredible cohesion at their most meditative and their most crushing. The latter just gets heavier and heavier, with the culminating harmonized riff becoming straight up doom metal.
Where bands like Deftones and Chastity incorporate their influence from dream pop and shoegaze as one element of many, Spotlights' sense of size remains the center of what they do. Even when "Xerox" reaches moshable territory during its final passage, it's still more like watching a tidal wave in slow motion. The heavy styles this band uses have just as much propensity for glacial melancholy and sweeping elegance as its more spacious leanings, allowing the band to transcend genre boundaries and focus on compelling songwriting.
"Mountains Are Forever" sees the band break more of its chops, as Enriquez essentially turns a drum solo into a concussive groove, displaying the essential part he plays in the band's songwriting. The Quinteros' intricate post-rock-meets-alt-metal tapestries reach unbelievable heights thanks to the drummer's constant movement and energy. Mario Quintero even breaks out some harsh screams during the musical fray, but the band's seismic dramatics reach critical mass during the almost 11-minute opus "The Beauty of Forgetting." Starting with a neo-folkish collage of electronic loops and acoustic guitars, it blasts without warning into sludgy chugs and gargantuan riffs. The trio continuously escalates the catharsis as voices and instruments push the limit of controlled chaos. And yet, passionate singing and calculated execution remains intact within the tumult, making this a fitting finale to a sprawling album.
Spotlights have succeeded in pushing itself musically while creating a more cohesive album experience in the process. There's more to be appreciated with regard to melody and followable song structure, but the amount of ideas the band expounds upon has increased tenfold. And yet, it still boils down to three musicians doing what they love just like they did a decade ago. That's a happy trajectory if ever there was one.
Follow editor Max Heilman at Twitter.com/madmaxx1995 and Instagram.com/maxlikessound.