ALBUM REVIEW: Stephen Malkmus takes at stab at 'Traditional Techniques'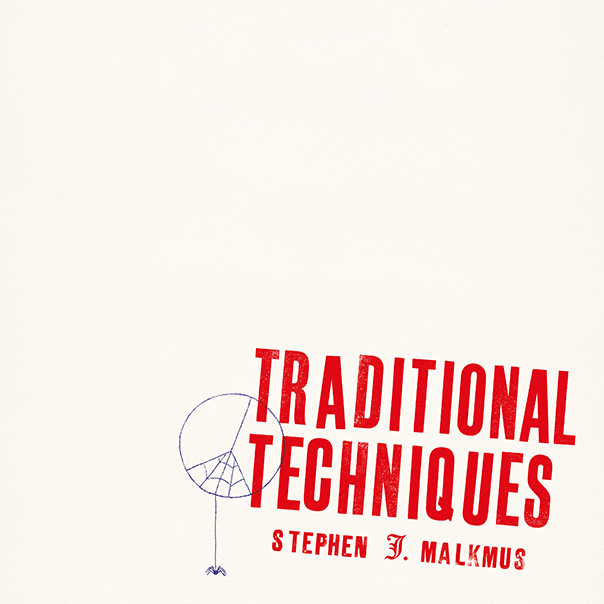 As rock clichés go, the phase when the aging rock star begins experimenting with exotic instruments in the studio must be one of the most scoff-inducing. When the rock star in question is Stephen Malkmus, the listener can assume the artist is in on the joke. As the golden boy of 1990s alternative rock, Malkmus carved out his niche with cleverer-than-thou satirical lyrics that always put him one smart remark ahead of the rest of us. It didn't hurt that he wrapped great ideas in affecting melodies, casual turns of phrase and a hodge-podge of pop music styles. 
Traditional Techniques
Stephen Malkmus
Matador, March 6
On his new solo album, Traditional Techniques, Malkmus tackles a unifying theme: to make a primarily acoustic folk album, drawing from instruments and folk traditions from around the world. Malkmus became inspired while recording with The Jicks at Halfling Studio in 2018. While there, he happened upon a cache of acoustic Afghani instruments, and his knees weakened at the scope of possibilities. Bravely, he challenged himself to manifest an entire album around those instruments, and completed the record in a matter of weeks.
Given the genesis of the album, and the artist, you expect Traditional Techniques to rock moderately at best, and it does. If you were hoping for a deep dive into ancient folk traditions from around the world, it doesn't.
Malkmus' reputation rests to some degree on his rock cred, so it behooves him to throw fans a bone or two with each new release. Indeed, the standout tracks on Traditional Techniques are those that groove the hardest. On lead single "Xian Man," Malkmus comes as close as he ever has to ripping the Stones, appropriating a Keith-Richards'- like acoustic rumble to bolster a drawled chorus. The lead electric guitar achieves a taut, sizzling tone that draws on African funk. Trundling along gamely, a propulsive rhythm section shakes and grooves with thumping confidence.
The spirited "Shadowbanned" employs sitar-like and droning strings to mobilize a druggy, driving jam that brings Sun City Girls to mind. Here Malkmus successfully synthesizes his classic songwriting style with his newfound proclivity for exotic acoustic instruments. In this regard, "Shadowbanned" is emblematic of the album as a whole, and probably the best example of his intentions. Elsewhere, the world-music approach is less integrated.
Malkmus' recognizability is a mixed blessing for Traditional Techniques. Setting aside the rather unimaginative title, the album features a relatively strong batch of songwriting. The tunes are memorable and lyrically astute. Most, however, sound like relatively straightforward Stephen Malkmus songs, dressed up in variegated sonic outfits rather than full-bodied explorations of instrumental possibilities. This calls into question the need for Malkmus to dabble amateurishly in a vault of instruments, if only to deliver a standard set of material. 
On the other hand, why not? Discovery and experimentation are among the primary joys of music, and taken as they are, the instrumental embellishments sound cool. It speaks to an artist's viability if they can remain identifiable through a variety of approaches. And apart from Malkmus' dry, cracking vocal delivery, certain moments on Traditional Techniques transcend his brand of pop song, drifting into ethereal territory.
But Malkmus is attempting something different here. As he did with 2019's Groove Denied, he chooses to sequester his creativity within a guiding principle, and delimit the album accordingly. Where Groove Denied charted a lo-fi course through early electronica styles, Malkmus turns his attention to international folk styles on Traditional Techniques.
It works, albeit within a limited scope. On both albums, what we hear ultimately sounds like Stephen Malkmus songs, dressed up in different sonic outfits. Traditional Techniques, however, explores a palette more amenable to his style, and as a result the album sounds more comfortable and less forced than Groove Denied.
He veers toward American folk music on "The Greatest Own In Legal History." The song is a sweet country tune with pedal steel guitar. It could be a gentle lesson in American jurisprudence, translated for Generation Z, if it wasn't so metaphorical. Instead, Malkmus describes devotion in the oblique terms of the courtroom. "I'll be there to vent the jury, make sure there's a couple of softies on our side," he sings, suggesting that cheating a little is all right in service to a loved one. The soporific "What Kind of Person" uses a familiar Malkmus chord progression to serve up a tender sentiment. Strong bass fights back against the lullaby, however, and a surprise flute leavens the arrangement. Again, the song coalesces around intelligent lyrics.
Traditional Techniques, as a result, is the Malkmus record for a lazy Sunday barbecue, or perhaps a vegan pot-luck, given the company.
Follow writer Alexander Baechle at Instagram.com/writheinsmoke.