ALBUM REVIEW: Sufjan Stevens & Lowell Brams distill a new age sound bath on 'Aporia'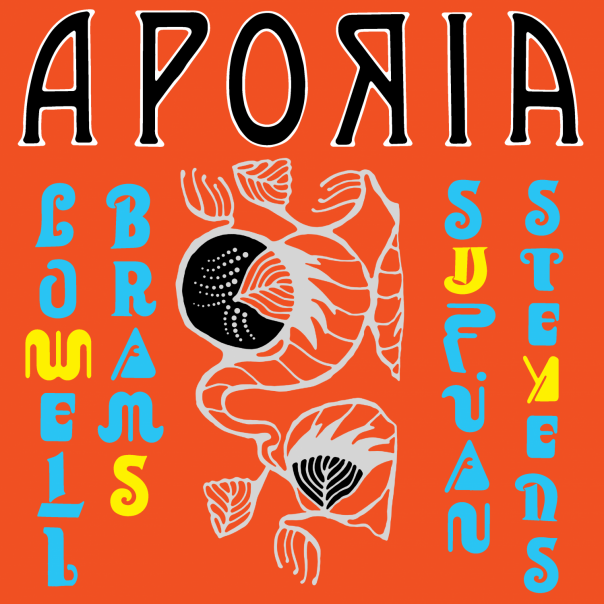 Considering that his second album ever was an avant-garde electronica concept about the Chinese zodiac, anyone who categorizes Sufjan Stevens as a typical singer songwriter isn't paying attention. After releasing The Decalogue, the impressionist piano ballet score he composed for Timo Andres, he now collaborates once again with his stepfather, Lowell Brams. Beyond co-founding Asthmatic Kitty Records, Stevens heavily influenced Brams' ambient project Music For Insomnia. In contrast to that project's dissonant soundscapes, Aporia embraces dreamy sounds. While not particularly directional, these choice moments from improvisational sessions are immersive and intuitive where it counts.
Aporia
Sufjan Stevens & Lowell Brams
Asthmatic Kitty Records, March 27
It's hard not to picture pearly gates or the threshold of nirvana during the synthetic orchestra of "Ousia." The drifting synth tones might bring Brian Eno to mind, coming off both futuristic and archaic. Such a contrast serves similarly glacial cuts like "Disinheritance," "Determined Outcome" and "Misology." The latter ordains the ionosphere with a spectral choir, while the other two evoke John Carpenter having the best trip of his life. A communal aura sets in right away, as two minds impart humanity to the ambiance as they play off one another.
Stevens and Brams propel their vision, which is far from a meandering drone piece, with detailed beats. These percussive elements argue the dynamics for "What It Takes" and "Agathon." The cinematic beauty remains intact, with builds and drops for added effect. "Afterworld Alliance" even borders on post-industrial music with its blown-out sounds, but the more spacious ideas remain the album's best moments. This duo's propensity for grandeur is evident in the self-explanatory "Glorious You" or the galactic acid of "Matronymic." However, more minimalist pieces become harder to attribute purpose.
The unassuming noodling of "Palinodes" and "For Raymond Scott" sound like Stevens and Brams simply having fun with synth patches and oscillators. It's almost a jarring contrast to the engulfing waves of a cut like "Backhanded Cloud." And yet, the two extremes sound very much like they came from the same jam session. A conceptual throughline prevents the pulsating low-end and fantastical chord progressions of "The Red Desert" from clashing with the cold, warbling drones of "Conciliation" or the staggered staccato notes and flanged washes of "Ataraxia."
Like most ambient music, these soundscapes function more as conduits of spiritual and mental spaces. Considering that the longest tracks on here barely crack three minutes, many of them don't allow you to sit in those spaces for long. Still, it's hard not to float into oblivion amid the celestial, euphonic drones of "The Unlimited."
Sufjan Stevens' singing voice can even be heard during "The Runaround," emphasizing a tuneful quality that pervades through the album's more robust numbers. That's where the upbeat synth-wave cut "Captain Praxis" gets a directional atmosphere as well as a textural one. It's clear that Stevens and Brams envisioned each song as a mini-concept, rather than non-sequitur sonic excursions 
After the electro-acoustic massauge of "Eudaimonia," Aporia draws to a close with the heavenly bliss of "The Lydian Ring." Though only 43 minutes long, the album feels like a journey of otherworldly sound. It's not a new idea for new age ambient music, but it's as mesmerizing as you'd expect from two veteran songwriters and sonic imaginers.
Follow Max Heilman at Twitter.com/madmaxx1995 and Instagram.com/maxlikessound.