ALBUM REVIEW: Teenage Fanclub gifts delayed hope on 'Endless Arcade'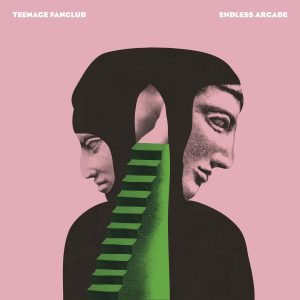 While it's somewhat ironic that the youngest member of Teenage Fanclub is currently the tender age of 46, it's really a testament to the band's staying power. Formed in 1989, the Scottish alt-rock band has been making music continuously for the past 32 years.
Endless Arcade
Teenage Fanclub
Merge, April 30
8/10
Endless Arcade is Teenage Fanclub's 11th album following 2016's highly acclaimed Here. Recorded in 2019, it was postponed by the pandemic. While the delay was a disappointment to fans, Endless Arcade feels like it was designed for the current moment. It combines a gentle and at turns happy and melancholic 1970s California rock sound for which Teenage Fanclub is known with lyrics that touch on feelings of disorientation and loneliness. Endless Arcade provides a perfect soundtrack for the acclimatization we're all going through as the world slowly returns to normal.
While the album seems like a burst of prescience, songwriters Norman Blake and Raymond McGinley—both of whom are rapidly approaching 60—explained that their lyrics are largely an exploration of mortality. The guitarists are two of the band's original members, along with drummer Francis Macdonald. The present day quintet includes bassist Dave McGowan and keyboardist Euros Childs. Still, the way the songs capture so many of the pandemic feels is quite uncanny.
The album's opener, "Home," starts off with a now all too familiar sentiment: "Every morning, I open my eyes/ I'm waking up to reality/ I've been mystified," the band sings.
The chorus asks the exact opposite of what so many of us, trapped in our homes for the past year, have pondered: "I sometimes wonder if I'll ever be home again/ I just don't know when I'll open that door again." The album's longest track, it clocks in at just over seven minutes, the last four of which are purely instrumental. It features a jangly but subdued melody, and is driven by a distorted, slightly angsty guitar that's punctuated by chiming keyboard. 
But Endless Arcade is not merely a reflection on uncertainty and loss. Though the title track has a somewhat somber intonation that's bolstered by relaxed guitar harmonies, it offers some timely advice for those emerging from their pandemic cocoons: "Don't be afraid/ Of the truth you mislaid/ Of the dreams you delayed/ Of the price that you paid/ Of the love you displayed/ Of this endless arcade that is life." A slow-paced, waking dream of a song, "The Future" features hazily harmonized vocals and a similarly hopeful message: "But we're gonna walk into the future/ And see sights we've never seen."
In a shift from many of the songs that combine uplifting lyrics with a melancholy melody, "The Sun Won't Shine On Me" is perhaps the most cheerful-sounding one here, at least musically speaking. It includes harpsichord and a tune that's highly reminiscent of Sonny & Cher's "I Got You Babe." It sounds like it was directly transported from the '60s via time machine. While at its heart a love song, the lyrics also capture the feelings so many have felt after being isolated from family and friends over the past year: "I have lost any sense of belonging/ I am drifting like ice on the sea."
Though "Everything is Falling Apart" perfectly and precisely captures all that was 2020, Teenage Fanclub actually released the song in February 2019. With the subdued sound and well-composed guitar solos heard throughout Endless Arcade, the track carries through the ultimate message of the album, succinctly summarized by the band itself: while we may be "living through extraordinarily troubling times…all is not lost in this world."