ALBUM REVIEW: Tegan and Sara are just like you on new album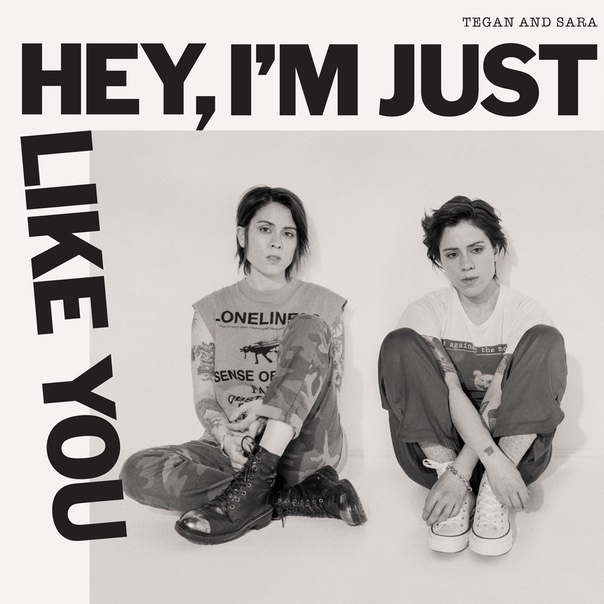 After distancing itself from its acoustic roots in favor of '80s synth-pop—to varied results—twin sister duo Tegan and Sara updated its pop elements and reincorporated them into its original indie folk sound palette. Hey, I'm Just Like You will be a pleasant surprise for those who've followed the sisters' evolution so far. It fits snuggly within tried-and-true indie pop tropes, but Tegan and Sara's intuitive arrangements and relatable lyrics raise it above stagnant waters.
Hey, I'm Just Like You
Tegan and Sara
Warner Records, Sept. 27
Coinciding with the release of autobiography Highschool, Tegan and Sara give a more intimate look into their established songwriting process. The album feels and sounds more natural than its synthetic processors. Its three singles exemplify this recalibration and revitalization with their more human arrangement.
The title track isn't unlike the duo's previous material, but the half-time beat change in its bridge allows a full-band sound to take over. The guitar chugs and uptempo drumming of "I'll Be Back Someday" encapsulate the album's youthful energy with an explicit rock element, while the sexy production of "Don't Believe The Things They Tell You (They Lie)" gradually incorporates tasty riffs and grounded percussion.
By turning on the radio, you can hear plenty of songs in the same vein as the ones Tegan and Sara offer on this album, but underneath the airtight production lies something deeply personal. Like the rest of the songs, opener "Hold My Breath Until I Die" traces its roots back to discovering their dad's guitar during during their junior year in '96.
The glossy, dynamic arrangement might suggest otherwise, but there's an undeniable realness to the frustration by closeting same-sex attraction. Similarly, the heartfelt piano-and-cello ballad "Hello I'm Right Here" centers on accepting one's sexuality even when a crush doesn't reciprocate feelings. When fed through the filter of more mature songwriting, there's more to appreciate about the blunt honesty of a lovesick teenager.
An influence from Nirvana and unplugged Smashing Pumpkins can be heard at the foundation of "I Don't Owe You Anything" and "Please Help Me," but only the latter maintains that feel. The former blasts into a chorus akin to Chvrches' more down-tempo material, showing how much Tegan and Sara have elaborated on their original ideas. Both songs have a touching undercurrent of growing up gay with secret partners and unspoken heartbreak. The former reaches for healing, while the latter captures that moment when you realize your vices are only a temporary solution to a deeper hurt. 
"You'll be good to me/ But you're not my dream/ You'll lose me to places/ Places I have never been," the duo speaks on the reality of love after love on "I Know I'm Not The Only One." The song's bright, bouncy alt-rock groove uses keyboards only for ornamentation, letting guitar and vocals remain at the center. 
"We Don't Have Fun When We're Together Anymore" might come off like a combination of Broods and Let's Eat Grandma, but the song's name is inspired by Nirvana's "Lithium." The lyrics deepen the experience beyond its accessible sound.
There are points where this collection of Tegan and Sara's unreleased material needed more grit. Evidentally, the orignal concept of "Keep Them Close 'Cause They Will Fuck You Too" had a more guitar-oriented sound. You have to wonder how that would have differed, considering how much the synth-laden sound the duo went with ups the schmaltz factor. Still, there's something to be said for the hopeful modulations of closer "All I Have to Give the World is Me." In that case, it gives it the feel of the prom-ending cliche of '80s romantic comedies.
The bells and whistles Tegan and Sara added to these songs are like Nutella on a piece of toast. It's fun to listen to the songs, and those who love sentimental indie pop will absolutely devour it. It's the moments of rootsy songwriting that stand out the most, recalling the band's humble beginnings. It's important to distinguish between new for Tegan and Sara, and new in general. In the first sense, there's a lot to appreciate. In the second, the music blends into the pop-rock cavalcade. What really wins out in the end is the songs' genuine origin, which shines through in all the right places.
Follow editor Max Heilman at Twitter.com/madmaxx1995 and Instagram.com/maxlikessound.