REVIEW: The Body & Uniform create infectious terror on second collaboration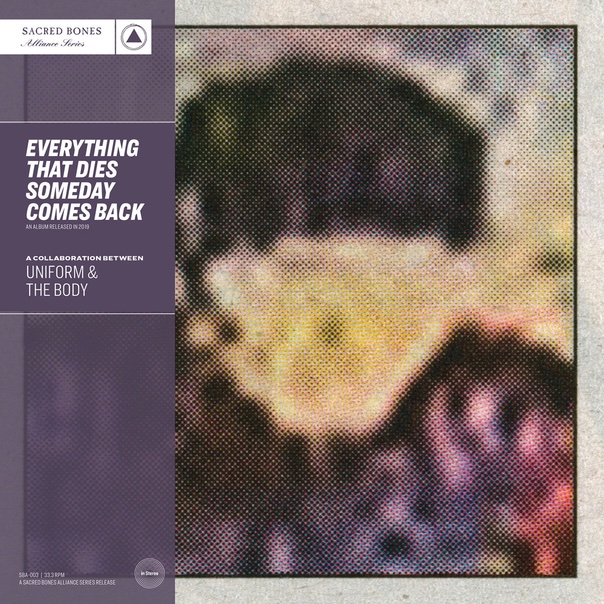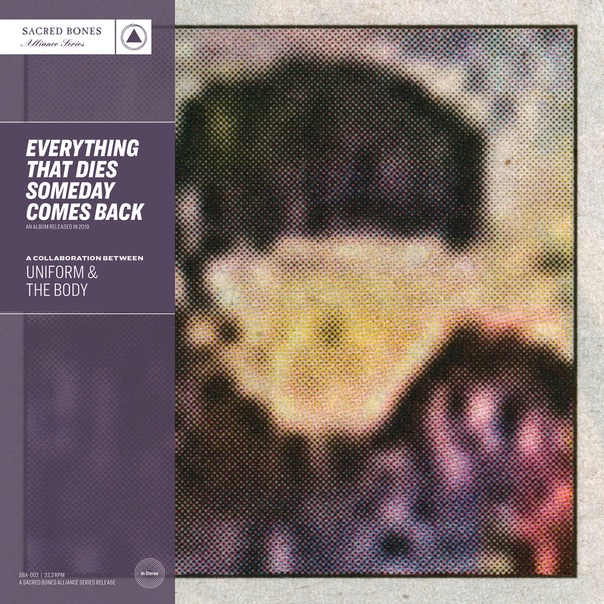 The last The Body and Uniform collaboration felt like a water test. Rhode Island's prolific sludge metal weirdos and New York's industrial upstarts proved they could play well together, but it still needed that extra push to rival The Body's collaborations with Thou, Krieg and most famously Full of Hell. Everything That Dies Someday Comes Back is that push, melding key elements of both bands into what the collective calls "the middle ground between Robyn and Corrupted, but weirder." The meeting of minds feels both natural and aberrant. Ghoulish renditions of hip-hop and dance-rock find a home in this smorgasbord of avant-garde extremism.
Everything That Dies Someday Comes Back
The Body & Uniform
Sacred Bones Records, Aug. 16
Both artists revel in nihilistic debauchery, so the title of "Gallows in Heaven" would fit well on an album for either artist. The album opens with almost a minute of escalating brown noise, before volume-clipped tom-toms and Uniform vocalist Michael Berdan's menacing snarls. With two drummers in the collective, it makes sense for a simple back beat to layer on the intro rhythm instead of replacing it. Incredibly, the monstrous guitars end up locking into a semi-catchy riff. These artists have long reveled creating extremity for shaking your booty.
A blown-out dirge of filthy and pulsating feedback that begins "Not Good Enough," steadily develops into an enveloping mass of despondent glory. Shimmering synths pile on Chip King's immense guitar tone, as his howls pierce through the murkiness with panicked despair. Such sluggish tracks are actually a minority here, as Uniform's more propulsive beats drop The Body's heaviness into a dancier vibe. "Vacancy" subjects New Order to the torture chambers of Pandemonium. The wobbly synths and noisey guitar chords could easily get goth club dance floors packed, in contrast to the rabid dual vocal attack. In one isolated note, Berdan sounds more manic than ever before.
Though the music is more head-bobbing than before, Uniform and The Body are merchants of grating sonics. "Penance" makes use of ascending power chords and a bashing four-on-the-flour beat. King's vocals pair well with the detuned chords, while Berdan's become a good foil for the trickling keyboards. The whispery drones turn out to be string-synths, which take over after everything abruptly cuts out.
Rather than attempting to mimic pop sensibilities, these guys mutate them for their own design. "All This Bleeding" evokes The Body's past few releases, incorporating an involved electro-acoustic beat into an eerie guitar line. However, the Uniform's less down-tuned approach makes the overall structure more palatable, in spite of both vocalists providing their usual insanity.
Berdan's unrelenting delivery becomes the rhythmic drive for the paranoid tremolo-picked melodies at the start of "Patron Saint of Regret," but he re-contextualizes his flow for a freakish switch-up. The song inexplicably becomes what any spooky cloud rapper wishes he wrote, with siren-like female vocal samples hovering over a driving hardcore rap beat. The collective proves its influence from rappers like Juicy J. "Day of Atonement" feels like an attempt at a Death Grips instrumental. Producer Seth Manchester and Uniform's multi-instrumentalist Ben Greenberg shine as they manage Merzbow-style harsh noise within an intoxicating groove. Lee Bufford's drums and King's guitar come in toward the end, showing how their crushing heaviness can appear within the strangest ventures.
Centering on gurgling, sinister dronescape, "Waiting for the End of the World" is topped off by a lady's demonic rites of possession. Her demented liturgy, pared with the harrowing ambiance, embodies the song title's implication—and by proxy the album title. She seems to represent the apocalyptic power of God, the Armageddon to wait for as malice returns again and again.
As is customary with both artists, "Contempt" doesn't provide a happy ending. After a particularly angsty sample—"I don't give a shit about nothin'… I just fuckin' hate people"—The Body comes through with its signature decimating riffs. The song still sounds quite distinct within this collaboration—with futuristic sound effects, bell-like percussion and even a bluesy guitar solo. King and Berdan land the album in complete madness, simultaneously screaming their heads off bludgeoning drum hits and searing noise-mongering until the abrupt end.
Branching off from their first joint effort, these two bands have created something together that you would never expect from them individually. Their hallmarks remain intact, but the sheer variety of hideous creativity makes Everything That Dies Someday Comes Back terrifying and infectious in equal measure.
Follow editor Max Heilman at Twitter.com/madmaxx1995 and Instagram.com/maxlikessound.