ALBUM REVIEW: The Chicks pour fuel on the fire with "Gaslighter"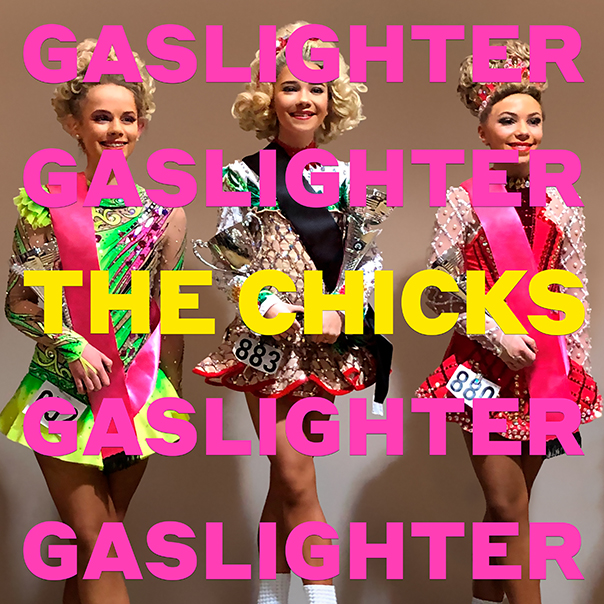 It's been 14 years since the band formerly known as The Dixie Chicks released a studio album. The powerhouse trio of Natalie Maines, Martie Maguire and Emily Strayer are back with a times-appropriate new name, The Chicks, and a new collection of songs called Gaslighter. 
Gaslighter
The Chicks
Columbia Records, July 17
9/10
The country is reeling, but that's not the only turmoil for the band, with Maines divorcing her husband (actor Adrian Pasdar) of 17 years last December—and listening to the album, it becomes clear the separation was a painful one. The Chicks' Gaslighter speaks to their experiences of the last decade-plus. It's about heartbreak, growth, resistance and love. At other times it speaks more broadly as state of the nation. There's no rust to be found anywhere. Gaslighter feels both fresh and innovative, and also familiar and intimate.
The Chicks have never been known to pull their punches politically and this album is no exception. "March March" is a standout not just because it's the most sonically unique here but because it's a direct assault. Released as millions of people took to the streets to protest police brutality and inequality, it addresses everything from the underfunding of education and gun control to women's right to our bodies and climate change.
The song is haunting as it features mostly minor chords and a steady backbeat that echoes the title. Halfway through there's an angry fiddle solo. It's loud, shrill and off-key at times that echoes the former Dixie Chicks' emotions. The band takes its signature country and bluegrass and channels hip-hop before fading out with a banjo and fiddle duet. It's a powerful call to action that not-so-subtly nudges listeners to stand and fight for human dignity and what they believe in.
"Gaslighter," also walks the line between personal and political as it discusses some of the instances that led to Maines' divorce, as well as the culture of gaslighting that has been a topic of significance amidst the Me Too and feminist movements. As an unexpected release, it was the first single off the album and perfectly reintroduced the world to The Chicks, with a track that arguably sounds the most like old-school Dixie Chicks circa their albums Fly (1999) and Home (2002). The song is uptempo and banjo driven featuring infectious harmonies, that made the trio notable in their early career and quickly became a staple in their music.
The Chicks are also masterful storytellers as they weave a narrative that's relatable while remaining highly personal. "Tights On My Boat" is a blunt good-riddance where Maines tells her ex-husband that the woman who left tights on her boat can have him. At least it's a better fate than ol' Earl. The song, which opens on an acoustic guitar melody before introducing the upright bass and fiddle to accompany high notes and intricate vocal riffs, digs into feelings of betrayal and anger, which is much more common for those who've been cheated on—even those of us who don't own a boat. 
Similarly, "My Best Friend's Wedding" chronicles Maines' former relationship from the day she met her husband to the moment she knew she had to leave and the subsequent heartbreak. The song is largely supported by keyboard and some some light banjo doodling before picking up pace. Maines even addresses her children on the album, writing "Young Man" as an ode to her two boys and the struggles they endured tangled in the separation, "watching their hero fall" and trying to make sense of what it means to be a man. 
The Chicks also take the time to address growth and healing on tracks like "Julianna Calm Down" and "Set Me Free." The former uses different names throughout the song to seemingly address all women going through relationship problems, and Maines tells each to move on and come out stronger on the other side. "Dance like no one's watching/ Hold your head high/ And smile even though your heart is breaking," she sings as the song builds from a lone piano to an upbeat melody that mirrors healing.
The acoustically sparse "Set Me Free," the album closer, moves away from anger and hurt, with Maines speaking directly about the divorce proceedings that lasted from 2017 to 2019. Above a pedal steel guitar, Maines pleas for freedom from a situation that no longer benefits anyone.
Gaslighter is painfully direct and beautifully composed. It's unlike any of the previous seven studio efforts by the band formerly known as the Dixie Chicks, and hopefully Maines found the freedom and peace she sought while writing these songs. But it's proof that The Chicks haven't been dampened by the conservative criticism with which they began this century or the personal strife, and the trio seems just as fired up to stand up for its beliefs.
Follow writer Piper Westrom at Twitter.com/plwestrom.