ALBUM REVIEW: The Jaded Hearts Club twists and shouts through 'You've Always Been Here'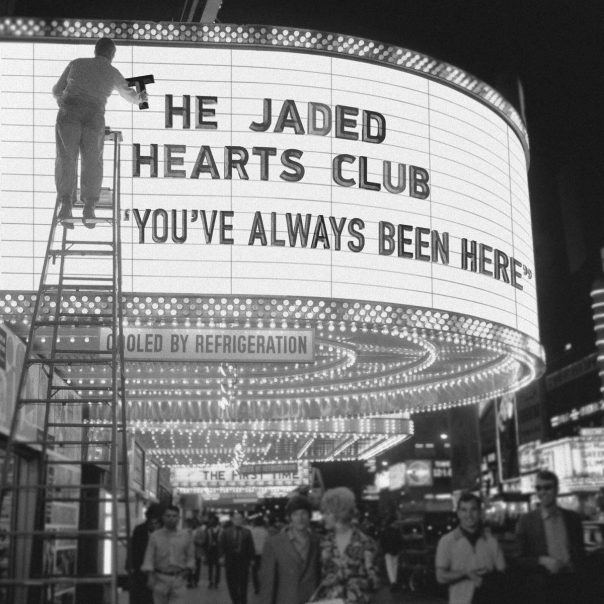 In 1966—against a backdrop of protest, riots, violence and thousands of Americans dying for no reason at all—The Four Tops released their signature song "Reach Out I'll Be There" to a world gripped with anxiety and pain. On the song Levi Stubbs shouts reassurance to a friend in need, but it sounds like he's the one hanging on for dear life. Scraping the top of his vocal range and beyond, you can all but hear the tears in his eyes. Half a century later, the song still casts a long shadow across American culture. It's one of those songs you'd have to be crazy to even attempt to cover. From Michaels of the Bolton-and-McDonald variety, to Gloria Gaynor and even Diana Ross—it humbles all who try to leave their mark on it.
You've Always Been Here
The Jaded Hearts Club
BMG, Oct. 2
7/10
When supergroup The Jaded Hearts Club grapples with it early on You've Always Been Here, it brings all the crazy and none of the humility. Maybe it's fearlessness combined with similar cultural conditions of global unrest and desperation that make this version so enthralling. Something this vital is the last thing you'd ever expect from what is essentially an all-star wedding band of middle-aged white men playing Baby Boomer music. This song and the album it's a part of should be an embarrassing mess. And yet, somehow, miraculously, it's 31 minutes of sheer bliss. 
Formed in a moment of frugal inspiration in 2017—when guitarist Jamie Davis didn't want to pay $30,000 to hire a Beatles cover band—The Jaded Hearts Club mainly consists of the musician friends who answered the phone when Davis called with his crazy idea. Those friends who showed up to twist and shout? None other than Matt Bellamy of Muse, Graham Coxon of Blur, Nic Cester of Jet, Miles Kane of the Last Shadow Puppets and drummer Sean Payne of Zutons. After a few years of playing some high profile charity and private gigs—including one where Sir Paul McCartney himself stormed the stage to sing with the band—The Jaded Hearts Club decided to bring its expanding set of crowd-pleasers and Northern Soul rarities to the studio.
Despite their party band roots, The Jaded Hearts Club is dead serious about the good times on You've Always Been Here. There's no coasting on pedigree here or sloppy, beer-soaked ironic detachment. The vocal duties are divided between Kane and Cester playing to each singer's particular gifts. Kane's R&B swagger is a great fit for tracks like Chris Clark's "Love's Gone Bad" and The Isley Brothers' "Nobody But Me." Cester's singing seems to channel equal parts Sam Cooke and Roger Daltry as he tears through Shocking Blue's "Long and Lonesome Road," the aforementioned "Reach Out I'll Be There" and especially Marvin Gaye's "This Love Starved Heart of Mine (It's Killing Me)." 
The lack of pressure is a great fit for Coxon—who is clearly having the time of his life—as he all but steals the show from Cester on Screamin' Jay Hawkins' "I Put a Spell on You." Matt Bellamy—generally not known for half-assing anything—really shines in his role as bass player, and he's a great fit for Payne's hard hitting drumming. When Bellamy plays bass the results are predictably 23rd century, but the modern approach of the rhythm section constantly keeps this album from the slippery slopes of novelty.
The biggest misfire is the closing track, where Bellamy takes a solo run at Peggy Lee's "Fever." The attempt at sexy smolder doesn't quite hit the mark, sounding more like a creepy crank-call. There are also some moments on the album where Bellamy's bombastic approach to production is at odds with the joy and spontaneity—two words not often associated with his band Muse—of the source material. But even in those moments, the chemistry and enthusiasm of his bandmates still break through to keep the party going.
This album is not likely destined to define the times we're living through as much as the songs that inhabit it. But with so much to escape from these days, it's hard to fault The Jaded Hearts Club for losing themselves in this concept so completely. While a party band is not going to save the world, the 31 minutes of happiness jammed into You've Always Been Here feels like an act of sheer rebellion in late 2020. Party on.
Follow Skott Bennett at Twitter.com/skottbennett.