ALBUM REVIEW: The Jayhawks let themselves be guided by other voices on 'XOXO'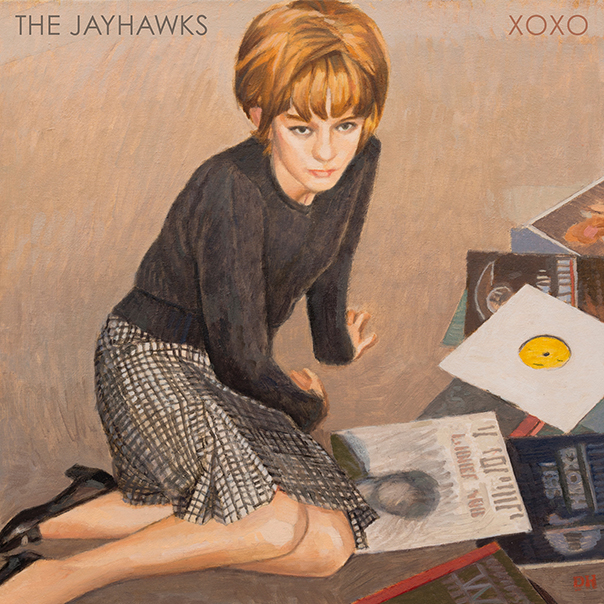 Longtime Jayhawks leader Gary Louris has been saying he wanted to get his bandmates more involved in songwriting and singing lead than they have been on the band's last several releases.
XOXO
The Jayhawks
SHAM/Thirty Tigers, July 10
8/10
That has now happened, to highly satisfying effect, on XOXO, the Minneapolis-based band's 11th proper album over a recording career that began in 1985. It is accurately billed as the most collaborative Jayhawks album ever, and is the most stylistically diverse, building on what started in earnest on 2016's Paging Mr. Proust.
The music on XOXO bears little if any resemblance to that on the band's 1985 debut, "Bunkhouse Album," a collection of up-tempo country-ish songs. Louris' work has evolved stylistically over the years, especially after co-leader Mark Olson left in 1995, as he increasingly went with the flow of his diverse influences.
Add to Louris' various styles the newly amplified voices of drummer-vocalist Tim O'Reagan, keyboardist-vocalist Karen Grotberg and bassist Marc Perlman, and the new XOXO is indeed, by far, the most wide-ranging Jayhawks album. And that is a compliment.
With two of 12 songs on XOXO written entirely by Louris, a longtime Jayhawks fan may be tempted to want more Louris on this album. After all, he's been the predominant voice, figuratively and literally, on every Jayhawks album save for the brief return of Olson on 2011's Mockingbird Time—since The Sound of Lies in 1997.
At the same time, I, and probably other Jayhawks fans, also wanted to hear more from other band members-in particular O'Reagan, who contributed two strong songs to 2003's Rainy Day Music and hasn't had a writing credit since. He did release a strong solo album in 2006, however.
O'Reagan's nasal yet expressive singing carried "Gonna Be a Darkness," a highlight of 2018's Back Roads and Abandoned Motels. On XOXO, O'Reagan wrote and sings three songs, including "Dogtown Days," a charging Tom-Petty-ish rocker that celebrates a place along the Ohio River in southern Indiana. O'Reagan also contributes the ethereal "Looking Up Your Number," the album's closer, featuring an appropriate Louris guitar solo, and the propulsive, moody "Society Pages."
Grotberg gets her first Jayhawks solo songwriting credits on XOXO, with two low-key songs: "Across My Field" and "Ruby," the latter a spare piano-based ballad that sounds like nothing else in the Jayhawks' songbook. These two songs add another dimension to an already hard-to-define repertoire.
The most "classic" Jayhawks song here is the opener, "This Forgotten Town," written by Perlman, Louris and O'Reagan. The latter two take turns singing lead, Louris takes a familiar Neil-Young-influenced guitar solo, and pedal steel (courtesy of Rainy-Day-Music-era collaborator and Long Ryder Stephen McCarthy) adds pleasant seasoning. It's comforting to know these guys can still bring new songs like this that so powerfully harken back to the band's alt-country-pop salad days, yet still sound fresh.
Another Louris composition, "Homecoming," a deft blend of '60s pop and singer-songwriter craft, would have fit in nicely with Louris' other songs on Paging Mr. Proust. "Illuminate," a multilayered Perlman-Louris-O'Reagan song, would have been more jarring on that album, but finds a welcome home on this record. And the time the Jayhawks spent with Ray Davies while playing on his Americana albums a few years ago must have rubbed off on Louris, as the jaunty social observations of "Living in a Bubble" (XOXO's first single) recall the spirit of the Kinks' "A Well Respected Man."
Perlman, who has written or co-written notable Jayhawks songs like "Trouble," "Wichita" and "Dying on the Vine," also takes a lead vocal on the acoustic "Down to the Farm."
A few close Jayhawks associates help out, as well. The aforementioned McCarthy also adds lead guitar to "Bitter Pill," on which Louris, Grotberg and O'Reagan harmonize to wonderful effect (as they also do on "Little Victories"). A more recent collaborator, John Jackson, contributes violin and mandolin, and ace pedal-steeler Eric Heywood lends flavor to two other songs.    
Though there isn't too much on XOXO that adheres to the "classic" Jayhawks sound, the "new" sounds from familiar people are refreshing and intriguing. While some may see these diverse songs set next to each other as showing a lack of cohesiveness, the other side of that coin is a band in which the four members create together, and give one another room to roam. It's a good thing O'Reagan, Grotberg and Perlman finally got to step up, and if this is the future of subsequent Jayhawks releases, it's a welcome one.
Follow journalist Sam Richards at Twitter.com/samrichardsWC.