REVIEW: The Mountain Goats revive roots rock while 'Getting Into Knives'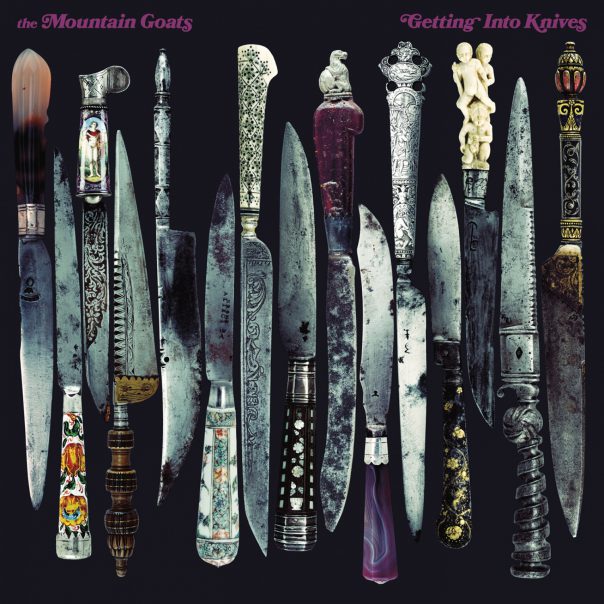 With nearly 20 albums in just under 30 years, The Mountain Goats have grown vastly beyond being John Darnielle's solo project. The last two albums polarize the band's eccentricity with its roots—namely the would-be high fantasy of In League With Dragons and Darnielle's stripped-down solo effort Songs for Pierre Chuvin. In any case, the band's songwriting strengths have helped it weather the rise and fall of alt-rock. It's actually quite fitting that The Mountain Goats' 19th studio album was recorded at the legendary Sam Phillips Recording studio, as Getting Into Knives is as worthy of the studio as legends like the Cramps.
Getting Into Knives
The Mountain Goats
Merge Records, Oct. 23
9/10
As crowd chatter gives way to a country shuffle, opener "Corsican Mastiff Stride" finds The Mountain Goats sounding as authentic as ever. John Darnielle's voice has gotten quieter over the years, but his soulful timbre comes packed with jubilant melody. Tom Clary's explosive horns and the Hammond organ in the following "Get Famous" help pick up the energy and display the band's knack for tasteful arranging on top of rustic songwriting. It's refreshing to hear deliberate parts in the bass (Peter Hughes), percussion (Jon Wurster) and guitar (Matt Douglas) in an age where most acoustic, roots rock is only a vehicle for the singer.
What's more impressive is the genuine live aura of Getting Into Knives. The whole ambiance of this record feels performed rather than tracked. If you're looking for an example, check out the four-count intro of "Picture of My Dress." The song's warmth matches its clarity, subverting the band's lo-fi past as its layered instrumentation branches out from a folky trot to elaborate on a Tweet from poet Maggie Smith: "Divorced woman drives her rumpled c. 2005 wedding dress across the country and takes photos of it in various locations." It's been a very long time since a pop-country song has carried such metaphorical weight.
"As Many Candles As Possible" balances the spirited weirdness of Tom Waits and the gritty stomp of classic Bruce Springsteen, but Darnielle's voice retains his own personality. The song's atonal jam section contrasts with the catchy riffing, much like the lyrics pit human ideals against human nature. With more pronounced chord progressions and melodic leads, "Rat Queen" breaks this style's recent demure leaning without sounding corny. It goes to show that guitar solos and janky strains can still work well with the right chops, and it helps to have songs like "Pez Dorado" to switch things up completely with pristine vibraphone arpeggios and quaint acoustic strumming.
"Tidal Wave" and "The Last Place I Saw You Alive" quiet and slow things down to a thoughtful effect. Respectively enhanced by Douglas' buyant clarinet and soulful saxophone, both songs render the heart with touching sentiment. The former's slow-burning, glacial tapestry centers on small, precious victories, while the latter's resonant crescendos, upright bass thumps and mellotron drones by Sam Shoup encapsulate that dreadful nostalgia of driving past an old haunt once shared with a now-deceased loved one. Both songs come through with some evocative piano parts, but ultimately re-contextualize the full band's chemistry, over which Darnielle flexes more of his emotional singing range.
If emotion is what makes Getting Into Knives enjoyable, then it's the instrumentation that puts it in the upper echelon of the band's discography. Take the chiming piano and earthy organ of "Bell Swamp Connection," on which Darnielle favors Bob-Dylan-like talk-singing. The song's dynamics creep like the sun over the horizon, making the wall of sound in the last chorus a pleasant surprise. Similarly, the pattering percussion and thudding bass line of "The Great Gold Sheep" knows just when to let lose with the full band and when each musician should shine.
This balance of gusto and nuance elevates a more meat-and-potato cut like "Wolf Count" while allowing the character of its stripped-back foundation to shine through. The tumbling tom-toms and whimsical guitar licks at the start of "Harbor Me" feel as jammy as they do intentional, showing how this band can spotlight soloists without eclipsing the narrative thrust. After more than two decades of lesser bands deluding the musicianship of The Mountain Goats' style, an album like this makes them the kings of campfire rock.
Amid shimmering keys and harmonious guitar flourishes, the closing title track finds Darnielle quoting the Christian Shaker song "Simple Gifts:" "It's a gift to be simple/ It's a gift to be free." The album title clarifies itself in this way—getting back to the best of how things were, with a mindset refined by the knowledge of how things can be. In that sense, Getting Into Knives is roots rock revitalized by musicians who won't compromise their artistic ambition.
Follow Max Heilman at Twitter.com/madmaxx1995 and Instagram.com/maxlikessound.