Album Review: Can The Struts' 'Strange Days' establish new ground for the band?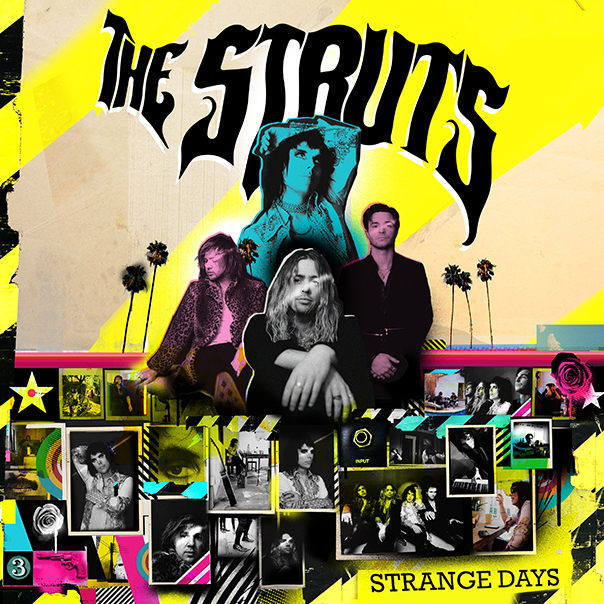 The Struts have finished their third LP, Strange Days. They're established and not going away. So, the way I see it, rock fans have a decision to make.
Strange Days
The Struts
Interscope, Oct. 16
6/10
The choices seem to be: 1) Embrace them. Freddie Mercury died nearly 30 years ago and, really, so did Queen with him. Millions of humans don't remember how singular Queen was with Freddie. Every musician on the planet has influences and an incredible band might as well be among them.
2) Ignore them. It's possible. Stop whining about the good old days and shut the hell up. Old makes way for new, bleh, bleh, bleh. Move on. 3) Piss and moan like some old codger about how tribute bands don't rip off Queen this badly. That's tiresome, and no one wants to sound bitter and old, so—
4) A combination of the above, while trying to hear Strange Days on its own merits, without the context. It's unrealistic, but one can try. It becomes easier once the musical meat of Strange Days kicks in during its second half, hinting at a possible evolution.
At least the Struts aren't boring. These guys emerged from the womb screaming for attention, which is half the battle.
Album opener and title track "Strange Days," is the first of a run on big-name guest shots that, other than increasing attention (which is still half the battle), serves no purpose other than validation. This one features fellow Brit Robbie Williams and has a simple, decent hook that works without separating itself. It sounds like something a band would stick on a soundtrack.
"All Dressed Up" is the song on which The Struts thumb their noses and say they have other influences; they've also listened to Sweet and Slade! Then comes the record's biggest throwaway: a cover of KISS classic "Do You Love Me," which, ironically, could've used a guest shot to keep interesting. Then again, not everyone has been exposed to the song, and there's certainly worse ways to pay tribute to KISS.
But my diplomacy gets strained on "I Hate How Much I Want You," featuring Phil Collen and Joe Elliott of Def Leppard. Why bother? Elliot sounds dusty and tame compared to The Struts' frontman, Luke Spiller. The song has a solid hook–no one can say The Struts can't write those –but the musical point isn't clear. Some might find it fun. Others might find much ado about very little.
Once the first four songs finish screaming for attention, some flow finally shows and two guest shots actually make sense. The first is from Rage Against the Machine's Tom Morello on "Wild Child," which finally give The Struts a reason to rock. There's a great groove, and guitarist Adam Slack finally asserts himself. Slack is so much better live than on records, and it's curious why there's not more of him front and center.
Foreshadowing a later appearance by Albert Hammond Jr., "Cool" rides a strong riff sounding like something The Strokes would manage. The record's second half surge continues with "Burn it Down," a song so good I stopped caring how much Spiller sounds like Freddie Mercury. It has the feel of an epic without the weight. It gets to the point with some original soul, which The Struts should try more often.
That slides into the real Hammond guesting on "Another Hit of Showmanship," which is light but moves really well, as does next track "Can't Sleep," which is mostly disposable but has a bit of Stooges to it.
The last song, "Am I Talking to the Champagne," may be a preview into where this band might go next. It has more atmosphere than anything the record offers so far, with some tasty sax layered over a "city at night" groove to which I can almost see an '80s video. It's just enough to make someone think maybe there's a nice new direction to be carved for The Struts.
Follow music critic Tony Hicks at Twitter.com/TonyBaloney1967.