REVIEW: Third Eye Blind makes a strong return on 'Our Bande Apart'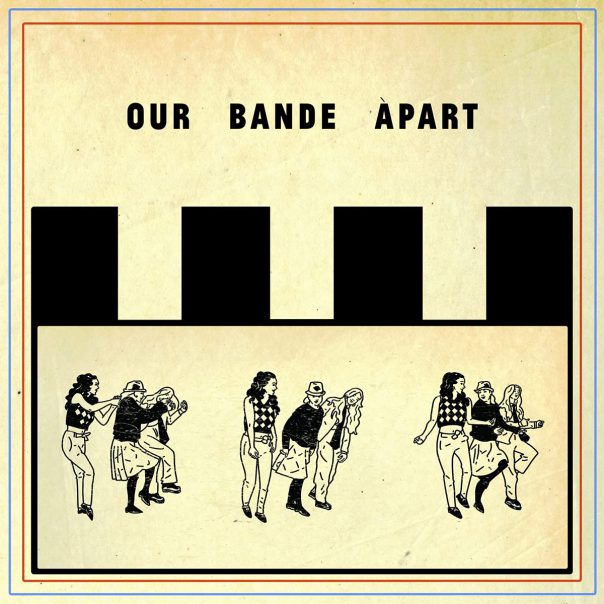 Say what you will about Stephan Jenkins (and there's plenty to say), but he's a poet, and he's always had unique phrasing and wordplay that have distinguished him and his band Third Eye Blind from the pack. It may be hard to look past his huge personality, but the band's new album, Our Bande Apart is really good.
Our Bande Apart
Third Eye Blind
Megacollider, Out now
8/10
Granted, "Goodbye to the Days of Ladies and Gentlemen" is an odd start to the album. It's old-timey-sounding, with piano and campfire-style acoustic guitar, and some seemingly random lyrics: "We'll never sing about tits and ass again." Most of the band's previous albums started out more energetically, so it's an odd choice.
However, "Box of Bones" is a classic Third Eye Blind breakup song. Jenkins is reflective of the past and compares his treatment in the relationship to having to take the "servants' stairs" over a swelling of ghostly voices and a percussion loop. His way with words is undeniable here, with lines like, "You better leave before we/ Steal our voices 'til we become/ A parody connection/ A Cold War analog/ You're coming like a cloud burst."
"Again" is one of two collaborations; a duet with Bethany Cosentino of Best Coast. Jenkins has described the song as "a horny surf-rock duet," but for a song explicitly about sex ("You make me want to get it again," they sing over and over), the groove is not actually very sexy. It's a light, fluffy, cruising-with-the-top-down bit of pop. One of the sexy things about rock music is the way a traditional song builds to an orgasmic place and then comes down. "Again," however, seems to start with an outro. The driving, upbeat guitar sounds like the end of a chanted anthem ("Again! Again! Again!") before transitioning to a solo and finally to an actual verse. It's like the song is being driven in reverse.  Perhaps this was a production decision. Jenkins and Colin Holbrook handled that on the album.
"Silverlake Neophyte" is one of the most lyrically interesting songs. Melodically, it's similar to past hit "Motorcycle Drive-By." It appears to be a conversation between Jenkins and a younger musician. Jenkins starts out with some honest, brutal self-doubt.
"And this folk music's fucking me up, makes me think I should quit," he sings. But then he points a finger back at his younger compatriot: "Deep down, I think you're seething with ambition/ Like everyone else around, you're on a mission/ To see just how many likes you can get."
This seems unnecessarily accusatory, but he goes on to make some good points: "But everyone needs to be seen/ There's no growing in the dark/ You say, 'It's just a pose,' well, what's wrong with a pose?/ We all invent ourselves as we go." Fronting a band that came up in the "not cool to try too hard" '90s, Jenkins can definitely speak to the struggle of trying to appear aloof while actually dying to "make it." He seems to be extrapolating this to the Silver Lake folk scene.
"Dust Storm" is a blatant homage to the Cure's "Just Like Heaven," although lyrically it sounds more like Joy Division. Apparently inspired by covering "Disorder" in the studio, it's a pandemic isolation song about "sleepwalking all year" and how the most important thing "is how we hold each other right now."
And the best song on the album just happens to be an actual cover of Califone's "Funeral Singers." But this isn't a faithful recreation of the rumbling and folky original cut. It could have been on 2003's Out of the Vein (3EB's last great album). The rhythm guitar playing is powerful and crunchy, the lead guitar dripping in reverb and delay, and it's going to sound great live. The refrain was custom-made for chanting.
The delivery on "The Dying Blood" makes me think Jenkins has been listening to a lot of Kanye in lockdown. On the song he talk-sings over a thudding beat, musing about learning how to be normal again upon reemerging. "Simple pleasures/ Like fucking strangers/ How to chitchat, I can't remember/ Can you tell me how to be friends without being exhausted?" he asks. It also features a screeching bass note that sounds like an elephant trumpeting.
"To the Sea" is the other duet, this time with Velvet Negroni (Jeremy Nutzman). It's an awkward, trying-to-be-hip song with a trap beat, random noises, distorted vocals cutting in and out and a choir. It's a veritable casserole of odds and ends that feel haphazardly thrown together. The melody is pretty but the other effects are distracting. Closer "Time in Berlin," meanwhile, is a subdued piano number and also the requisite Third Eye Blind drug song ("I'm all blissed out again/ And I'm all/ All strung out on/ Oblivion"). A thin and lonely trumpet makes an appearance here. Maybe that was the intent. The ending piano notes sound like something from an old silent movie, a definitive wrapping up of the whole production. You can almost see the "Fin" card appearing as the album draws to a close.
Our Bande Apart doesn't overstay its welcome; at 32 minutes, it's half as long as a typical Third Eye Blind album. In these days of streaming music, it's only an LP (rather than an EP) because of Jenkins' whim. The title is a good COVID-19 pun and a reference to the Jean-Luc Godard film "Bande à part," complete with a "Box of Bones" video that includes a black and white sequence of a trio doing the Madison. Our Bande Apart is a solid entry in the Third Eye Blind canon, even without the catchy singles for which the band was known in the '90s.
Correction: This story originally failed to point out that "Funeral Singers" was a cover of an older song by the band Califone. We regret the error.
Follow Rachel Alm at Twitter.com/thouzenfold.