ALBUM REVIEW: Tito Jackson casts a spell with the help of some friends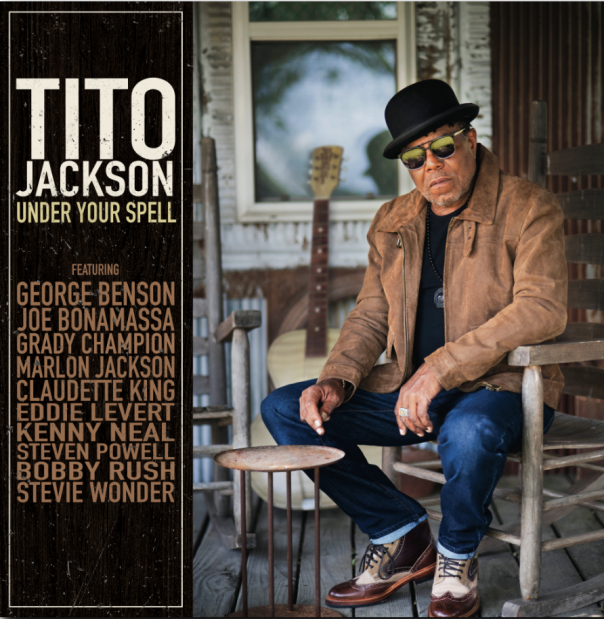 Tito Jackson found his voice as a solo artist later in his career. The former Jackson 5 singer ventured on his own as a blues musician in 2003. Not until 2016 did he release a solo album, Tito Time. Five years later, he's back with Under Your Spell. This time around, Jackson didn't come alone, enlisting a cast of legendary soul and blues musicians.
Under Your Spell
Tito Jackson
Gulf Coast Records, Aug. 6
8/10
Despite being on the back half of his 60s, Tito Jackson sounds fully energized, each passing track oozing with vivacious swagger and bluesy soul. All of the guest artists complement the sound, adding their own personality. The album is a throwback in the sense that it's tight and compact, the songs making their point and moving on within three minutes or so.
The album opens with "Wheels Keep Turning," a collaboration with swamp blues master Kenny Neal. A boisterous horn section provides the opening notes before the track hits its stride of bluesy swagger. It's easy to close your eyes and imagine it opening Jackson's he inside a  shoulder-to-shoulder, smokey club.
"Love One Other" not only packs in the star power, but also serves as Jackson's reflection on the current  turbulent times in the world, covering Black Lives Matter and the storming of the Capitol on Jan. 6. Then there's the cast of who's-who of musicians: Neal, Stevie Wonder, Joe Bonamassa, his brother Marlon Jackson, Eddie Levert and Bobby Rush. The result is an uplifting, raucous jam with a timely message. It's also a callback to a time when a message as simple as "Why can't we love one another?" resonated in such a direct way.
The pace may slow slightly, but the blues sensibility kicks up even more on "I Like It," a soulful track driven by lush harmonies. The tight percussive groove leads the way, with the horn section providing some extra backbone. Title track "Under Your Spell," an absolute stomper, pushes the horns to the forefront. Bonamassa provides some ace guitar work here. The blues guitarist's dirty licks complement the arrangement well and play off of Jackson's vocal melodies.
Kenny Neal collaboration "Dyin' Over Here" is a bluesy love song in the most classic sense. It's easy to draw a '70s energy energy from the song, once again with a heavy dose of brass and Neal's deep vocal. The sultry "Big Leg Woman," one of the longer tracks on the album at just under 5 minutes, with Neal again lending a hand. The melodic track harkens back to the the yearning bluesy balladry of yesterday, along with an extended jam to close things out.
The dynamic "You're Gonna Push Me Too Far" leans more into the funk and R&B side of things. In fact, most every track on Under Your Spell is designed to make people move with infectious melodies and danceable grooves. "That Kind of Love" keeps up the danceable sensibility with Neal and Grady Champion along for the ride.
Jackson pays tribute to his friend B.B. King on his cover of "Rock Me Baby," including King's daughter Claudette on vocals. "All In the Family Blues" absolutely lives up to its billing. The driving and percussive five-minute jam leaves room for both the vocalists and musicians to show off their chops. The album closes out with the melodic call-and-response vocals of "I Got Caught (Loving In A Dream)."
In a world where so many records are filled with synths, loops and plenty of production bells and whistles, it's refreshing to hear an album that's the product of simple musicianship and love of craft.
Follow writer Mike DeWald at Twitter.com/mike_dewald.