ALBUM REVIEW: Travis Tritt returns with no apologies on 'Set In Stone'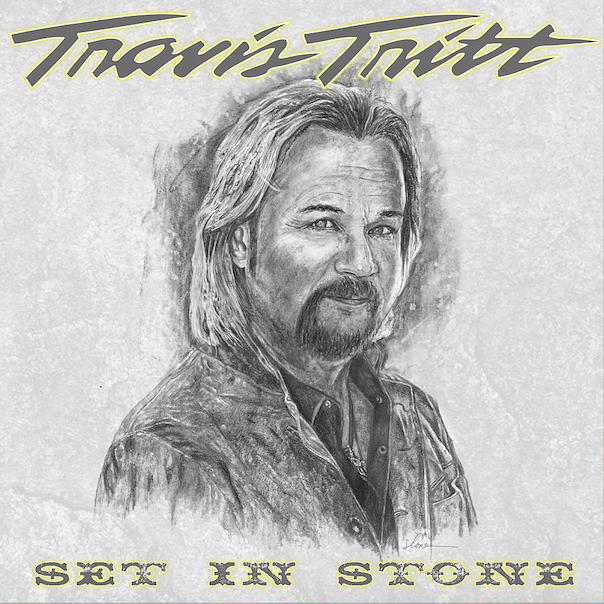 Old-school country music continues to find a way. Veteran Travis Tritt has returned to the scene with his first original studio album in over 10 years. Set In Stone is an ode to the classics as his soulful twang pours over 11 new tracks of heartfelt love songs, upbeat tavern tunes and melodies that reminisce on the good ol' days.
Set In Stone
Travis Tritt
Big Noise Music Group, May 7
7/10
While Tritt seems a bit out of touch with 2021 at times, there's no doubt that he's remained true to himself and his style of music throughout his career. Set In Stone is another strong example of no-nonsense throwbacks.  
Tritt has long been known in the country music community for his deeply Americana style, with lots of harmonicas, choral backup and pick-strum guitar skills that align with his southern subject matter. For example, "Way Down In Georgia," a bonus track here, is a love letter to Georgia. He sings about his home state's homegrown honeysuckle and the moon above Savannah over distinctive banjo playing. The song shouts out other peaches like Gladys Knight and Otis Redding, and the album references red Georgia clay, , a piece of imagery that has made its way through many a country song over the years.
Tritt even speaks directly to his heritage on "Southern Man," an electric-guitar-heavy track that chronicles his years of travel and growth and their inability to change him from being a country boy through and through. His distinctive style of classic Americana country pairs nicely with the thematic simplicity of "I am who I have always been and I'm happy that way." Suffice to say, he makes it clear that this album is about whatever he wants it to be.
The country singer also attempts more vulnerable topics like a failing marriage, regret and the death of a significant other. "Better Off Dead" is arguably the saddest song on the album as it details the deterioration of a relationship over the course of many years due to self-loathing and doubt. Five minutes culminate in the singer being thankful that his daughter is too young to understand what's going on, but still being blessed to have her and knowing he has to make it work for her.
"Leave This World" (cowritten with Ashley Monroe of Pistol Annies) is the only true love ballad on the album as Travis Tritt sings about not wanting to live after the person he loves passes away. He never clearly specifies who the song is about, allowing listeners to apply their own backstory. Both of these melancholic songs adopt a slower tempo with an emphasis on steel guitars and piano. Country as a genre is often attacked for having too many of the same sad songs; however, these two seem to speak to a different sadness that often isn't discussed in music like this.
"Smoke In A Bar," however, misses the mark. "When the world turned slower and you could smoke in a bar," is the main sentiment as Tritt croons about "simpler" times before seatbelts and when the six o'clock news spoke the truth. He vaguely tiptoes the political divide, singing, "When we saw the flag flying/ We all gave a damn." Is he implying people currently don't give a damn about the flag? Is it a comment on Black Lives Matter? This is paired with a wince-inducing video in which Tritt cartoonishly smiles and waves at some Black people and changes a flat tire for others.
The world no doubt seems to spin faster than it used to, but the message comes across as tone-deaf, taking a rose-colored view of America's past without accounting for racism masquerading as patriotism and toxic masculinity that's positioned here as "daddies being daddies," whatever that means. It's not uncommon for country music to speak about missing the "old times" and when things were "easier," so it makes sense that Tritt would echo these sentiments. But it's a weird time to argue that things used to be better the way they were.
Otherwise, Set In Stone is what you would expect from this country legend; short-and-sweet but still familiar and, besides the misstep, comfortable.
Follow writer Piper Westrom at Twitter.com/plwestrom.