ALBUM REVIEW: Tropical F Storm prolongs the life of rock with 'Braindrops'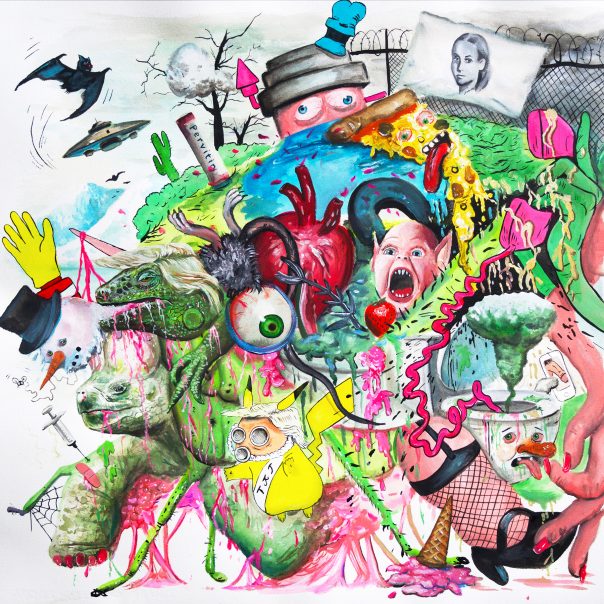 In an era all but devoid of interesting rock music, it's up to the likes of Tropical F Storm to carry the mantle of unfiltered rebelion. Beyond the fact my editor won't let me type out the group's actual name, its debut LP, A Laughing Death in Meatspace, gave a much-needed jolt of strange noisiness for a genre that singer-guitarist Gareth Liddiard describes as "all sounding like Led Zeppelin." The followup, while less abrasive, doubles down on the band's complete disregard for conformity. Tropical F Storm's uncompromising exploration continues to yield unpredictable, raw and relevant rock music.
Braindrops
Tropical F Storm
Joyful Noise Recordings, Aug. 23
Opening track "Paradise" sets a slow-burning pace, leaving room for Liddiard's unique lyrical depiction of someone reading an imploring, heart-wrenching note. The band crescendos to what sounds like Desaparecidos playing the 2018 album from Drinks, balancing the former's emotional abandon with the latter's idiosyncraticity.
Tropical F Storm seems completely uninterested in the "right notes," rejecting conformity all the way to its foundation. Such a contrast works wonders for the nihilistic funkadelic jam "The Happiest Guy Around." The cut's skronky synth and bombastic guitar chords punctuate energetic hooks and ominously cynical lyrics. While at times hard to decipher, every member clearly plays a crucial in the madness.
As the programmer and drummer, Lauren Hammel's beats ballance electro-acoustic tonality with a natural feel. This gives songs like "The Planet Of Straw Men" their disjointed infectiousness. The song takes aim at the frivolous stupidity of online discourse, over tribal drum and bass patterns and gleefully obnoxious guitar chords.
Similarly, the splintered guitar plucking and melodic bass line of "Who's My Eugene?" find a footing on a danceable downtempo hip-hop beat. A vocal feature for bassist Fiona Kitschin and guitarist-keyboardist Erica Dunn, the song is named after Eurgene Landy, the doctor who infamously came under fire for his unethical treatment of The Beach Boys' Brian Wilson. The songwriting itself is far from biographical, using the man as a framework for abusive relationships—and a head-banging blues rock riff at the finale.
Braindrops hits hard when it swings, but its overall approach remains more subdued. Gloomy ballad "Maria 62" showcases a more vulnerable side of the band's idiosyncratic execution, letting the song breathe also spotlights the band's intuitive use of atonality. Drifting instrumental dirge "Desert Sands of Venus" maintains mind-bending minutia through its mutated guitar arpeggiations and collage of kalimba noodling. It's profoundly off-putting on first listen, but not random in the least. Liddiard and company work tirelessly to create textures that don't quite fit any definition but stay in your head for hours.
The title track injects the aforementioned subtlety into a soulful, heavily-syncopated take on Lee "Scratch" Perry's latest album. Though distinct from old-school dub, considering its lack of up-stroke guitar playing, lo-fi percussion and staccato backing vocals escalate the tension to chaotic xylophone runs and crazy distortion.
Even as Tropical F Storm veers toward incompressibility, the rock-solid cohesion of cuts like "Aspirin" simply can't be ignored. The percussion sounds like it's being played through a broken amp and the guitar licks are brittle and anti-melodic, but you can visualize the band swaying to the sluggish vibe.
Dunn's organ has room to build atmosphere as the staggered rhythm structure of "Aspirin" drives Liddiard and Kitschin's anxious, nearly spoken-word narrative about coming to terms with the death of a cherished, but complicated relationship. A vivid struggle against pessimistic bitterness ultimately settles on a hope that an ex-lover finds some semblance of happiness in the afterlife: "But you'll be fine/ 'Cause you could always see the light up in the tunnel/ I gotta feeling it'll happen soon for me."
It's this grappling with the inherent chaos of life that fuels Tropical F Storm's unorthodoxy. Closing cut "Maria 63" begins with a spiritual improvisation of wistful keyboard licks and ethereal drums, but steadily builds to an overwhelming conclusion of suffocating distortion and soaring vocal harmonies. What seems to fade back into a bed of strings actually hard-cuts to the sound of an airplane propeller—a bizarre conclusion to an album of jarring twists and turns.
It's albums like Braindrops that represent rock music's last stand before rendering itself entirely unrecognizable during its fight against mundanity. Tropical F Storm have fleshed out its niche within this evolutionary crisis. At once addictive and baffling, those who think rock has lost its edge should give this album a listen immediately.
Follow editor Max Heilman at Twitter.com/madmaxx1995 and Instagram.com/maxlikessound.